Electronic devices banned on flights to US from 13 airports after intel threat
Officials have banned passengers from packing certain electronic devices in carry-on luggage on flights to the U.S. from 13 international airports due to increased terror threats, sources told Fox News Monday.
As of Monday evening, Jordan and Saudi Arabia were the only two countries confirmed to be subject to the ban.
The heightened security is the result of an increased "volume" of chatter suggesting that Al Qaeda and other groups are still looking for ways to sneak explosive materials onboard planes.
The open-ended ban, which goes into effect Tuesday, will also revive strict rules about liquids on planes that date back to post-9/11 flying regulations.
FOLLOW US ON FACEBOOK FOR MORE FOX LIFESTYLE NEWS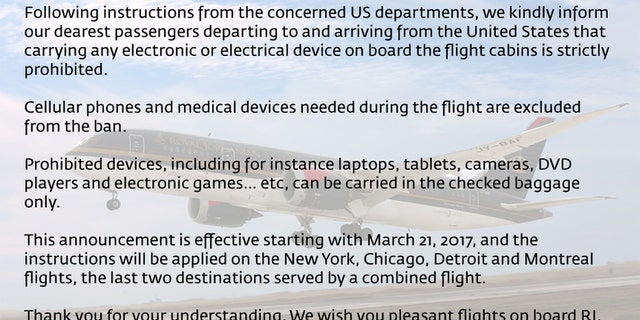 U.S. officials had no immediate comment.
Earlier Monday, Royal Jordanian Airlines announced on its Twitter account that the carrier had banned all electronic or electrical devices from carry-on luggage on flights to and from New York, Chicago, Detroit and Montreal effective Tuesday, March 21.
According to the statement, which cited instructions from "concerned US departments," cellular phones and medical devices were exempt from the ban but laptops, tablets, cameras, DVD players, and gaming devices may only be transported via checked luggage.
Royal Jordanian's tweet was deleted later in the day and a representative from the airline was not immediately available for comment.
Monday evening, Saudi Airlines posted on Twitter that its flights were also subject to the ban.
Sources told Fox News that the new regulations were not related to President Donald Trump's executive order halting travel to the U.S. from six majority-Muslim countries, but are likely to apply to airports in those countries.
As of Monday afternoon, the Transportation Security Administration (TSA) had not issued a warning banning the electronic devices listed by Royal Jordanian in its social media announcement.
In October, the U.S. Department of Transportation issued an emergency ban for fliers and crewmembers on Samsung Galaxy Note7 smartphones on all commercial flights in response to several reported incidents of the phones catching fire.
Fox News' Jennifer Griffin contributed to this report.