EasyJet pilot becomes world's youngest commercial airline captain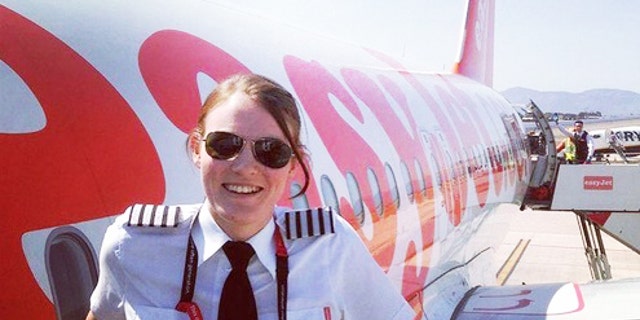 A British woman has made history by becoming the world's youngest commercial airline captain after passing easyJet's command course.
On Sunday, the low-cost London-based carrier announced that Kate McWilliams—who joined the airlines as a first officer when she was just 21—was officially promoted and believe she is the youngest ever commercial airline captain.
"Personally I don't think my age matters," McWilliams, who said she does get asked how she old she is almost every day," told the Press Association.
"I've been through the same training and passed the same command course as every other captain so I've proven myself capable regardless of my age."
FoxNews.com reached out to Guinnes to verify the record. A spokeswoman said that since aviation regulations in most countries—including the U.S. and the U.K.— prohibit anyone under the age of 18 from obtaining a commercial license, they do not keep track of the achievement since it has a fixed lower limit.
However, easyJet believes McWilliams is breaking barriers not only as the youngest commercial airline captain, but as a female pilot in a male dominated industry.
Of the 130,000 airline pilots worldwide, just 450 are female captains, according to the International Society of Women Airline Pilots. EasyJet says just 5 percent of all commercial pilots are female and is hoping to bring more women into the fold. Last year, the airline announced an initiave to double the proportion of female program entrants to 12 percent in two years.
"I would strongly urge females interested in aviation to think about pursuing a career as a pilot, and any existing pilots to push themselves to become a captain," McWilliams said in a press release.
McWilliams has been flying since she was 13-years-old. At 19, she began a CTC Aviation training course, and two years later started working as a first officer with easyJet. Today, the young captain flies Airbus A319 and A320 planes to around 100 global destinations including Reykjavik, Tel Aviv and Marrakesh.
Think 26 is too young to commander an aircraft? One of her co-pilots, Luke Elsworth, is just 19-years-old. Earlier this year, Elsworth made headlines as the U.K.'s youngest commercial pilot.
Despite people constantly asking her about her age, McWilliams says most fliers and crewmembers are supportive when they find out how young she is.
"When I tell them I'm 26, most people are pleasantly surprised and impressed with my achievement at such a young age."