Dog reunited with family after airport escape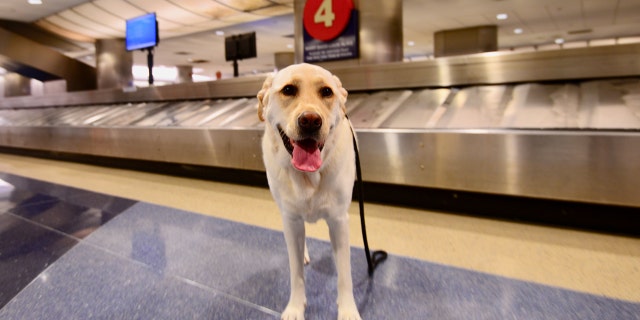 NEWYou can now listen to Fox News articles!
Joker the dog had quite the holiday.

On Dec. 21, Summer Burgos, Joker's owner, flew him to Florida to stay with family while she trains in the Navy. When Burgos' mother-in-law opened the crate at the Fort Lauderdale-Hollywood International Airport, the 2-year-old Canaan pup immediately bolted past her.
For the next eight days, Joker roamed the streets in a strange new city. On Christmas Eve, the Sun Sentinel reports that Joker was spotted near shops in Fort Lauderdale.
Days later, roughly four miles from the airport, a group of neighbors in Dania Beach found Joker. With information from his tags, they contacted Burgos.

After a checkup at the vet, Joker headed home to be with Burgos' family, beginning another adventure.
"JOKER IS SAFE AND SOUND THANKS TO ALL OF YOU!!!! I don't think I could ever truly put into words how much it means that all of you banded together and helped a complete stranger and her dog in need," Burgos wrote in the Lost Dogs of Broward and Dade County Facebook group.
"My heart is so full, and whenever anyone doubts that there are good people in the world, I will tell them about you all, and this crazy unfortunate adventure," she said.

The Associated Press contributed to this report.