Does the world's largest cruise ship live up to the hype? Inside the Harmony of the Seas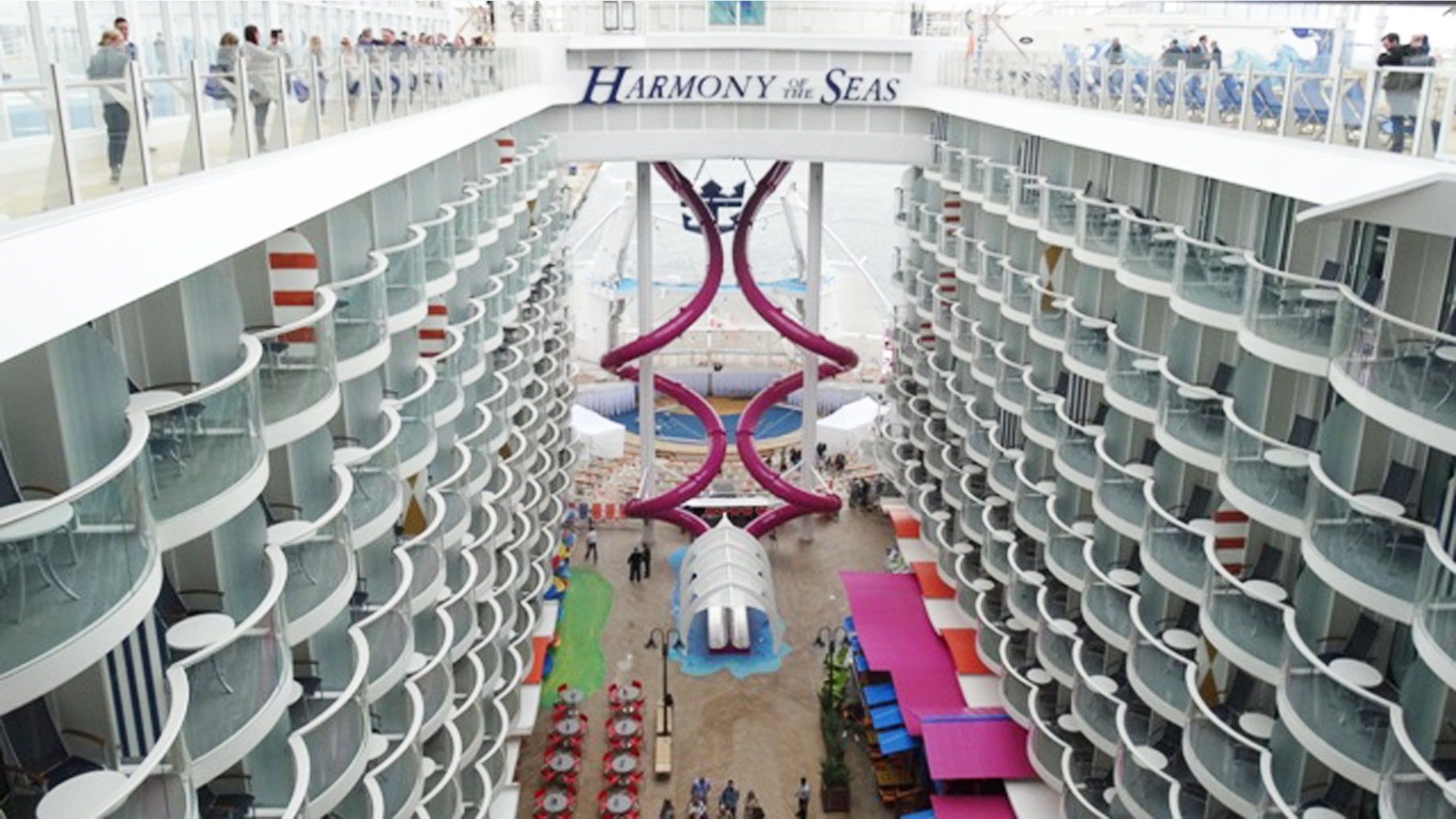 Even before setting sail, Royal Caribbean's Harmony of the Seas made headlines as the world's largest cruise ship. But now that the ship has completed its inaugural voyage, cruisers want to know—does the ship live up to the hype?.
The basic floor plan is built upon Royal Caribbean's larger than life predecessors—the Oasis of the Seas, which debuted in 2009 and the Allure which set sail in 2010—Harmony also includes some of the best ideas from the newer Quantum-class of Royal Caribbean ships.
But Harmony isn't just an impressive vessel because of its size.  The combination of features make it Royal Caribbean's best ship to date, with attractions sure to appeal to those hard-to-please millennials and multi-generational families.
What makes the Harmony of the Seas so unique? Read on to find out.
1. The impressive restaurant selection.
Harmony has 25 eateries, from fast food to fine dining and everything in between. The ship boasts all the diversity of the Oasis-class ships, plus new restaurants from the Quantum line including  Jamie's Italian and Wonderland.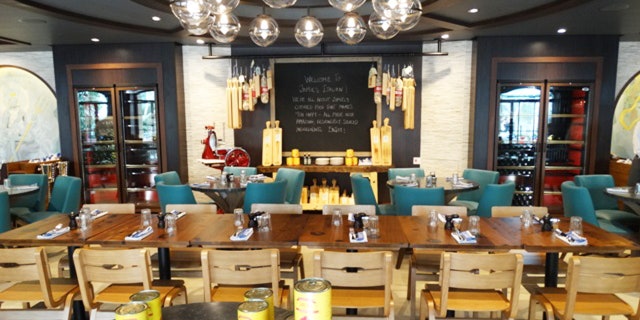 At Jamie's Italian—a concept developed by superstar chef Jamie Oliver—diners are treated to a neighborhood-like Italian trattoria where the menu is a la carte. But this isn't your grandma's spaghetti. Think crab and avocado bruschetta, entrees like "Lamb Lollipops" (grilled under a brick) and Jamie's Signature Porchetta, a  slow-cooked British pork belly with fennel-infused crackling skin.
Wonderland is an edgier concept that fuses molecular gastronomy with earthy, organic treats. One of the most impressive dishes to try is the truffle eggs cooked under a dome of herb-infused steam.
2.  Over-the-top outdoor attractions.
The new "Ultimate Abyss" is the tallest slide at sea, rising a full ten decks. But this isn't a water slide. Think of the ultimate carnival slide where you slide down using heavy burlap sacks. The first drop in total darkness is designed to raise your pulse, but LED lighting for the rest of the ride turns your shrieks into screams of delight.
Looking for more thrills? The  adrenaline-addicted will love the 82-foot zip line that tracks over the Boardwalk, nine decks below. The Studio B ice rink showroom has skates for rent to passengers during the day. There's a full-size basketball court, an 18-hole miniature golf course and two FlowRider surf simulators.
3.  A mysterious indoor challenge.
If you've never participated in an Escape Room, now's your chance. With origins in Silicon Valley, these physical and mental adventure games take quick thinking and team building to the next level. "Escape the Rubicon" is a first for Royal Caribbean. In this game, participants are "locked" in a room during a simulated maritime emergency. When "something goes wrong,"  captivated cruisers must find clues to hatch an escape plan for the team. It's great for families and friends looking for an unusual challenge.  
4. Next-level stage shows.                  
Harmony is the first cruise ship ever to offer the full Broadway version of "Grease." Tell me more, tell me more!
Carlos PenaVega, who starred as Kenicki in Fox's "Grease-Live!", was onboard the inaugural Harmony sailing. Even he was blown away by the production.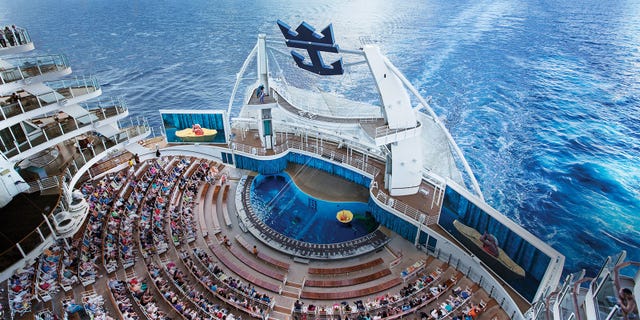 "This is as good as the original on Broadway, as good as what we did on Fox! The car they had on stage drove even better than the one we used, I couldn't believe it."
Musicals not really your thing? Harmony also has live world-class ice-skating shows. The iSkate Showcase virtuoso skate performers  choose their own tricks to execute live. There's also the AquaTheater with two 36-foot high-dive platforms and trapeze and tight wire artists—think Cirque at sea.
5. Larger than life staterooms.
Cruisers with a keen eye will notice the roomier balconies with new railings that curve outwards, giving you more room to stretch your stretch legs in your cabin.
The "new ship factor" is likely to make Harmony more expensive for the first year at sea with Caribbean cruise itineraries starting around $800 for a basic cabin on a three night voyage to well over $4,000 for a deluxe room on a seven night trip.
6. Bring the outside in with virtual balconies.
Can't afford a pricier exterior room with an ocean view? 70 of the inside cabins contain "virtual balconies," floor to ceiling LED screens designed to look exactly like real drape-framed balconies. The ocean vistas come from cameras mounted on the sides of the ship, recreating the exterior view in real time. The screen also includes a computer-simulated balcony railing because testing showed that it made people feel much safer than having an "open window."                                                                                                
7. Cruise internet connection that actually works.
Harmony is the first cruise ship with a dedicated satellite connection that follows the ship worldwide. It boasts having the fastest Internet at sea, available fleet-wide through a technology they call "Voom." Using low orbit satellite technology from a company called O3bMaritime, Harmony's internet is fast enough to stream the latest viral YouTube clip or even Skype with pals back home.
The cost for the fastest connection on  board is $12.99 per day for one device, but the rate declines proportionately as you add devices per family. Pay $41.99/day for five devices.
Guests can also download the free Royal IQ App (Apple and Android) to manage daily schedules, track luggage, make reservations and even send text messages to fellow guests.
8.  It's a greener ship.   
According to Royal Caribbean Chairman Richard Fain, the line spent $1-million re-designing the hull for Harmony's  preceding sister ship, Allure of the Seas. But Harmony adds even newer hull technology to provide a ride on a cushion of air bubbles. This makes the ship 20 percent more fuel efficient at cruising speeds, but as captain Gus Anderson likes to put it, for the same amount of fuel Harmony can run 20 percent faster than all other Royal Caribbean ships.
Does this matter to the guests? Unless you're a big environmentalist, probably not. But it does make the industry a little greener.
9.   Get the "Royal" treatment.
The "Royal Suite Life" on Harmony (and now on all of the newer Royal Caribbean ships) includes a "Royal Genie" where "your wish is  [his or her] command."  Your genie can cook and serve meals, run a bubble bath or shine your shoes. Also enjoy unlimited drinks and top-speed Internet, a private sunning deck on board and a private beach on the Royal Caribbean islands.
But unique to Harmony of the Seas is the exclusive Coastal Kitchen, a private restaurant for Royal suite guests only.