Divine intervention: Devin Alexander wants to help you stay fit at sea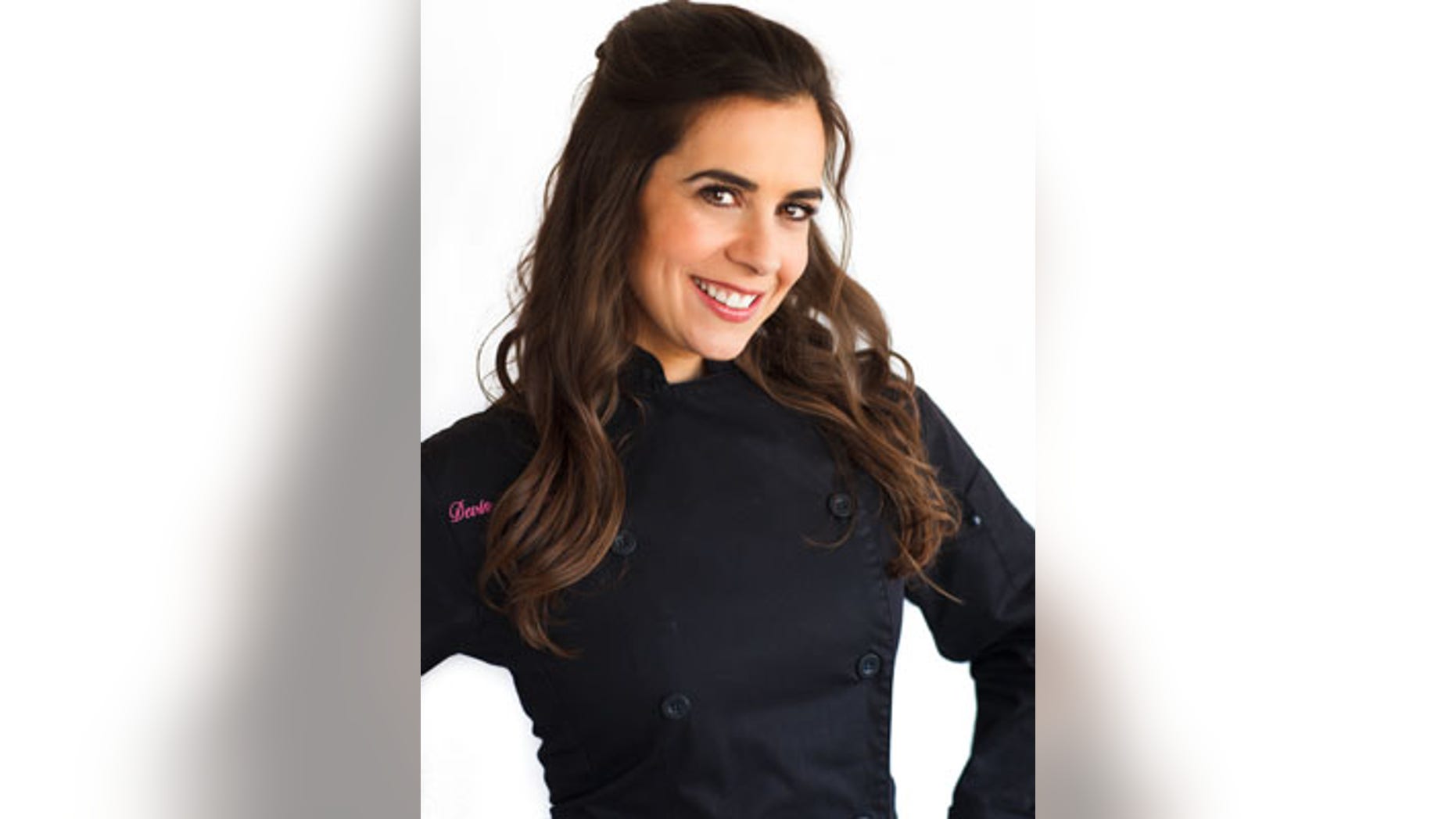 According to some estimates, the average cruiser gains—get this—an average of 7 to 10 pounds per week. But Devin Alexander, chef for NBC's "The Biggest Loser" and author of a whopping eight cookbooks, is here to help.
Her specialty restaurant, Devinly Decadence, which is currently on Royal Caribbean's Quantum of the Seas and Anthem of the Seas, focuses on healthy meals under 500 calories --serving buffets at breakfast and lunch and sit-down dinners.
The story gets even more interesting when you consider that Devin Alexander's signature restaurant isn't just a first for Royal Caribbean; she's the only female chef who has launched her own concept eatery on any cruise line.
She talked to FoxNews.com on the eve of this weekend's christening of the Anthem of the Seas about what it's like to run her second on-board restaurant.
Your background is in creating the food program for The Biggest Loser, and writing cook books? What was it like creating what is essentially your first restaurant?
I had done a pilot program with a restaurateur, and then decided it wasn't the right thing. Then, Royal Caribbean came along, and I had heard that the average cruiser gains 7-10 pounds per week.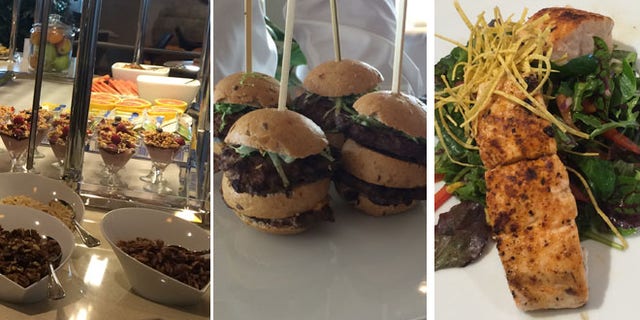 They (Royal Caribbean) have a huge employee health program, and an inline body (composition analysis) machine in the spa. The only place I had done it before was at The Bigger Loser Resort and at Kim Lyons' (one of the trainers on "The Biggest Loser") gym. Between that and the fact that they have the Flywheel (indoor spinning class) right upstairs, it felt like they had a commitment to wellness.
What surprised you about joining the team at sea?
Crew life. You just have no idea just how hard the crew works and what a different life it is.
And what surprised you about the restaurant's launch?
I'm just ecstatic at how people have responded to the food. But it's a little harder to get people up to the 14th deck then I would have expected. There are people who on day 5 or 6 stumble in and say "I can't believe you have all these gluten free options!"
Also, they bake everything onboard. All my rolls are baked onboard. They roll my whole wheat pasta dough, using my recipe, in Jamie's Italian. They go to great lengths to source products … they make my own light mozzarella for me in the U.K. The UK dairy laws don't let them container (or ship) it in.
What were the limitations of developing a menu on a ship?
You can't use an ingredient just once that isn't being used on the rest of the ship … it's too pricey. They use mass, mass, mass quantities.
Some of my seasoning blends I had manufactured, and there are others that in retrospect we could have. And I probably will now. So much is house made, and they [Royal Caribbean] work so hard to bring my vision onboard.
We could no longer do sit-down service for lunch because so many people were coming in they couldn't serve it fast enough. They rolled the buffet out on Quantum a month ago and it starts on Anthem from the beginning.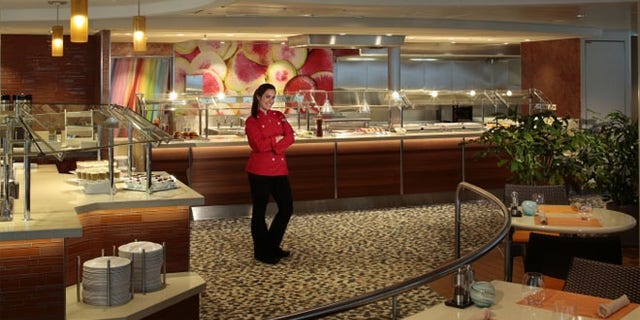 Your dinner menu has 500 calorie choices, plus splurges, but no appetizers, sides, or desserts are included in that calorie count, right?
Dinner is under 500 calories for entrees, and the salads are severely lightened up. We use all extra lean turkey in our chili. We have a "sexy joe" now, made from ground chicken. It's all ground onboard.
What made you choose not to include nutritional information, at the buffet and on your lunch and dinner menus?
We have that information available, but we don't want it to be in your face.
What made you choose not to portion the breakfast and lunch dishes?
That [the buffet] was an interesting discussion. Lunch used to be plates that were served that were 500 calories … but now we can serve so many more people, that it works out for the greater good.
What dish are you most proud of?
The superstars are the cowboy beef tenderloin; people compare it to the Chop's [Grille] steaks. And the salmon chipotle salad, Thai papaya salad, BBQ chicken flatbread pizza, and flourless chocolate cake. It's the desserts and muffins that people are like "Really? C'mon!" when we tell them how many calories are involved.
How do you feel about sharing your space with a juice bar? Are you a fan of the juicing trend?
It is my juice bar! It's called Detox to Devonly. All of the cocktails that are listed there are mine. The blueberry margarita is only 186 calories; they're normally around 500 calories. I do a ripped Russian, that's a makeover of a white Russian. It was 450 calories and 30 grams of fat, and now its 150 and 3 grams of fat
Besides eating in your restaurant, what other advice do you have for cruisers who want to stay healthy on this ship?
Take the stairs, and don't make your vacation about the food. I'm a foodie—I'm never gonna tell people not to enjoy food. But there are so many things to do on this ship to keep active. I'm not even a proponent to going to a gym on vacation; I would much rather go for a walk up a hill or hike in port.  The treadmill and Stairmaster are not my friends.
How often do you get to sail?
I spent 26 days onboard for Quantum; on this one I am spending three weeks of really training. And I come back at least every couple months for a couple days. I was on Quantum, in San Juan, in February, and jumped off on St. Martin.
We're serving breakfast lunch and dinner and I try to be present as much as possible, and in between we're sourcing and working things out. I'm also trying to do social media myself. We're shooting a video a day.
What is your experience like when you are on the ship?
We stay in guest cabins but it's a very interesting life. I'm allowed to go to the crew bar, but for the most part I live the guest life. Some days I prefer to take the crew stairs: In the Caribbean it was a much older crowd, and I want to move at a super fast pace. And other times it's nice to be in guest quarters. I feel like I'm living a completely different life.
One of the other things is trying to learn everyone's names. I went to Smith in Massachusetts, and it's known to be diverse, but nothing like here. It's very important to me to know all my staff names.
How does the turnover work onboard?
One of the things that I never thought about is that if you work on a restaurant on land, you train someone, and hopefully they're there for 5, 10, 20 years; but here they all take vacations on a cyclical thing every 4-6 months and have 2 months off. My sous chef who was with me on Quantum: She's Ukrainian ex-military, and if she goes back she could get sucked into the army. I'm from Manhattan Beach, California where everyone talks about Botox and …this is different.
What is it like to be a woman on a ship?
I am the only woman with her own restaurant concept on the line. It's interesting, we feel it. But it's not a bad thing. When we first get on the ships there doesn't feel like there are a lot of women and we feel very flattered.  We feel pretty.
Definitely, if I wanted to have a lot of fun on this ship, I could. A lot of men will come in and visit on a regular basic. My chef coat is red because that's my brand color but some people think it's because I am the only woman. It's like a red power coat.