Ditch the devices and unplug at these 9 hotels and resorts
How can you call it a vacation when your smartphone is attached to your hip? A majority of Americans in a Hotels.com survey last year said the only thing more important than their smartphone while on vacation was their passport, and only 35 percent said they'd be willing to switch their devices off while away. In fact, 77 percent of Americans in a TripAdvisor survey said they'd continue to work while on vacation.
If you truly want to leave work behind and unplug while traveling, you can swear not to look at your devices, a promise you'll almost certainly break an hour or two into your first day. Or you can stay at a place that makes the choice for you. Here are nine hotels and resorts that mean business when it comes time to putting the tech tools away.
1. Lost Valley Ranch, Colorado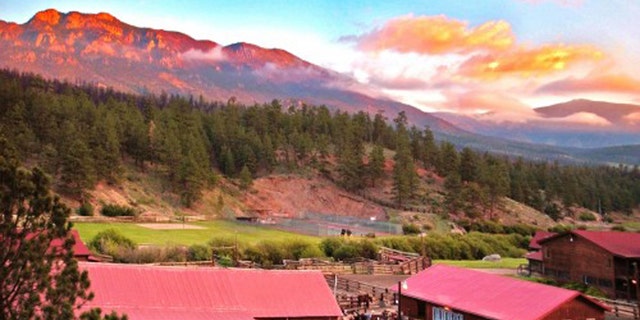 A dude ranch can be the perfect spot to dump your devices. Lost Valley Ranch in Colorado's Pike National Forest offers secluded cabins that lack TVs, phones and Internet. If you need to contact the outside world, there are two house phones in the main lodge.
Though the cabins are free of electronics, they still offer plenty of comforts, including Jacuzzi tubs, multiple bathrooms, fireplaces and refrigerators. Instead of spending your vacation with your face in your phone, you can breathe in the fresh air, enjoy the thrill of horseback riding and take in the fantastic Rocky Mountain scenery. Many other dude ranches offer similar technology-free, no-cell-signal options. A complete list is available from the Dude Ranchers' Association.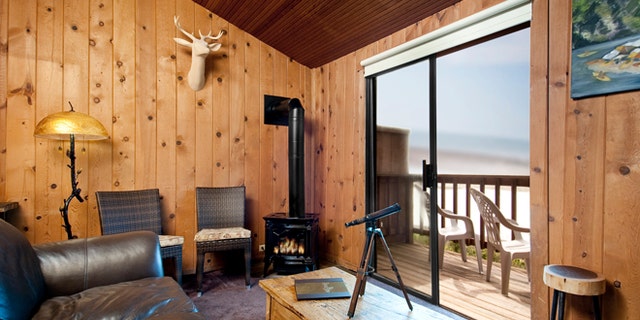 2. River's End Restaurant & Inn, Sonoma, Calif.
Celebrate silence in Sonoma County at River's End Restaurant & Inn, situated along the Russian River as it flows into the Pacific Ocean. The intimate property has only four cabins and one room, and none of them have TVs, data ports or phones. They even skip the complimentary newspaper at your doorstep. Guests are encouraged to spend their time relaxing on a private deck or curled up by the indoor fireplace, all while taking in views of the wine country coast.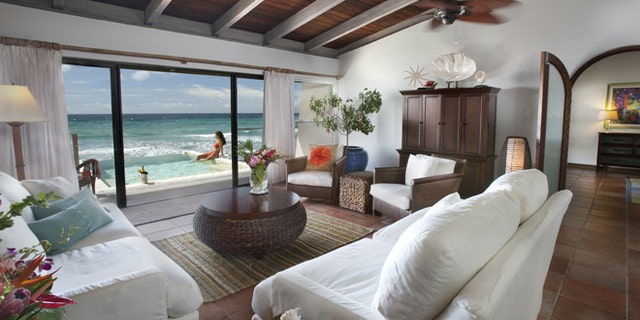 3. Biras Creek, British Virgin Islands
How about a technology-free island? You'll find it at Virgin Gorda in the British Virgin Islands, which is accessible only by boat or helicopter. The entire island is TV- and car-free, so there's no temptation, which means you can spend your days hiking and biking the island's many trails. The island is so private, its suites-only resort, Biras Creek, doesn't even use room keys! Just display your "do not disturb" rope or stone should you need alone time.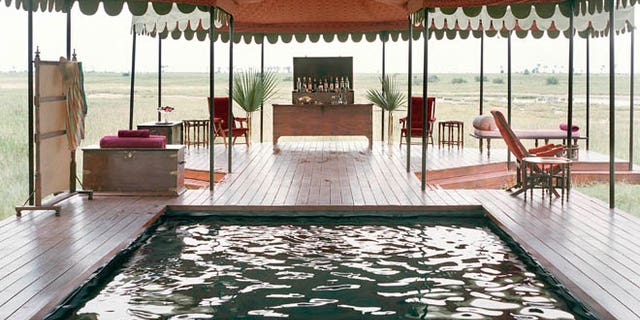 4. Jack's Camp, Botswana
It always helps to have no cell coverage when you want to get off the grid. At Jack's Camp, you may be truly unreachable. Situated along the Makgadikgadi Salt Pans, this camp is so remote and quiet that guests can see the curvature of the Earth. NASA even uses it as a research site because the nighttime sky is so bright.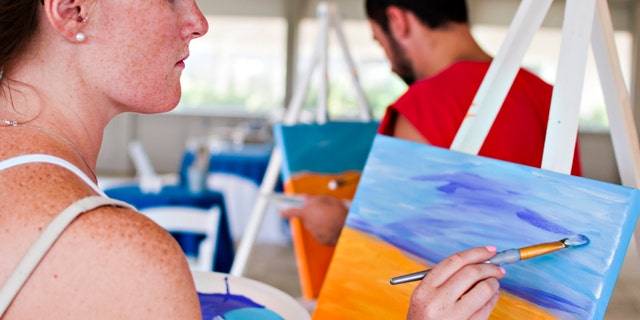 Staffers say seeing shooting stars is easier than seeing other guests, because while the camp has a charging station for cameras, there's nothing else in the way of technology.
5. Sanderling Resort, Kitty Hawk, N.C.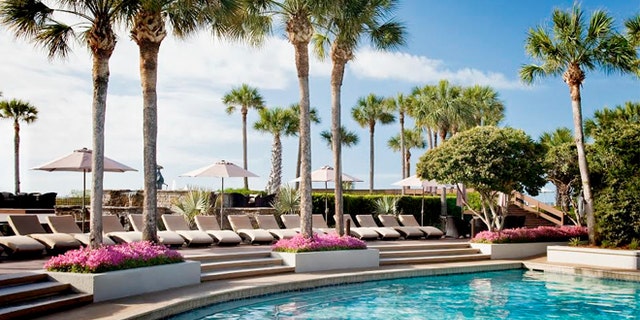 The front desk will be happy to take all your tech tools away when you check in for the Digital Detox package at the Sanderling Resort, on a narrow strip of land between the Currituck Sound and the Atlantic Ocean in North Carolina's Outerbanks.
Guests can choose among reflective activities like painting (rooms are stocked with painting kits), board games, spa treatments and water sports. As an incentive, the resort provides 20 percent off one activity for each successful day of digital detox.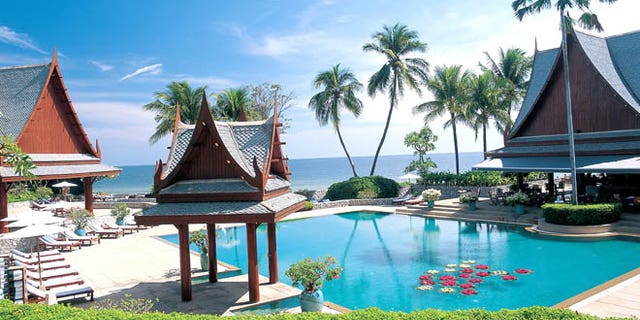 6. Westin Hilton Head Island Resort & Spa, Hilton Head, S.C.
The Westin Hilton Head Island Resort & Spa is happy to disable your television and collect your technology upon arrival, trading spa certificates, bikes and superfoods for it.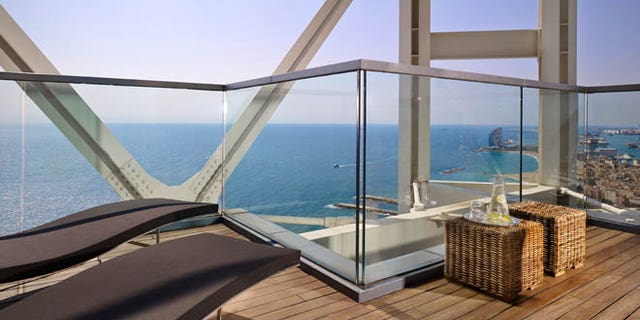 Guests are encouraged to enjoy the natural beauty of Hilton Head Island and engage in activities like kayaking, biking and even yoga while stand-up paddle boarding. The resort also provides guests with sunrise/sunset alerts (no smartphone needed), walking/hiking maps, flashlights and New Balance gear.
7. Chiva-Som Health Resort, Thailand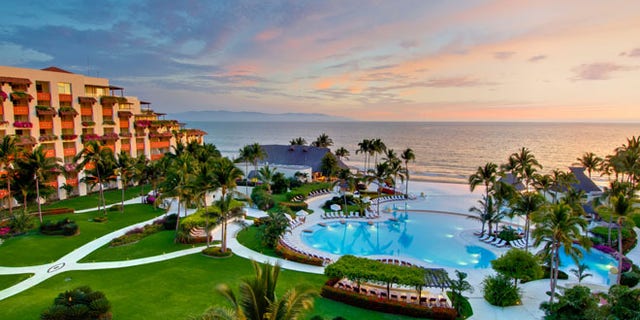 Chiva-Som, a health-focused resort, has a strict policy against using mechanical devices in all public areas of the property. That includes not only laptops, phones and tablets, but cameras and e-readers, too. If you'd planned on reading and have only your Kindle, they will let you use it — for reading only! — on the beach or in the resort's library.
Why so strict? Guests of Chiva-Som seek a total lifestyle transformation, which is achieved through health and wellness programs focused on balancing and rejuvenating the mind, body and spirit. They believe digital devices serve as a distraction for those desiring to develop their inner selves.
8. Hotel Arts Barcelona, Spain
At Hotel Arts Barcelona, not only can you escape your electronics, you can help remove their supposedly harmful effects. Guests can receive the hotel spa's Diamond Magnetic Ritual, which uses a negatively-charged magnet that purports to reverse the absorption of currents produced by cellphones, TVs, computers and microwaves. The treatment aims to erase skin damage said to be caused by harmful energy fields.
9. Grand Velas Resorts, Mexico
If parting with your devices is too much to bear, enter the Digital Concierge, a service at Grand Velas Resorts in Riviera Maya and Riviera Nayarit that will strip your room of all things technological. All your personal items are whisked away to a safe, where they'll stay until you depart.
In exchange for your monumental sacrifice, the concierge will furnish your room with board games and help you arrange complimentary activities, including snorkeling, bike tours, facials and massages. Want your devices back? You'll have to "earn" four bracelets for completing these activities.
The resorts also give you a T-shirt that announces to all other guests that you're detoxing. There is also a timer in the lobby that counts down the minutes and seconds (it might seem like years) that you've been in "digital detox." If only you could Instagram your success…