Disneyland Paris guest suing park after crème brûlée torch scorches her face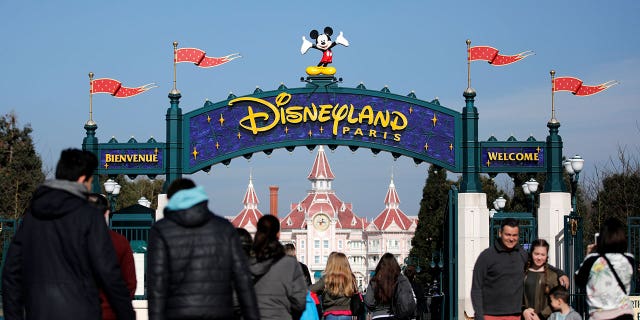 Disneyland might be known as "the happiest place on Earth," but it was anything but enjoyable for a recent guest at its Paris counterpart.
Erica Osbourne, a 37-year-old mother from Bristol, England, is suing Disneyland Paris following an incident earlier this year, during which she was badly burned by a "massive fireball" emanating from her crème brûlée, the BBC reports.
Osbourne claims that she and her 10-year-old daughter, Abigail, were eating at the park's Newport Bay Hotel Restaurant when a chef ignited the sugar atop her crème brûlée with a blowtorch.
"The chef lit the sugar and a massive fireball came across the counter towards me," Osbourne recounted to the Press Association.
DISNEY REMOVING 'BRIDE AUCTION' FROM PIRATES OF THE CARIBBEAN RIDE
"I was so terrified that I froze to the spot, but I remember an intense heat on my face," said Osbourne, who suffered second-degree burns on her face and hands during the ordeal, and also lost some of her eyebrows and hair. "Abigail told me later that I was screaming 'Help me! I'm on fire.' My jumper and my face were on fire."
A chef was able to extinguish the flames by rolling Osbourne around on the ground, but not before several nearby children witnessed the nightmarish ordeal.
"I opened my eyes to see everybody staring at me and there were all of these children screaming," said Osbourne.
Osbourne wasn't happy Disneyland Paris' immediate reaction to the situation, either. According to her, the manager of the restaurant likened her injuries to "falling off a bike," and an employee from a different part of the park suggested that maybe it was her own fault for wearing too much flammable perfume.
Paramedics were called to treated Osbourne for the burns, and she was admitted to a hospital shortly thereafter.
FOLLOW US ON FACEBOOK FOR MORE FOX LIFESTYLE NEWS
Osbourne has since filed a lawsuit, although she told the Press Association that what all she "really want[s] out of this is a written apology and for [Disneyland Paris] to make sure this never happens again."
The BBC reports that Osbourne is being represented by James Griffin of multinational law firm Slater and Gordon.
A spokesperson for Disneyland Paris has called the incident an "extremely rare" occurrence, but declined to comment further "as this is an ongoing legal issue."