Disney World slammed for 'horrible' animatronic Trump that 'looks like Jon Voight'
Did Disney mess up its animatronic Trump?
Walt Disney World has been preparing to add Donald Trump to its Hall of Presidents since before he took office. Just over a year later, the park is finally unveiling the fruits of its long-awaited labor — and early reviews on Twitter are mixed.
More than one has even stated that the animatronic likeness looks more like Oscar-winning actor Jon Voight than Trump.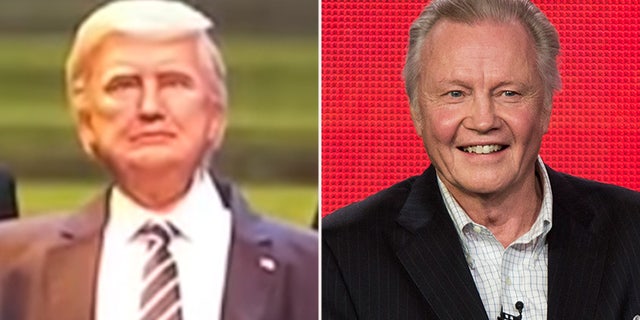 The park opened up its refurbished Hall of Presidents attraction for a sneak peek on Dec. 18 ahead of its official debut on Tuesday, giving park-goers a first look at its new audio-animatronic likeness of the 45th commander in chief. The new "Trump" is said to feature "the latest advances in technology that enable smoother and more lifelike movements," according to the official Disney Parks Blog.
DISNEY DEBUNKS RUMORS ABOUT TRUMP'S HALL OF PRESIDENT LIKENESS
But while Disney may have captured the president's animated hand movements very faithfully, the robot's physical appearance isn't winning praise on Twitter. Commenters have already compared Disney's Trump-bot to Jon Voight, but also Angela Lansbury, the character of Biff Tannen from "Back to the Future: Part 2" and even Hillary Clinton, his opponent in the 2016 presidential election.
FATHER AND DAUGHTER RIDE ALL 49 DISNEY WORLD RIDES IN ONE DAY
Others simply found the Trump likeness to be off-putting, or less-than-faithful to President Trump.
Regardless, there's no arguing that Disney got Trump's "voice" right. The park confirmed that President Trump had recorded his own dialogue to be spoken by his animatronic likeness, despite earlier reports to the contrary, which Disney was forced to debunk in June.
Following an introduction from the attraction's animatronic George Washington, President Trump's likeness recites his oath of office before launching into a minute-long speech, per a YouTube clip shared by WDWMagic.
FOLLOW US ON FACEBOOK FOR MORE FOX LIFESTYLE NEWS
"From the beginning, America has been a nation defined by its people," says Disney's "Trump," who is dressed in his signature tie and unbuttoned jacket. "At our founding, it was the American people who rose up to defend our freedoms and win our independence."
"Above all, to be American is to be an optimist — to believe that we can always do better — and that the best days of our great nation are still ahead of us," Trump concludes in a later snippet.
"It's a privilege to serve as the President of the United States, to stand here among so many great leaders of our past, and to work on behalf of the American people."