Disney Cruise accidentally backs into pier in Bahamas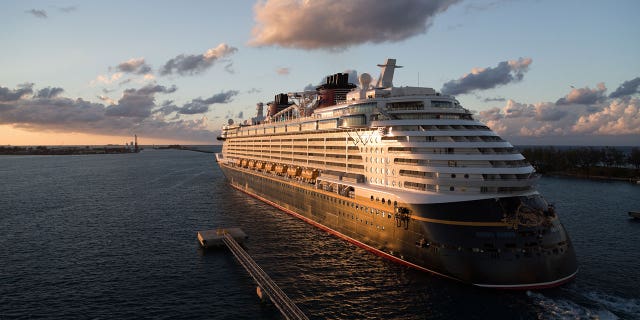 A Disney Cruise ship is reportedly sticking to its schedule after accidentally backing into a pier in the Bahamas over the weekend.
The Disney Dream was preparing to dock in Nassau on Saturday when the incident occurred, reports Florida Today. According to footage taken by YouTuber Scott Lewitt, the ship loudly collided directly against the end of the pier, causing damage to the hull before coming to a complete stop.
IS A DISNEY CRUISE WORTH THE COST?
"I knew that was going to happen," Lewitt can he heard saying in the footage. (WARNING: The clip below contains explicit language. Viewer discretion is advised.)
Disney has since told Florida Today that no one was injured in the accident, and passengers were not affected. A woman aboard the three-day cruise to the Bahamas claims she didn't even feel the impact.
FOOTAGE CAPTURES CARNIVAL CRUISE NEARLY PLOWING INTO JET SKI
"When we were backing into Nassau this morning, the Disney Dream hit the pier. We never felt a thing," wrote cruise passenger Judi Laplante on Facebook, per Florida Today. "Rough seas last night and very foggy this morning, so I'm not sure of those were contributing factors or not."
The hull of the ship, meanwhile, did suffer "minor" damage, according to Disney, and was subsequently repaired during a scheduled stop at Castaway Cay in the Bahamas. Laplante later tweeted out a photos and video of the crews working to repair the damage to the ship's stern.
Florida Today reports that the Dream maintained its original schedule and returned to Port Canaveral, in Florida, on Monday. It was also preparing to depart Monday evening on another four-day cruise to the Bahamas, just as scheduled.
FOLLOW US ON FACEBOOK FOR MORE FOX LIFESTYLE NEWS
A representative for Disney Cruise Lines was not immediately available for comment.