Denver airport's talking gargoyle spooks travelers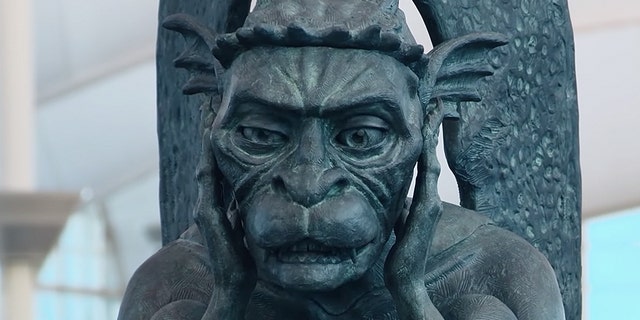 Travelers passing through Denver International Airport best be aware of the air hub's newest official — a talking animatronic gargoyle statue that is full of sass, sarcasm and spooky conspiracy theories.
On Thursday, reps for DEN unveiled the chatty creature, perched in the main terminal, in honor of the airport's 24th year in operation, the Atlanta Journal-Constitution reports. The airport shared video footage of the eloquent gargoyle surprising passersby to YouTube, where it has since gone viral with over 70,000 views.
STATE DEPARTMENT ISSUES TRAVEL WARNING FOR BAHAMAS, URGES TOURISTS TO 'EXERCISE INCREASED CAUTION'
"Welcome to the Illuminati Headquarters, I mean, Denver International Airport!" the gargoyle exclaims, shocking travelers.
"You know, you can actually put the phone down and have a conversation with me," the creature – which claims to be 243 years old – chides a "millennial" on their cell phone.
Reps for DEN returned Fox News' request for comment on the origin and purpose of the gargoyle with the following statement:
"DEN is known for the conspiracies about our airport, and we wanted to find a playful way to embrace the conspiracies. We always strive to win the hearts of our passengers by giving them the unexpected," a spokesperson said. "We hope the gargoyle gave them all a good belly laugh, and more reason to want to travel through DEN."
FOLLOW US ON FACEBOOK FOR MORE FOX LIFESTYLE NEWS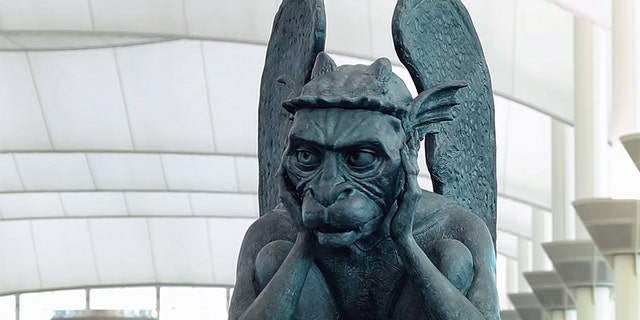 YouTube commenters, meanwhile, were much more skeptical of the all-knowing robot.
"Age old trick to bring humor into things to throw people off the trail and so they can mock 'conspiracy theorists,'" one user warned.
"This is way too creepy for me!" another agreed.
CLICK HERE TO GET THE FOX NEWS APP
"I work here so this is the best thing ever lol," one joked.
As noted by Thrillist, Denver airport has been shrouded in mystery ever since in opened in 1995, after multiple delays and almost $2 billion over budget. Famous features, including a 32-foot rearing horse statue, apocalyptic murals, Freemasons ties and more, have many convinced that the facility is much more than an air hub.