Delta tightens leash on emotional support animals – but some groups are crying fowl
Airlines have always had loose regulations for those special needs passengers who need emotional support animals to fly.
But then airplanes sort of started turning into mini-zoos.
Turkeys, spiders, possums and even a miniature horse – all types of furry creatures, feathered friends and creepy crawlies have been used by passengers claiming the animals provide comfort while flying.
Now Delta Air Lines is saying no more.
The Atlanta-based airline announced earlier this month that it would put additional restrictions in place on people traveling with emotional support and service animals.
The new policy is aimed at curbing animal behavior such as urinating, defecating and biting while on board planes. All of those incidents have happened during flights, to the chagrin of passengers forced to sit next to someone carrying a wild or ill-trained animal.
"The rise in serious incidents involving animals in flight leads us to believe that the lack of regulation in both health and training screening for these animals is creating unsafe conditions across U.S. air travel," said John Laughter, Delta's Senior Vice President for Corporate Safety, Security and Compliance in a press release. "As a leader in safety, we worked with our Advisory Board on Disability to find a solution that supports those customers with a legitimate need for these animals, while prioritizing a safe and consistent travel experience."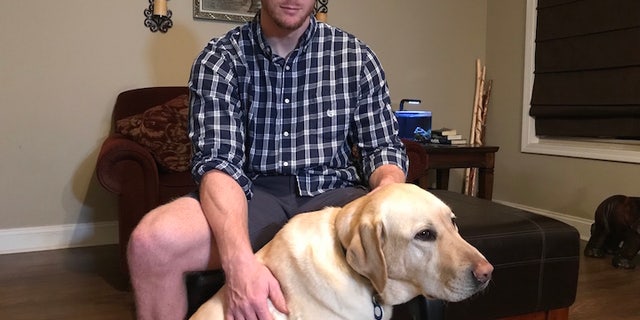 Other airlines may follow suit. Officials from American, United and Southwest Airlines said they say they are evaluating their current support animal policies. A spokesperson for American Airlines went even further, saying "we agree with Delta's efforts."
Delta's new policy, which goes into effect March 1, would require those seeking to fly with service animals to give the airline 48-hour notice along with a veterinarian health form and immunization record. Passengers who want to board a flight with an emotional support or psychiatric service animal will have to provide a signed veterinarian health form, a doctor's note and provide proof of animal training.
But while some are championing the changes, others wonder whether it goes too far. Those who need service animals to see or get around say they are being punished because of a few who took advantage of existing rules.
Joseph Worley, a former Navy corpsman who lost part of his left leg while serving in Iraq, said he supports the new policy but is concerned about the 48-hour notification period. Worley often flies on short notice with his service dog, Galaxi.
"During an emergency travel of some kind I do need to travel with my dog and it's not just something that I do because I can," Worley told Fox News. "When I'm in my wheelchair I need help….I need help with doors and when I drop things… If somebody needs me, I may not have 48-hours to travel."
Worley says he believes many people are taking advantage of the system and making it harder for people like him to travel with service animals.
Delta says since 2016, there has been an 84 percent increase in people flying with animals in the cabin. In the same time period, there were people attempting to fly with emotional comfort turkeys, spiders, snakes and other wild animals. The airline also noted a 2017 incident where an emotional support dog bit a passenger, causing severe face injuries. The airline said it transports 700 animals per day and nearly 250,000 per year, compared to 180 million passengers a year.
The National Federation of the Blind calls Delta's new rules "unnecessary and unlawful."
"We are particularly troubled by the requirement that guide dog users submit paperwork to Delta 48 hours before flying. Travelers without guide dogs are not required to plan their travel 48 hours in advance," the organization said in a statement. "Furthermore, guide dog users will no longer be able to fly Delta in family, medical, or other emergencies."
A U.S. Department of Transportation spokesperson said the agency is monitoring the airline's new policy to ensure that it respects the rights of people with disabilities who need service animals to travel.
Jessica Rock, an animal welfare attorney and co-founder of Animal Law Source, said Delta's change in policy is primarily aimed at passenger safety.
"You are seeing a major increase in not only the abuse of people passing off animals of this nature when they're not in fact service animals or emotional support animals," Rock Said. "You're also seeing an increase in the amount of incidents that are taking place on airplanes."
Fox News also reached out to several service dog trainers and advocates who expressed similar thoughts. Many of them say they are supportive of the new policy.
At least 19 states have laws against fake service dogs. With a quick search online, people can either purchase a service dog vest or an emotional support animal letter without even being seen by a therapist. Advocates say more needs to be done to stop people from taking advantage of the system.
Under the Air Carrier Access Act, airlines must allow support animals to accompany passengers with a disability and airlines do not charge a fee for this service. Delta says it is adhering to current law and other airlines may follow its lead. United and American Airlines both require a 48-hour notification and a doctor's note for people traveling with emotional or psychiatric support animals. Neither airline has a 48-hour notification requirement for people with service animals.
Beginning March, Delta will no longer allow people to fly with exotic emotional support animals such as ferrets, insects, spiders, goats or animals with tusks or hooves.