Delta prepared for uniform roll-out with alternatives for employees complaining of skin irritations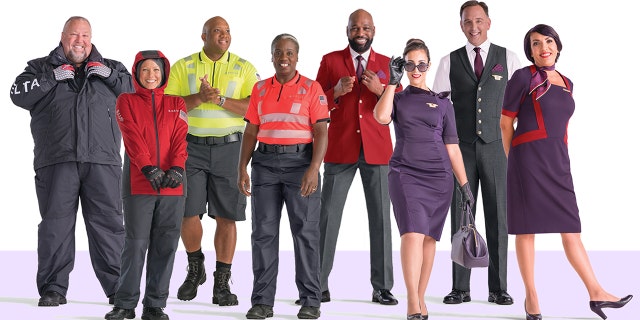 Some Delta Air Lines employees are not in love with their new $20 million designer uniforms that launched last week, but the company claims it has intentions — and even backup plans — to solve each issue.
"When we began working with employees to design new uniforms, we wanted to improve design, fit and function, while ensuring the health and safety of all Delta people. That's why we took three years to collect feedback and listen, including three months of testing live in the operation on 1,000 randomly selected employees," a Delta spokesperson said in a statement obtained by Fox News.
"Since launch, we continue to actively source feedback and have already initiated conversations with any employee reporting an issue."
According to earlier reports, several Delta Air Lines flight attendants had been complaining about the Zac Posen-designed uniforms, saying the material has caused skin irritation and rashes.
DELTA'S $20 MILLION DESIGNER UNIFORMS DRAW MIXED REVIEWS
Within hours of Lands' End supplying the new outfits to 64,000 employees, reports of symptomatic reactions began circulating on social media, the Chicago Business Journal and Promo Marketing magazine reported.
"My neck after a 10-hour Rome flight...it hurts!! Who do I report this to? Uniform committee?" one Delta flight attendant reportedly shared on social media, along with a photo of her irritated skin.
Delta has since confirmed to Fox News that an apron is the main clothing item at issue, though the company tells Fox News the article is entirely optional, and that the company is actively working with flight attendants to correct the issue.
A Delta representative also confirmed that only a few dozen complaints were logged about other articles of clothing, in total, and that those have been largely solved by re-fitting the affected employees for new uniforms.
The rep also told Fox News that all-cotton alternatives for its button-down shirts, as opposed to the cotton and Spandex versions, are available for any employee who might be allergic to Spandex. Non-wool options have also been made available.
FOLLOW US ON FACEBOOK FOR MORE FOX LIFESTYLE NEWS
Before releasing the new uniforms, Delta reportedly conducted over 80 employee focus groups and polled more than 1,000 employees during the course of three months to get feedback about the uniforms before the massive launch. The design team made over 165 changes to the look based on employee feedback, before deciding on the final aesthetic.
Following the uniform launch last week, Delta issued a statement addressing initial concerns to the Chicago Business Journal.
"Since our new uniforms launched for 64,000 Delta employees, we have received a few reports about potential chafing or skin irritation. Just like the learnings we received from our thorough, three-year development process, which included three months of wear-testing on 1,000 frontline employees, we continue to listen and will resolve concerns on a case-by-case basis. We have already initiated conversations with each employee reporting an issue."