Delta passengers restrain unruly man threatening to 'take the plane down'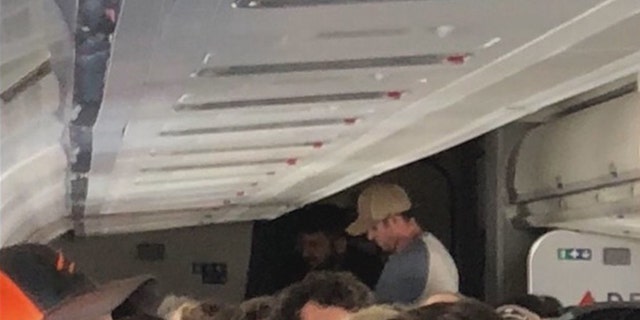 Two men aboard a Delta flight from Maine to Atlanta are being hailed as heroes after helping to subdue a passenger making disturbing threats.
James Tunnell, an ex-corrections officer, was aboard Delta Flight 1249 from Portland to Atlanta on Thursday, when he and his companion Ashley Decker heard another passenger causing a commotion from the rear of the aircraft.
"I could hear a lot of screaming in the back. One of the passengers was punching the [overhead seat] lights," Tunnell told Fox 5. "Passengers were telling me he was wanting to take the plane down."
'WORST PASSENGER EVER' JAILED FOR PUNCHING FLIGHT ATTENDANT IN GROIN
Decker added that the man was attempting to punch other passengers, as well as the windows on the plane.
"It was kind of scary. 9/11 immediately went into my head," she told Fox 5.
When the man locked himself in a restroom, Tunnell ran to the back of the plane, where he was joined by another man who identified himself as a member of the Coast Guard. A flight attendant provided the men with handcuffs, and the two then worked with crew to wrangle the man back into his seat.
The pair managed to restrain the unruly passenger, despite him trying to bite Tunnell "a couple of times," Tunnell said. They then stayed by his seat and watched over him until the plane landed.
"There was a lot of lives at stake, where people could have been potentially hurt," said Tunnell.
WATCH: FEUDING FRENCH RAPPERS BRAWL AT PARIS AIRPORT, CAUSE FLIGHT DELAYS
Passengers reportedly began to clap once they were safely on the ground, and Delta, too, has since thanked the men for their help
"Delta flight 1249 from Portland, Maine to Atlanta was met by law enforcement in Atlanta due to a customer disturbance on board. Delta appreciates the assistance from those customers who aided the crew and applauds the professionalism of our flight attendants for their efforts in deescalating the situation. The safety and security of our customers and crew are always Delta's top priority," the airline said in a statement obtained by Fox News.