Delta passenger gets 2 years in prison over wine-bottle brawl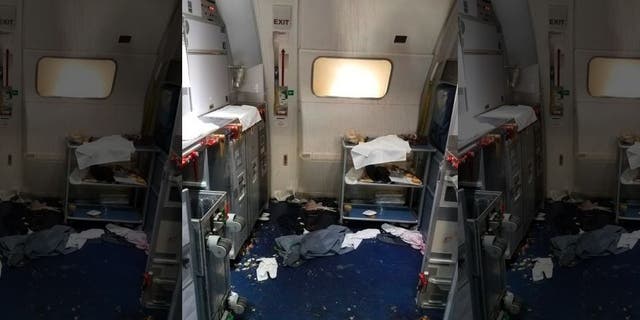 NEWYou can now listen to Fox News articles!
A Florida man who went on a violent rampage aboard a Delta Air Lines flight in July was sentenced to two years in prison by a judge in Seattle.
Joseph Hudek IV, 24, appeared in court Tuesday, where he claimed to be "deeply sorry for everything that's happened" on the Seattle-to-Beijing flight, The Seattle Times reported.
SICHUAN AIRLINES SCARE MARKS 6TH WINDOW-RELATED ACCIDENT FOR AILINES IN ONE MONTH
Hudek was arrested on July 6 for attempting to pry open an exit door on the aircraft, and also for assaulting the passengers and flight attendants who tried to restrain him.
Authorities say Hudek, then 23, left his seat about an hour into the flight, while the plane was over the Pacific Ocean, just northwest of Vancouver Island. He then entered the restroom, exited to ask a question of the flight attendant, re-entered the restroom, and later re-emerged with his shirt off, according to documents obtained by the Tampa Bay Times. He then lunged for the exit door, screaming, "I want to get out!"
STATE LAWMAKER WITNESSES PASSENGER RUNNING NAKED 'FROM FRONT OF PLANE TO BACK'
Flight attendants and passengers tried to subdue Hudek as he actively fought them off, punching a flight attendant and hitting another passenger on the head with a wine bottle. A crew member also claimed to have broken a wine bottle over Hudek's head, which apparently didn't faze the 23-year-old.
He was eventually restrained with the help of other Delta passengers, and the plane returned to Seattle-Tacoma airport.
Hudek pleaded guilty in February to charges of assault with a deadly weapon and interfering with the flight crew. At the time, he told a federal magistrate judge that he had consumed edible marijuana before the flight, which caused his outburst.
FOLLOW US ON FACEBOOK FOR MORE FOX LIFESTYLE NEWS
At Tuesday's sentencing, a passenger who was hurt during Hudek's rampage urged the judge to impose a harsher punishment of five years in prison, though the judge stated Tuesday that he took Hudek's age — as well as 300 letters of support sent on behalf of Hudek — into consideration when handing down his sentence.
The Associated Press contributed to this report.