Delta couple who had sex on flight tried to cover up behavior with a blanket while man slept beside them: report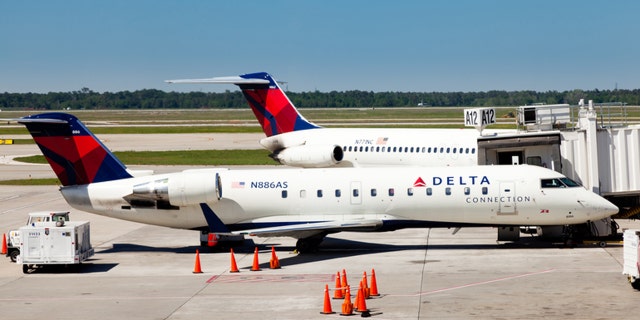 New details have emerged concerning the couple who was caught engaging in a sex act aboard a Delta flight from Los Angeles to Detroit on Oct. 29.
According to a police report obtained by the Detroit Free Press, the two Delta passengers performed the sex act next to another male passenger who appeared to be asleep, per a witness. Furthermore, the couple had tried to cover up their lewd behavior with a blanket, but a fellow passenger was able to see underneath as it was only "partially covering" their actions.
DELTA SEX COUPLE PROBABLY WON'T BE CHARGED, SAYS FORMER PROSECUTOR
"[I] went to the row and witnessed the lady in the man's lap performing fellatio," said a passenger who gave a witness statement. "They had a blanket partially covering the 'act.' I asked for boarding cards and names."
At that point, the witness says the woman sat up in her seat, while the man attempted to apologize.
Police also said that the 48-year-old woman was reported to be "highly intoxicated" when they were dispatched to bring her and the 28-year-old into custody. Police had previously said the two were strangers before boarding the plane; she switched seats sometime into the flight to sit beside him.
Upon the flight's arrival at the Detroit Metropolitan Airport, officers say the man attempted to explain that the woman had merely "fallen asleep in his lap but that they did not have intercourse," and added that he only "grabbed her breasts on the outside of her clothes."
UNITED FLIGHT TURNS AROUND AFTER PASSENGER INITIATES 'ALTERCATION' WITH CREW MEMBER
The two were taken into custody by the Wayne Metro Detroit Police Department, but were ultimately issued citations by the FBI for lewd and lascivious behavior, police confirmed.
The couple was not formally charged with any crimes, the Detroit Free Press reports.
After the incident, the Press says the woman attempted to re-book her flight with Delta, but the airline stated that she "was not permitted to fly" with them. She left the next day on a different carrier.
FOLLOW US ON FACEBOOK FOR MORE FOX LIFESTYLE NEWS
Both the man and woman had originally traveled to Detroit to catch separate connecting flights, WDIV-TV reported shortly after the incident. He was scheduled to continue to Miami, and she to Nashville. The two did not know each other before meeting on the plane, officials told WDIV at the time.