Dads traveling with new baby on plane hand out apology notes and goody bags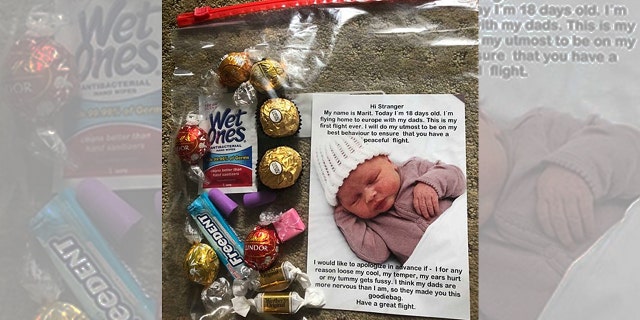 Two dads stressed about traveling with their brand new baby on an airplane handed out goody bags and apology notes to the other passengers.
Musician Niall Horan, formerly of One Direction, was on the 10-hour flight and tweeted about the kind gesture.
STRANGER LEAVES WAITRESS $3,000 TIP BECAUSE 'THE COUNTRY IS IN A BAD PLACE'
"Had the coolest little goodie bag on the plane with this letter enclosed," he wrote along with a picture of the note the passengers received, which featured a photo of the little girl, Marit, who was flying home to Europe.
"This is my first flight ever I will do my utmost to be on my best behavior to ensure that you have a peaceful flight. I would like to apologize in advance if I for any reason [lose] my cool, my temper, my ears hurt or my tummy gets fussy. I think my dads are more nervous than I am, so they made you this goodiebag, Have a great flight," the note read.
Since Horan only shared a photo of the note, everyone wanted to know what was in the goody bag. Luckily, someone else shared a photo of it — it contained an assortment of candy, gum, wet wipes and earplugs.
FOLLOW US ON FACEBOOK FOR MORE FOX LIFESTYLE NEWS
Horan also wrote that Merit was "quiet as a mouse for the entire flight.
"Good luck to both dads," he tweeted.