Could Brazil's political upheaval derail the Olympics?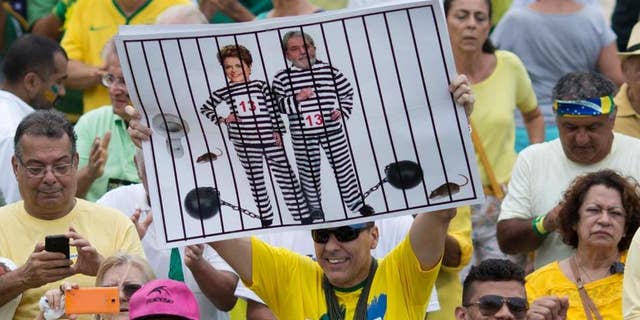 NEWYou can now listen to Fox News articles!
Brazil's ongoing political crisis has placed the country's entire governing structure into question fewer than 80 days before Rio de Janiero is slated to host the Summer Olympic Games. Nevertheless government officials continue to assure visitors that the Games will take place as scheduleddespite the country's political and economic struggles.
This past week, however, the upheaval extended perilously close to the Summer Games as Michel Temer, Brazil's acting president, named a new cabinet including Leonardo Picciani as sports minister. Piccani is Brazil's third sports minister since the end of March.
Temer, who is himself facing an impending corruption investigation, assumed office following Dilma Rousseff's temporary resignation, which came after Brazil's Congress voted to launch an impeachment trial against her.
The political turmoil and Zika virus fears connected to travel to Brazil has heightened concerns among some observers that the country may be unprepared to host the Olympics. Similar concerns expressed in 2014 regarding the country's hosting of the World Cup turned out to be unfounded as Brazil's hosting of the event was widely viewed as successful (with the exception of the country's play in the tournament).
Indeed if reservations for flights to Brazil are any indication, the country is poised to offer significant airlift to Rio. The number of international flights to Rio de Janeiro between July 25 and Aug. 21, 2016 will represent a 289 percent increase over the same period in 2015, according to officials at Embratur, Brazil's tourism board.
More from TravelPulse
Imagine Staying in a Villa Like This?
Travel Around the World in Style
Healthy Living While You Travel
A Jazz Festival You Should Not Miss!
Data from a survey released by the Rio Convention & Visitors Bureau (CVB) says visitor arrivals will peak on Aug. 4, the day of the 2016 Games' opening ceremony. Travelers from China, Japan and the United States will compose the highest majority of tourists at the Olympics, the officials said.
"Great events are unique opportunities for Brazil to raise its level of competitiveness among the international tourism market," said Gilson Lira, Embratur's interim president.
In a statement, Embratur officials also reported hotel occupancy would be higher by 208 percent year-over-year during the Olympics and "international bookings for the Games are currently three times the rate recorded in 2015." Agency officials also said a study shows 63 percent of international visitors with a confirmed arrival date in Brazil will be staying, on average, 14 days in Rio de Janeiro.
"At this difficult time, where we identified a huge expansion of the hotel industry, added to the political and economic crises in the country, our industry needs to be aware and have consistent information in order to make strategic decisions to minimize negative impacts," said Alfredo Lopes, the Rio CVB's executive president.
Data from Brazil's Ministry of Tourism illustrates the country's appeal with American travelers. Of the 6.31 million foreigners who traveled to Brazil in 2015, 575,796 were Americans, outpacing France (261,075), Germany (224,549), Italy (202,015) and England (189,269). During the World Cup, on average, Americans spent more than any other visitors, averaging $85.07 per person per day.