Chris Jericho launching 'Rock & Wrestling' cruise for 'Jericoholics'
WWE wrestler Chris Jericho has held a wide range of jobs over the years, from rock singer to game show host to best-selling author (see above). But on Tuesday, he added another entry to his ever-growing resume: cruise-ship entertainer.
On Tuesday, Jericho announced his eponymous Chris Jericho Rock & Wrestling Rager at Sea, a themed cruise promising "5 venues of raging entertainment," "endless rockin' moments," and "one family of Jericoholics."
YOU'LL NEVER BELIEVE THE THEME OF THE NEW YORK TIMES' NEW CRUISE 
"Wrestling, rock and roll, comedy — all on the open sea!" explains Jericho in a video announcement. "It's going to be one of the greatest times of your life, guaranteed. I want you to join us," he adds.
According to its official site, the Chris Jericho Rock & Wrestling Rager at Sea will depart from Miami, Fla., on Oct. 27, 2018, and set sail for Nassau, Bahamas, before returning to Miami on Oct. 31.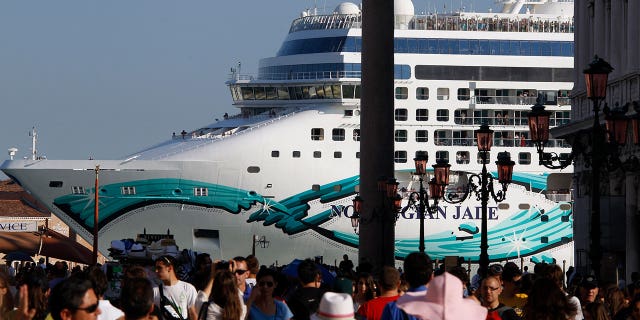 The Rock & Wrestling festivities will also be held aboard the Norwegian Jade cruise liner, which will also host the upcoming "Star Trek II: The Cruise" in January.
Along the way, guests — or Jeraholics, as the website is calling them — will be treated to live music from at least eight different acts, such as Jericho's own band Fozzy, an all-female AC/DC cover band called Shoot to Thrill, and former "SNL" cast-member Jim Breuer's band, Jim Breuer and the Loud & Rowdy. The itinerary also includes comedy from Breuer, a one-man show from Chris Jericho, and three live podcasts, the latter of which will also be hosted by Jericho.
THE BELLA TWINS ON THE 'AWESOME' NEW SEASON OF 'TOTAL BELLAS'
As for the "wrestling" component of Jericho's Rock & Wrestling Rager, the cruise will also host an in-ship "Sea of Honor" tournament. Special appearances include WWE announcer Jim Ross (who is described as the "host" of the cruise) as well as professional wrestlers Diamond Dallas Page, Mick Foley and Rey Mysterio, among others.
Tickets to the Chris Jericho Rock & Rager were reportedly available as of Tuesday.