Chicago aquarium allows penguins to roam free during coronavirus closure, documents 'field trip' online
Chicago's Shedd Aquarium is currently closed to the public to help stem the spread of coronavirus, but that isn't stopping its penguins from having the times of their lives.
Caretakers at the Shedd Aquarium have decided to treat a few of the facility's most curious inhabitants — namely, Wellington, Edward and Annie — to a "field trip" over the last few days, allowing them to roam to other exhibits, and see their animal neighbors up close.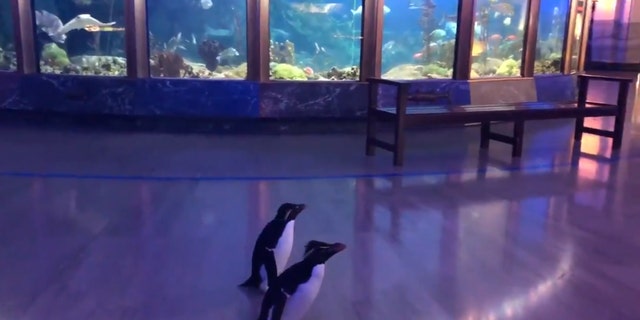 "This is pretty much a part of our animal welfare for every animal we have in our aquarium," Steve Aibel, the senior director of animal behavior and training, told Fox News.
"We want these guys to be out and around… comfortable in their homes," he said, explaining that these types of "field trips" weren't rare for Shedd's animals at all — the animal's caretakers simply had a bit more time to document the penguins now that the aquarium was temporarily closed.
HOW TO COPE WITH SOCIAL ISOLATION DURING THE CORONAVIRUS PANDEMIC
And document they did. Animal care expert Michelle Nastasowski began on Sunday by following Wellington, a 32-year-old rockhopper penguin, after bringing him to visit the Amazon Rising exhibit.
"Wellington seemed most interested in the fishes in Amazon Rising!" the aquarium wrote on Twitter, in a post that also contained footage of Wellington staring at the large fish tank. "The black-barred silver dollars also seemed interested in their unusual visitor," the aquarium wrote.
The aquarium was soon inundated with requests for more ("we need daily [updates]," one user pleaded), to which the aquarium responded by confirming that its "animal caretakers are planning even more creative activities for the penguins and other animals."
CLICK HERE TO SIGN UP FOR OUR LIFESTYLE NEWSLETTER
The next day, the Shedd Aquarium shared video of Edward and Annie, two more of its rockhopper penguins, exploring the aquariums rotunda, and even its information desk, in the absence of guests.
Nastasowski told Fox News it was important to let the animals explore even when guests are around, too.
"So this idea, a field trip, is something that we at Shedd have been doing for a very long time," she said. "We do need time to do this even when the aquarium is open. We thought it was important to document."
FOLLOW US ON FACEBOOK FOR MORE FOX LIFESTYLE NEWS
And once again, after posting video of Edward and Annie, the aquarium was inundated with praise on Twitter, with one user suggesting they bring the penguins to meet the otters. "The internet would lose its mind," she wrote.
Lana Gonzalez, the manager of the aquarium's otter and penguin teams, said she was thrilled that the penguins' antics were generating such interest on Twitter.
"For me, being able to see it bring joy to people… in this kinda crisis, is a highlight. But it's also [important] to get that message out about penguins all around the world," she said, specifically noting the threats penguins and their natural habitats are currently facing.
"Learning is oftentimes much more effective when it's fun and when it's spontaneous," Aibel added. "We hope it encourages people to ask, 'What can I do to help? What about other animals in need? What can I do to take care of the backyard, of the planet, of the ocean?"
"The problems that [these animals] are facing are real… If Wellington can be the animal that can do that, then boom — that's what we're trying to accomplish."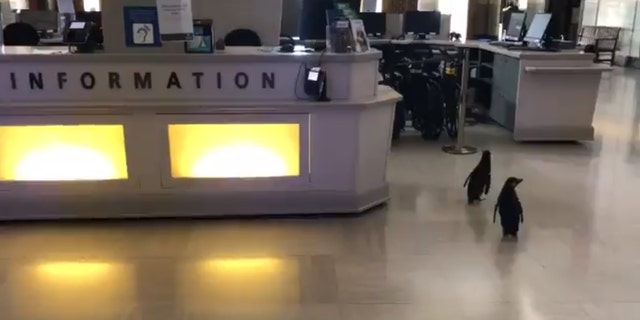 The Shedd Aquarium temporarily closed to visitors on March 13, citing concerns for the overall wellbeing of the community.
"While we are disappointed that we won't be able to welcome you to the aquarium during this time, we are closing out of an abundance of caution and to do our part in the social distancing efforts to help stop the further spread of novel coronavirus (COVID-19)," the aquarium wrote on its website.
CLICK HERE FOR COMPLETE CORONAVIRUS COVERAGE
The facility has set a reopening date of March 29.