Cheers: You'll want a layover at these awesome airport bars
The five worst words you can hear while at the airport are, "Your flight has been delayed." But they are often followed by five of the best words: "Let's go to the bar."
Airport bars (along with airport restaurants) have long left much to be desired, with mediocre beer that costs as much as an entire case would outside the airport. Nonetheless, a new wave of airport bars around the world are making flight delays a little more tolerable. Find one of these bars, sit with your friends and toast to Bill Brasky.
1. Ecco, Atlanta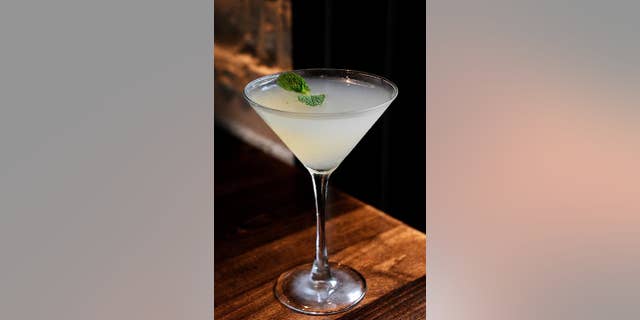 Located in the international terminal of Hartsfield-Jackson Atlanta International Airport, Ecco in Concourse F is often overshadowed by a Concourse E hot spot, One Flew South — which is widely considered one of the best airport restaurants in the world. Yet Ecco's drink selections rival even the best craft cocktail bar menus, with drinks like Long Live the Queen (Bombay Sapphire gin with lemon, peach, mint, and a hint of elderflowers). Its beer menu ranges from token domestic beers, like Sierra Nevada, to craft beers from around the world, including Atlanta's own SweetWater Brewing Company. Ecco also has more than 25 different whiskies and an extensive wine list. Best of all, you can imbibe here even if you don't have an international flight.
2. Stone Brewing Co., San Diego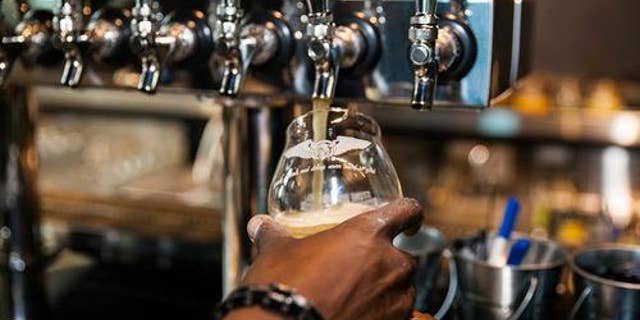 Stone Brewing Co. is part of a growing trend of airports with craft brewpubs. What's unique about Stone Brewing, however, is that it's one of the best craft breweries in the U.S., having won several medals at the Great American Beer Festival. Located in Terminal 2 of the San Diego International Airport, Stone Brewing serves its award-winning craft brews, including the flagship pale ale, as well as beer flights, wine, and craft cocktails that won't cost an arm and a leg.
3. Airbräu Brewery, Munich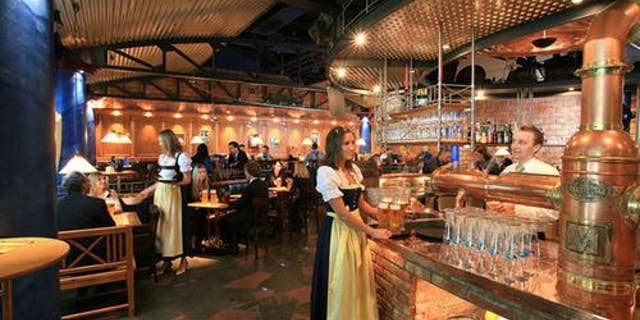 Located at the Munich Airport, Airbräu holds the distinction of being the world's first airport brewery, producing its own beer right inside the airport. Its beer menu includes a variety of different lagers, pilsners, and wheat beers, and it even offers tours. Depending on when you go, you may even be treated to live music from a local band. In addition to beer, Airbräu also offers a full food menu, so you can have one last schnitzel before your flight.
4. Wine Bar dei Frescobaldi, Rome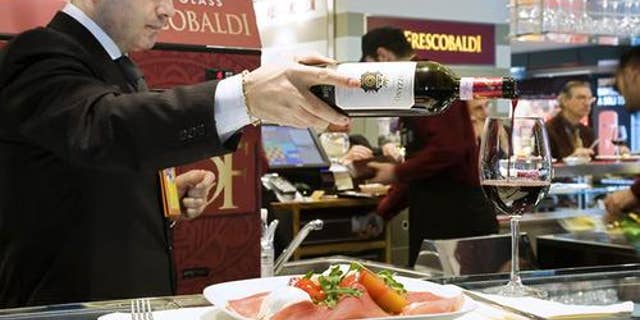 Wine is to Italy what beer is to Germany, making Rome's Leonardo da Vinci–Fiumicino Airport the natural place for a wine bar. What's unique about Frescobaldi is that it has three different locations at the airport, one in the domestic terminal and two other locations in the international terminal. There are plenty of Italian wines to choose from, including a variety of vintages and even some from the owner's vineyard in Tuscany. In addition to wine, Frescobaldi also has light bites, such as cheese and charcuterie plates, salads, and vegetables.
5. Coopers Ale House, Sydney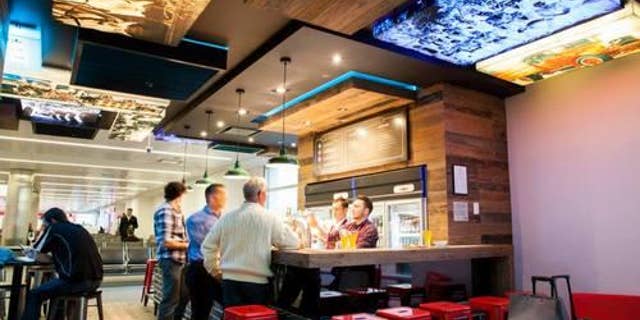 While many people probably think Foster's when they think Australian beer, it was actually Coopers that brewed beer here first. The largest Australian-owned brewery, Coopers was recently added to Sydney Airport's T2 Domestic terminal. In addition to the variety of beers offered at Coopers, the contemporary alehouse also serves other local and imported beers, as well as wine and some food offerings.
6. Rooftop Pool Bar, Singapore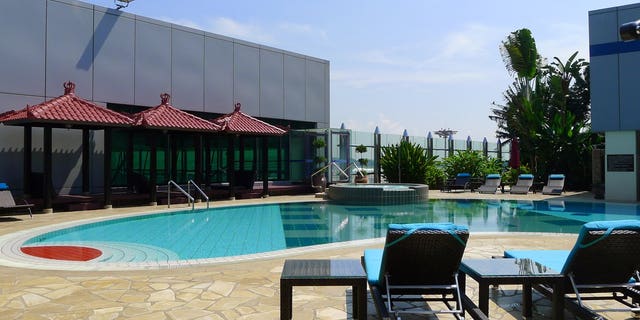 You read that right — a rooftop swimming pool and bar at Singapore's Changi Airport. While technically a part of the Ambassador Transit Hotel, the pool is located atop Terminal 1. The pool (and facilities, which include a whirlpool spa) is free to hotel guests, but for others, it's a nominal fee for pool access, which includes use of the shower facilities, a towel, and a complimentary nonalcoholic drink from the bar. Try its version of the Singapore Sling, snag a cabana bed, and take in this airport experience you can't have anywhere else.
7. Tootsies, Nashville, Tenn.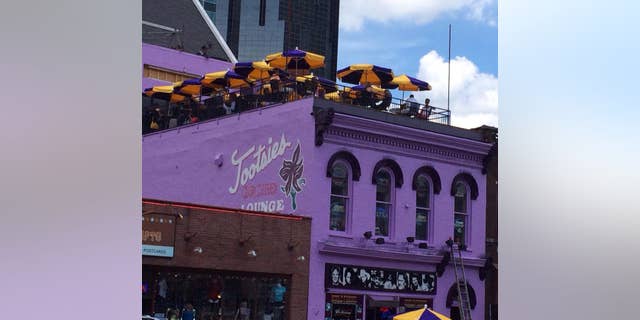 Leave it to Nashville, Tenn., to have a honky-tonk in its airport. And not just any honky-tonk, but a Nashville icon that has hosted famous musicians, including Willie Nelson, Patsy Cline, and Roger Miller, among others. The Nashville Airport location largely looks and feels like your typical airport bar, serving a variety of food (including a full breakfast menu), wine, beer, and cocktails. However, the best part is the atmosphere, complete with local musicians, which is rare for an airport bar.
8. SF Uncork'd, San Francisco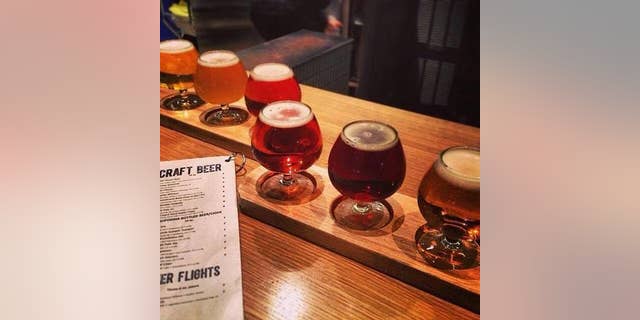 There's no denying that San Francisco's Terminal 2 is one of the best airport terminals in the U.S., featuring local restaurants from around San Francisco. However, it's Terminal 3 that has the best bar, SF Uncork'd, which is part craft brewpub and part wine bar, largely featuring California beer and wine. It features 10 different California beers on tap as well as a variety of different beer flights. That same versatility is reflected in its wine list but with a much bigger selection, and it also features flights.
9. Cigar City Brewing, Tampa, Fla.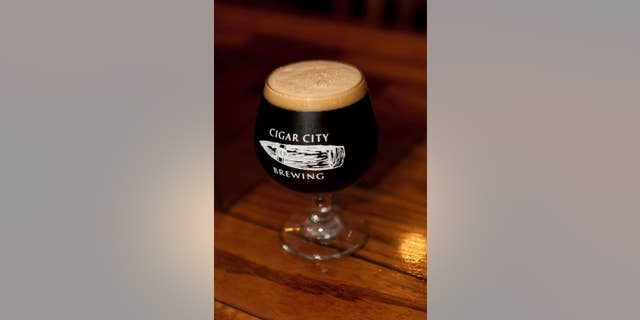 Cigar City Brewing is yet another award-winning craft brewery with an airport location. Located at Airside C Terminal at Tampa International Airport, Cigar City is unique in that it serves beers that are specific to its airport location. Brewed at the airport itself, Tony Jannus Pale Ale is named after the first commercial pilot. Cigar City Brewing gets bonus points for being able to offer patrons the option of ordering a "to-go beer," with which they can walk around the terminal.
More from Yahoo! Travel
Score! It's Not Too Late to Book a Room for Super Bowl Weekend
6 Philosophies From Around the World That Will Change Your Life