Campaign to encourage US tourism launches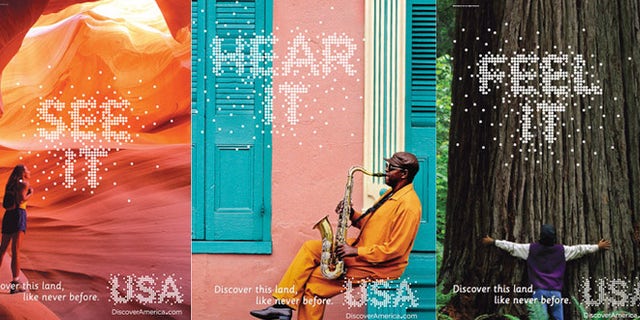 How do you sell Times Square and the Grand Canyon? The Carolinas and California?
Today, residents of Japan, Canada and the United Kingdom are getting a taste of the United States' first-ever marketing campaign to try and stave off declining tourism.
The print, web and video ads released today were created by Brand USA, a partnership of government agencies and private companies. The consortium was developed to act like the tourism ministries of countries such as Ireland, Italy or Israel.
It's the first time that the U.S. has marketed itself as a tourist destination to people living in other countries.
While tourism has increased globally over the last decade, the U.S. slice of those travelers has fallen, due in large part to complicated visa procedures and heightened security that followed the Sept. 11 attacks. The 10 years after the attacks are often referred to as the "lost decade" for U.S. tourism, because new procedures drove millions of international travelers to other countries.
Japan, Canada and the U.K. were chosen as the first round of targets because of the relative ease of their U.S. travel restrictions and the large amount of tourism dollars visitors in those countries spend here. A few weeks from now, the ads will spread to Brazil and South Korea. A handful of other markets will follow.
The print ads feature shots of various U.S. spots including New Orleans' French Quarter and the Redwood Preserve in California with the tag line "Discover this land like never before." The video ads feature a soundtrack of a song called "Land of Dreams," with lyrics and music singer-songwriter Rosanne Cash, the daughter of country music icon Johnny Cash.
Brand USA is also working with government agencies to reduce wait times for visas and make other changes to encourage more international visitors. Just a few months ago, for example, the wait for a Chinese tourist to the United States was about 180 days; now it is less than a week.
The group is operating with funds set aside two years ago under the federal Travel Promotion Act.