California wine country getaways for two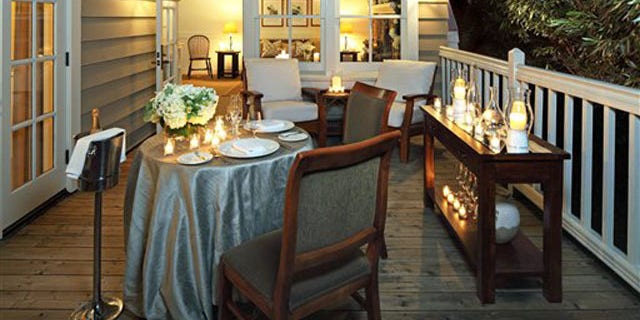 You like chocolate. You like warm baths. But are you ready for a milk chocolate bath for two?
That's just one of the options available in California wine country, where escaping with your honey can be as down-to-earth, or as decadent, as you make it.
Want to sip sparkling wine on a terrace with a view? Stage your own Cinderella story on the ramparts of a fairy tale castle? Or maybe you fancy taking a spin around the salsa floor. With Valentine's Day around the corner, here's a rundown of seven things to do for two in the Napa Valley, with price tags ranging from OK-if-you're-broke to go-for-broke.
Taste the good life
There are a number of tasting rooms in downtown Napa including Back Room Wines, where the lineup changes frequently, and Vintners' Collective, which represents a number of wineries. The Vintner's Collective tasting room is housed in a renovated historic stone building that has served time as a brewery, saloon, brothel, laundry and meat company — but not all at the same time.
Saturday (Salsa) night fever
Bistro Sabor in downtown Napa offers reasonably priced Latin American street food like fire-roasted chile relleno, a Poblano chile stuffed with cheese, beans and rice. And from 10 p.m. to 1:30 a.m. on Saturday nights they fire up the salsa, merengue, and other music, no cover charge required.
Make your feelings crystal clear
Sure, you may have seen a wine cellar or two. But have you seen a Crystal Cellar? With stainless steel walls, a mirrored bar and a collection of historic crystal decanters, not to mention a fabulous chandelier, from Baccarat? All this and more awaits at Raymond Vineyards, where your visit to the Cellar includes Earth & Air, a class about the importance of aerating wine. If you happen to be a member of the private Raymond Red Room club ($500 a year for one person and up to three guests) you can drop in on a private lounge with wine, billiards, vintage pinball and a lot of red velvet.
Take romance to the ramparts
You know that Napa Valley is Romance Central. But did you know it has its own official Castle of Love? Yes, the Castello di Amorosa is a faithful replica of a medieval Tuscan castle with more than 100 rooms, a chapel, which is in use, a Knight's Room decorated with frescoes and a torture chamber, which is not in use. Tours end with a wine tasting but if you really want to get into the Valentine's spirit, try a wine-and-chocolate pairing.
Soak in the sun
Cleopatra was said to have bathed in milk for its beautifying properties, but you can go her one better at Auberge du Soleil, where a milk chocolate bath is available in-suite, butler included, along with massage, candles, dessert and a cocktail. The hotel is offering a Valentine's Day "Heart and Soul Experience" that comes with dinner, a bottle of sparkling wine, and breakfast for $1,465 for one night, $2,290 for two nights. And if that doesn't quite fit your budget, you can always enjoy drinks and appetizers at the inn's Bistro & Bar where you can sit near a cozy fireplace or enjoy a stunning sunset on the terrace. Wine by the glass starts at $9, small plates start at $6.
Sparkle and shine
Maybe you're not ready to pop the question, but are you ready to pop the cork? Mumm Napa offers sit-down tastings on its patio or inside the tasting salon. Tastings are also available on the Oak Terrace, with a selection of vintage wines and an accompanying fruit and cheese plate. You can also take a guided tour of the winery or inspect the Fine Art Photography Gallery.
Tie the knot on the spot
You could spend months sourcing the perfect cake and fighting with bridesmaids over whether chartreuse satin truly flatters all body types. Or, you could check in to the exclusive Meadowood resort for their "We Hope You'll Elope" package. They provide the candles, decorations, bouquet and boutonniere, non-denominational wedding officiate, al fresco dinner for two including wine (you can add up to six guests at $195 per) and breakfast. You provide the "I dos." Cost for a one-night stay midweek, January-April is $3,320. But, hey, with the average cost of weddings rated at $25,000 by The Wedding Report, a Tucson, Ariz.-based research firm, it's a deal.
If you go...
Vintner's Collective: 1245 Main St., Napa, Calif.; 707-255-7150. Daily 11 a.m.-6 p.m. Tasting fee $25 for a flight (a sampling of different wines) of six wines.
Back Room Wines: 1st and Main streets, downtown Napa; 707-226-1378. Open daily, 10 a.m.-7 p.m., Sundays noon-7 p.m. Tasting flights start at $10.
Bistro Sabor: 1126 1st St., Napa; 707-252-0555. Open Tuesday-Saturday. Kitchen hours, Tuesday-Thursday, 11:30 a.m.-9:30 p.m., Friday-Saturday, 11:30 a.m.-11:30 p.m.
Raymond Vineyards: 849 Zinfandel Lane, Napa; 707-963-6929. Crystal Cellar tasting fee $25. Tours offered most days, reservations can be made online.
Castello di Amorosa: 4045 North St. Helena Highway, Calistoga; 707-967-6272. Open daily 9:30 a.m.-5 p.m. November-February. Tour and tasting $33, reservation strongly suggested. Add $4 for chocolate tasting.
Auberge du Soleil:180 Rutherford Hill Rd., Rutherford; 707-963-1211. Rates start at $600 a night. The milk chocolate bath costs $245 per person for a 60-minute massage, 30-minute bath and $335 per person for a 120-minute massage, 30-minute bath.
Mumm Napa: 8445 Silverado Trail, Rutherford; 800-686-6272. Open daily 10 a.m.-4:45 p.m. Tasting fees for the patio and salon range from $7 to $25; website offers 2-for-1 coupon. Oak Terrace tastings start at $40 and are by appointment only.
Meadowood: 900 Meadowood Lane, St. Helena; 800-458-8080. Elopement package by reservation only through wedding planner Lauren Bates, 707-967-1223.