California Hotel Groups Flat Out Reject Fitted Sheet Requirement in Proposed Housekeeping Bill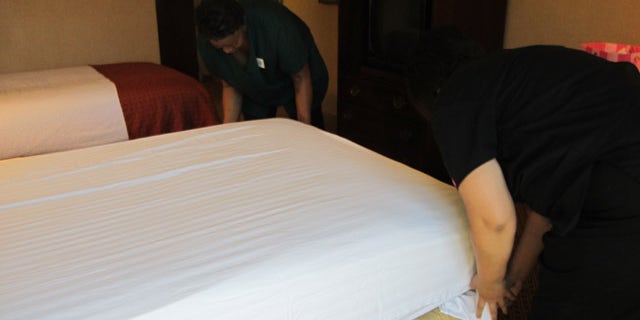 NEWYou can now listen to Fox News articles!
Fitted or flat?
That's the weighty question facing the California Legislature, which is considering a bill that would regulate what type of sheets can be used on hotel bed mattresses across the state.
Supporters of the bill argue it will reduce worker injuries by eliminating the need for workers to repetitively lift extremely heavy mattresses when making beds. They contend that flat sheets cause workers to strain their backs, shoulders and wrists, and are often responsible for repetitive motion injuries.
State Bill 432, sponsored by Sen. Kevin de Leon (D-Los Angeles), also calls for the use of long-handled tools like mops and dusters so housekeepers do not have to get down on their hands and knees to clean bathroom floors.
"Just by using fitted sheets you could cut the number of lifts in half, and we think that would go a long way in preventing worker injury," said Leigh Shelton, a spokesperson for UNITE HERE, a union that represents California hospitality workers.
But the California Hotel and Lodging Association says replacing existing sheets to comply with the bill could cost between $30 million and $50 million.
"At a time when California's looking at over a $26 billion budget, you would kind of think that the legislature had other things to worry about," said Randi Knott, of the California Hotel and Lodging Association.
Hotel operators argue they will need to purchase new equipment in order to launder the fitted sheets. They also say fitted sheets will have to be replaced more often, that the elastic in fitted sheets breaks down faster than fabric, and that fitted sheets cost more to iron, fold and store.
And Knott says hotel owners already offer the long-handled mops and dusters to cleaners, but aren't used.
The hotel association doubts that a sheet change would significantly decrease workers injuries, and say if it was, such a widespread problem the federal Occupational Safety and Health Administration would be involved.
"If there was a regulatory system through OSHA that handles issues related to workers injuries, and if this is as much of a problem as the proponents of the bill are saying it is, I believe OSHA would have been involved a long time ago," said Knott.
Others argue California's elected leaders should be addressing more pressing problems in the state -- like balancing the budget. And even if the bill is passed, Knott says, it will be too difficult to effectively enforce.
"When you think about enforcement at the local level, I'd like to know how the state plans on enforcing it in the 550,000 hotel rooms. It's a bit unwieldy."
That's one issue the Senate Appropriations Committee is attempting to figure out, as it tries to determine the possible fiscal impact the bill has on the state.
"There is still some uncertainty with the bill dealing with the issue of enforcement. And we're not sure if this is a question of a complaint-driven process, or whether this is handled as part of typical or ongoing inspections that are done," said Bob Franzoia, staff director of the Senate Appropriations Committee.
But the hotel workers union say that they'll continue to push for reform, especially after a study that they commissioned concluded there was a higher injury rate among hotel housekeepers when compared to most other service workers.
The bill is currently on a suspense file until the end of the month, at which time the committee will bring the issue back up in hearing. It is expected to reach the Senate floor by the end of May.