British woman who fell off ship in Croatia credits singing and yoga for surviving 10-hour ordeal
A British woman who was rescued 10 hours after falling from a Norwegian Star cruise ship on Saturday credits singing and yoga for helping to survive the ordeal.
Kay Longstaff, 46, spent a night in the Adriatic Sea after she plunged from the ship's deck 60 miles off the coast of Croatia. Officials on a Croatian rescue ship found the former Virgin Atlantic crewmember Sunday morning, swimming close to where she fell.
'HUMILIATED' COUPLE KICKED OFF HOLLAND AMERICA CRUISE AFTER CAPTAIN ACCUSES PASSENGER OF PUSHING CREW MEMBER
"I was in the water for 10 hours, so these wonderful guys rescued me," Longstaff told Croatia news service HRT, according to Sky News. "I am very lucky to be alive. I was sitting at the back of the deck."
The rescue ship's captain, Lovro Oreskovic, also said the woman was "exhausted," but rescuers were "extremely happy for saving a human life."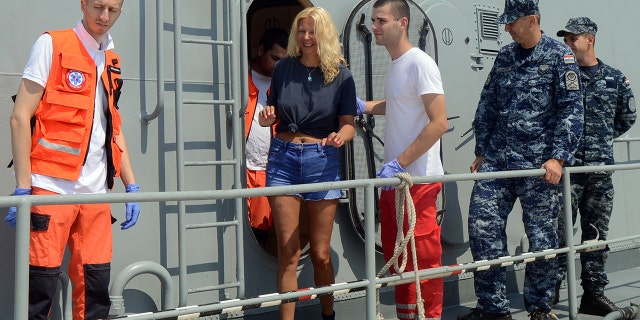 An unidentified rescuer told The Sun that Longstaff credited her survival to yoga and singing.
"She said the fact that she practices yoga helped her as she was fit. And she said she was singing to not feel cold in the sea overnight," the rescuer told the news site.
David Radas, a spokesman at Croatia's Ministry of Maritime Affairs, said surveillance video on the ship ultimately helped rescuers locate Longstaff.
FOLLOW US ON FACEBOOK FOR MORE FOX LIFESTYLE NEWS
It's unclear what led to Longstaff going overboard. Several passengers told The Sun that Longstaff and her partner appeared to be fighting before the incident. Others said alcohol was involved.
Norwegian Cruise Lines could not comment on the cause of the Longstaff's fall, but was pleased to report she was found alive. The company also said it would be cooperating with authorities.
"In the morning of August 19th, a guest went overboard as Norwegian Star made her way to Venice," a spokesperson for NCL said in a statement obtained by Fox News. "The Coast Guard was notified and a search and rescue operation ensued. We are pleased to advise that the guest was found alive, remains in stable condition, and is being treated in Croatia. We are very happy that the individual, who is a UK resident, is now safe and will soon be reunited with friends and family. We remain in contact with the guest and her family. We continue to cooperate with authorities investigating this matter."
Officials are currently investigating the incident.