Best summer beach festivals in the US
Summertime is the season of beaches and all things wet and wild. Throw in a festival and you've got yourself a classic summer tradition. From kite flying to pirate invasions here are some of the most popular – and fun -- summer beach festivals around the U.S. this year.
1. Pirate problems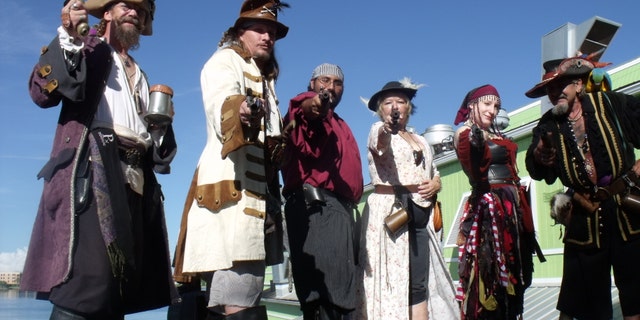 Got a few scallywags in your family? They'll appreciate the Fisherman's Village Pirate Fest held annually at Punta Gorda, Fla. Each year the Mayor of Punta Gorda officially proclaims the city "a quaint little fishing village with a pirate problem."
From July 25-27, "pirates" will plunder and pillage the local shops, restaurants and vendors in this seaside village. The kids can watch the pirate flotilla sail by with its assortment of water weapons, and even shoot back at them with super soakers. Be sure to dress up in your best pirate garb and enter the costume contests for kids, adults and even Fido.
Other highlights for the swashbuckling crowd include an on-shore pirate parade, mock battles with cannons, muskets and flintlocks, a fully rigged replica of Blackbeard's ship Queen Anne's Revenge, a twilight show of fire handlers, and plenty of pirates and mermaids taking over the village. Get your eye patches ready!
2. California fun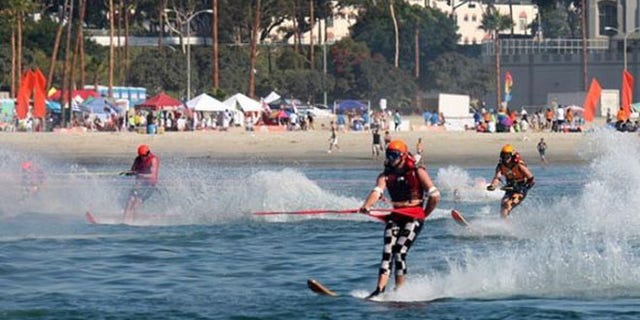 The Long Beach Sea Festival in California runs all summer long from June through September and offers a variety of activities for all interests from sports to family fun to food.
Like Punta Gorda, Long Beach hosts a pirate or two during their own Pirate Invasion and Mermaid Festival June 28-29. Artists build amazing creations at the Great Sand Sculpture Contest in August, and families can enjoy movies with the beach as a backdrop on Tuesday nights with kid-friendly selections like "Monsters University." Fresh seafood is in abundance at the Crawfish Festival in August where the fresh catch is boiled in the world's largest crawfish kettle as Cajun and Zydeco bands from around the world entertain.
Sports lovers can get competitive, cheering on boaters in the Sprint National Powerboat Racing competition, the Kahakai Outrigger Sprint Races for canoeing or the Long Beach Dragon Boat Festival. Or celebrate the World Cup July 12-13 with a little beach "futbol" at the Copa Cabana Beach Soccer Tournament for kids, men and women.
3. A beach tradition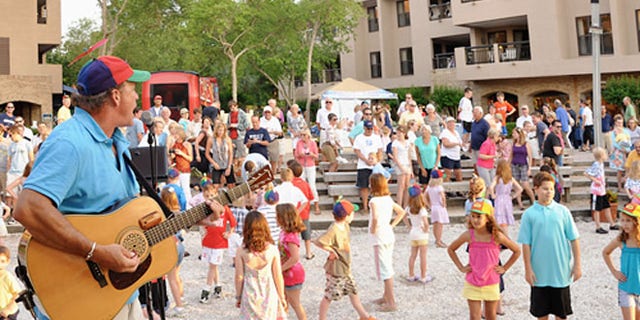 If you're a fan of Hilton Head Island on the South Carolina coast, then you've likely heard of HarbourFest, the island's annual summer tradition featuring a family-friendly live music performance, fireworks over the water and other activities like bouncy houses, clowns and golf demos. Held at Shelter Cove Harbour, located mid island across from Palmetto Dunes Oceanfront Resort, HarbourFest attracts thousands each year and runs Monday-Friday Memorial Day through Labor Day.
A staple of the festival, now in its 26th year, is musician Shannon Tanner, known for his colorful beanie hat with propeller and his original songs, like "My Hair Had a Party Last Night." Parents, many of whom saw Tanner themselves as kids, bring their own children wearing beanie hats, of course, to dance to his music and have him sign their hat each year with an inspirational message.
On most Tuesdays during the festival and on July 4, the crowd gathers to watch fireworks above Broad Creek at dusk.
Insider tip: Rent a kayak from Outside Hilton Head at Shelter Cove Marina and watch the fireworks from the water.
4. Wine and sea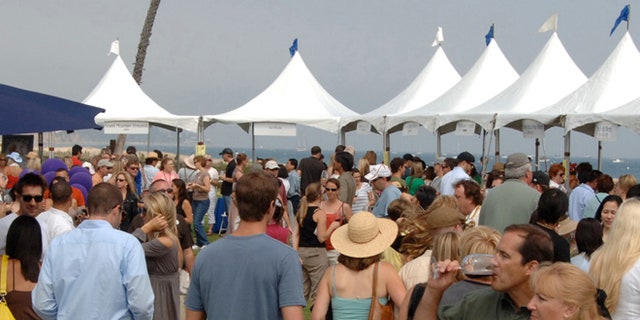 Like your wine with a side of the sea? The California Wine Festival is one of the only beachside wine festivals in the U.S. Held at Chase Palm Park in Santa Barbara with the Pacific Ocean as the backdrop, the July 17-19 festival offers tastings of California wine along with fantastic ocean views.
Guests can sip as much wine as they'd like, as well as indulge in tastings of hot and cold gourmet appetizers, artisan breads, cheeses and fresh cut fruits. There are even local and regional craft brews for the beer fan accompanying you and a keepsake wine glass so you can always remember your summer seaside excursion.
5. Go fly a kite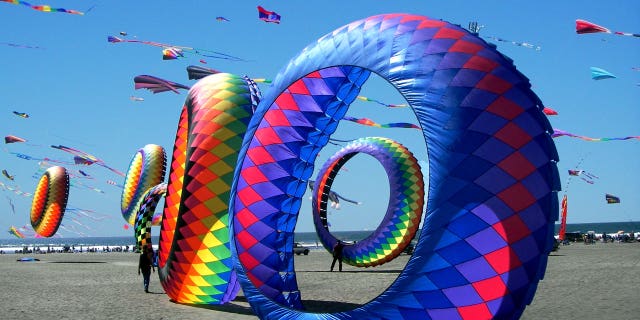 Send your senses soaring with a color at the Washington State International Kite Festival August 18-24 on the Long Beach Peninsula, the kite capital of the U.S. Thousands of kite flyers and spectators turn out for this fantastical fest along a ½-mile stretch of Pacific Ocean beach.
Voted the Best Kite Festival in the World by the Kite Trade Association International, the festival includes a week of kite-flying competitions and exhibitions, like a red, white and blue patriotic kite flying display and a lighted night fly. Kids can try building their own kite and flying it in friendly competition, as well as enjoy the Long Beach boardwalk and its many activities.
6. Get sandy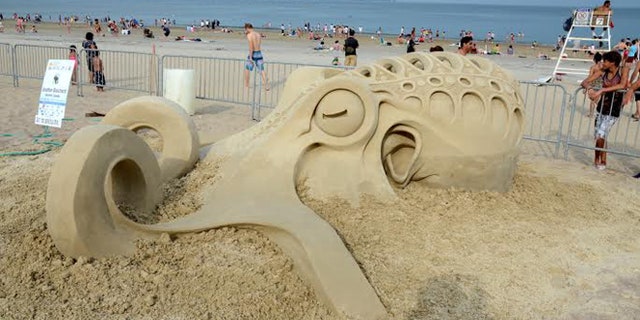 Take your sandcastle building skills up a notch at the Revere Beach National Sand Sculpting Festival in Revere Beach, Mass., near Boston July 18-20. More than 300,000 people turn out to see some of the most amazing sand sculptures in the world at this 10-year-old event held at America's oldest public beach.
Not only can you see the "Stars and Stripes" themed creations of 15 master sand sculptors, you can take a sand sculpting lesson yourself. Other activities include amusement rides, a large fireworks display, food trucks, a community village and live entertainment – all for free.
7. Celebrate American history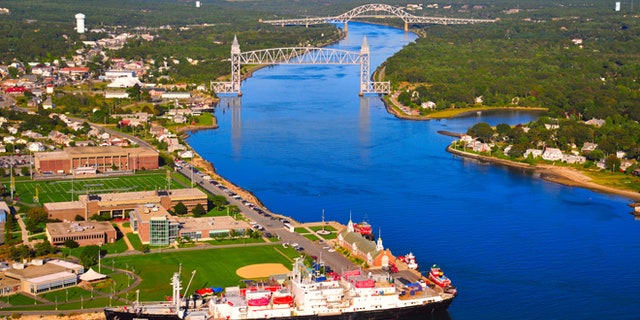 Combine history with your summer festivities at the Cape Cod Canal Centennial Celebration July 25-August 3. The week-long event celebrates the 100th anniversary of the Cape Cod Canal, built to give ships an alternate route to the treacherous outer banks of Cape Cod.
The celebration will feature all things maritime , like tall ships, a tugboat parade and a tour of the last surviving wooden whaling ship. Attendees can watch a nighttime parade of lights on boats traveling through the Cape Cod Canal, as well as a sailboat race and fireworks over the Railroad Bridge in Bourne. There are also plenty of events for kids like a fishing tournament, hot air balloons, music festival and family fun day.
8. Cooking on the beach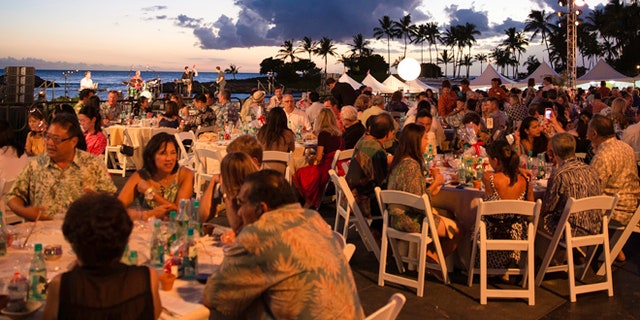 For 10 days in August and September, the Hawai'i Food and Wine Festival showcases not just locally-sourced food and wines produced by talented area chefs and winemakers, but also the destination itself. Oahu, Maui and The Big Island serve as the setting for the festival with two events right on spectacular Hawaiian beaches.
As the sun sets along Oahu's western shore, the It's a Food World After All event will host 16 celebrity chefs in the picturesque lagoon fronting Disney's Aulani and the JW Marriott Ihilani Resort & Spa. Over on Maui, guests can take a beachfront seat at the Hyatt Regency Maui Resort & Spa's open air Napili Gardens as master chefs prepare a six course menu, using Maui-grown products at the Kitchen Stadium Under a Maui Moon event on August 31.