Beautiful opera houses from around the world
From the gilded balconies of La Fenice in Venice to the glowing African rosewood auditorium of the Met in New York City, opera houses are supreme works of art that take architecture to a majestic level of grandeur.
With the growing popularity of massive arenas, it is often difficult to think back to a time when going out for a night of music was synonymous with elegance. But a new book has rediscovered the high art of these exquisite theater spaces.
The Most Beautiful Opera Houses in the World (Abrams) contains hundreds of photographs showing the exteriors and auditoriums of these cultural treasures--and is a reminder why these archetecutral wonders are worth a visit. With a foreword by Met music director James Levine, the volume offers a rare look into the dressing rooms, scenery workshops and rehearsal halls accompanied by a unique historical perspective on the importance of these houses to theater.
Cities visited include Milan, Oslo, Tokyo, and New York, depicting a vast array of architectural styles and materials from around the globe. The Most Beautiful Opera Houses in the World features photographs by Guillaume de Laubier and text by Antoine Pecqueur.
Here's a look at some of these architectural wonders.
1. Coliseum, London, Great Britain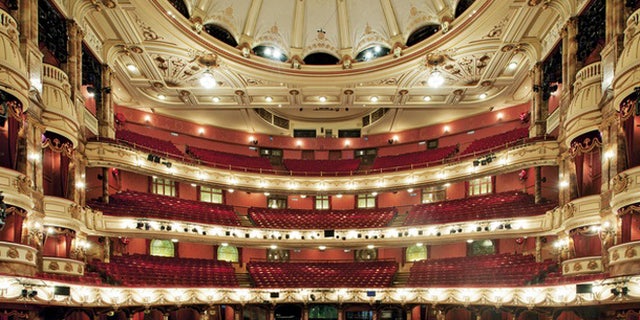 The Coliseum is the biggest theater in London with 2,359 seats. Designed by Frank Marcham for Sir Oswald Stoll, the theater originally opened in 1904. After surviving two World Wars, this grand performance space underwent a massive renovation in the early 21st century. Today, patrons can enjoy a wide variety of shows including ballet, opera and modern dance.
2. Oslo Opera House, Oslo, Norway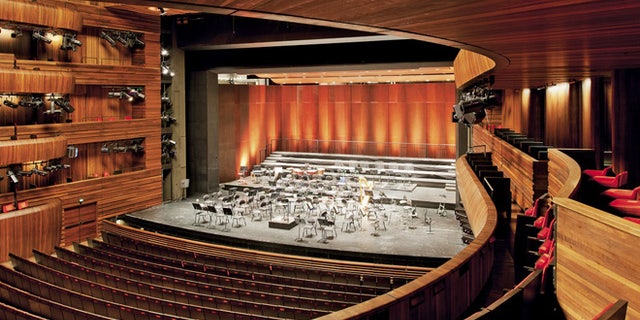 Opened in 2008, this opera house is one of Oslo's newest landmarks, attracting thousands of tourists each year. Its striking white sloping marble roof and granite exterior are designed to look like it is rising out of a fjord like a giant ice floe. Along with opera performances, the Oslo Opera House also holds symphony concerts. Before all performances, Den Norske invites audiences to a free introductory presentation to give a deeper understanding of the work they are about to see. Patrons can ask questions about the history of the piece, set design and more.
3. La Fenice, Venice, Italy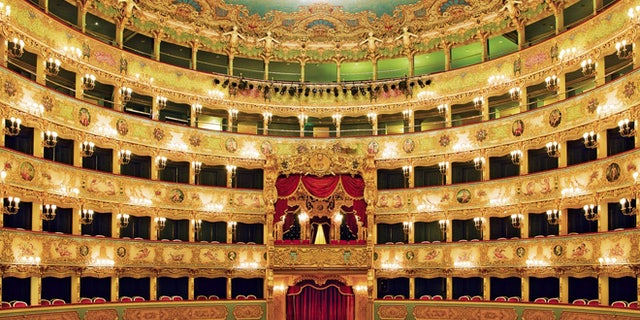 The new La Fenice (Italian for "the phoenix") is a recreation of the 1774 theater that burned down three times that was ultimately destroyed in 1996. Architects and painters worked tireless to complete the stunning renovation. The ostentatiously decorated royal box, formerly the imperial box, is a focal point in the theater. Even today, as in decades past, La Fenice recommends that patrons adhere to an upscale level of dress when attending a performance.
4. Festspielhaus, Bayreuth, Germany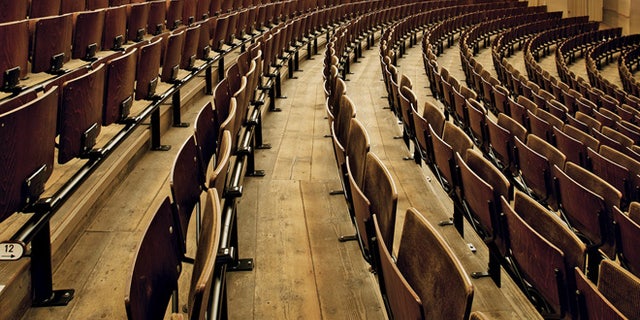 Theater regulars at Festpeilhaus are quick to put their own cushions on the unpadded wood seats. Despite the modest wooden interior, this opera house boasts of some of the world's best acoustics. Guided tours will take visitors through the massive wardrobe department, adjacent rehearsal spaces and into the world-famous recessed orchestra pit that faces performers - not the audience.
5. Palais Garnier, Paris, France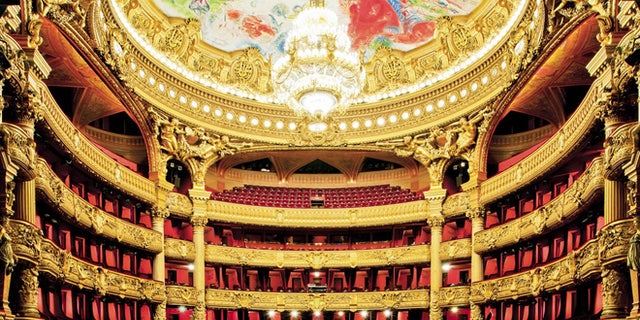 As the setting of one of the most famous musicals, "The Phantom of the Opera", Palais Garnier has stood the test of time as true international treasure devoted to the performing arts. The colorful ceiling painted by Marc Chagall was completed in 1964 and depicts scenes from operas by the world's most famous composers. The theater recently opened a new restaurant, L'Opera, that serves modern French cuisine, and stays open even when the theater is dark.
6. Palau de les Arts Reina Sofίa, Valencia, Spain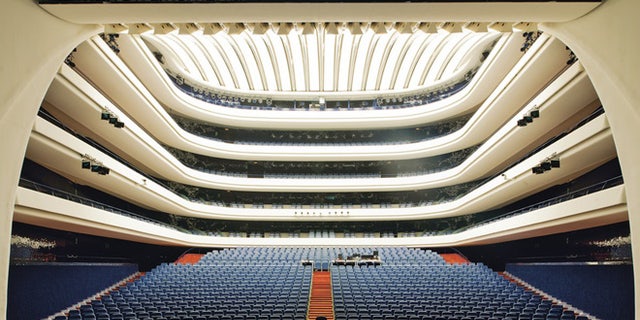 A modern mecca to the performing arts, this opera house opened in 2005, is another example of contemporary design on the list. The exterior of the opera house has been liken to a ship at sea. The roof looks like a cracked shell of an egg in which the main auditorium itself is the yolk. The glass ceiling was originally intended to serve as a stage curtain and come down for each performance. With four distinct spaces, Palau de les Arts attracts a variety of shows and events from operas, plays, concerts, and educational conferences.
7. Drottningholm Palace Theatre, Sweden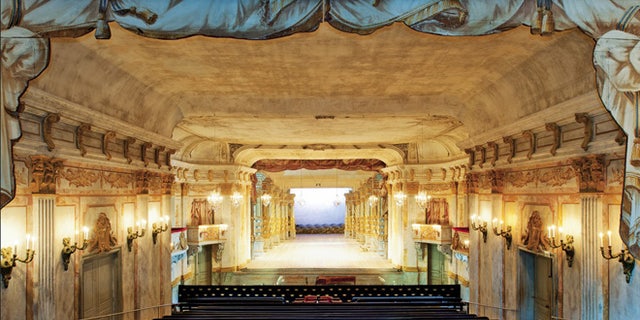 In Drottningholm, stage, which is longer and narrower than most stages, was designed to create illusions. Its interior, completed in the late 1600s, was decorated using fake marble and even fixtures made from a mixture of stucco, papier-mâché. The orchestra still performs using period or copies of authentic instruments, and today it's considered the oldest theatre in the world still in its original state. In 1991 Drottningholm was the first Swedish attraction put on UNESCO's list of World Heritage Sites. Located just west of Stockholm, visitors can enjoy a scenic boat ride to the theater from the city center.
8. Teatro Olimpico, Vicenza, Italy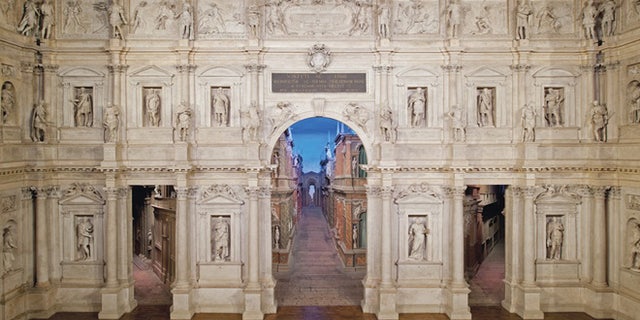 Teatro Olimpico was completed in 1585 by Renaissance architect Andrew Palladio, who was inspired by the design of Roman amphitheaters. A triumphal arch serves as a stage and the clever set design gives the appearance of long streets receding into the horizon. It is the oldest surviving stage set still in existence. Now the space is more of walk through tourist destination though rare performances are still held in this magnificently ornate theater space. However, audiences are kept to a small maximum size to maintain historic site preservation.
9. Théâtre Royal de la Monnaie, Brussels, Belgium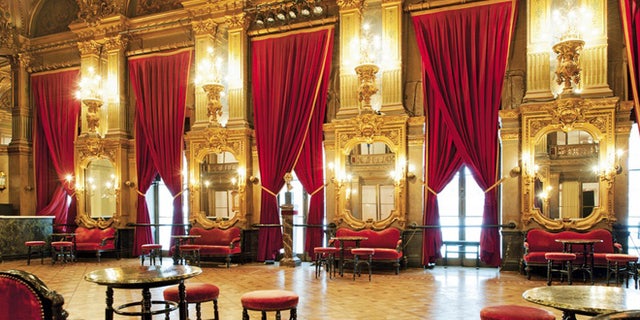 The first permanent public opera theatre for the city of Brussels, La Monnaie was completed in 1700. The interior is richly decorated and its horseshoe-shaped floor plan and open balconies in the French style accommodate 1,100 spectators. Today, the performance space hosts numerous Family nights where children and parents can gather to learn about the world of opera through interactive workshops and visitor presentations.
10. The Most Beautiful Opera Houses from Around the World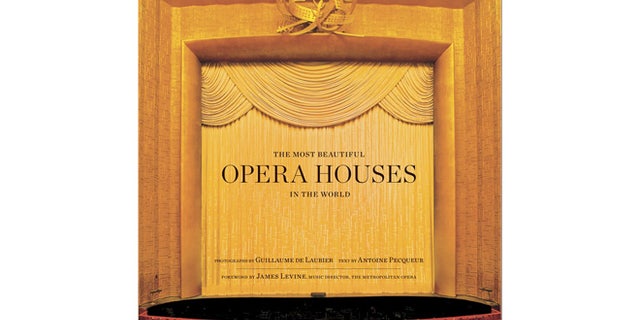 Guillaume de Laubier is an acclaimed photographer, known for his ability to capture breath taking interior and exterior spaces. The Most Beautiful Opera Houses from Around the World is a culmination of his journey to capture the beauty and historical essence of these internally renowned working landmarks.