Barcelona aims to limit tourism with visitor cap law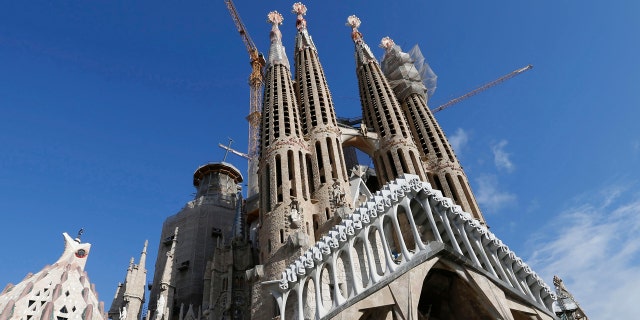 If Paris is the city of love, Barcelona must be the city of unrequited love. While tourists love to visit Barcelona, the city doesn't quite love them back.
The strained relationship between Barcelona and its foreign visitors goes back a few years, thanks to a massive tourism boom that's put burden on the city's services, overcrowded its streets and frustrated locals.
Last year, about 32 million tourists visited Barcelona, Spain's second largest city. To put that into perspective, Barcelona's population is only 1.6 million.
Tourism has driven up the prices of rent and property purchases, leaving many Barcelona residents priced out of living in the city centre. Locals told a city council poll last year unemployment was only the second biggest problem facing the city — the biggest, they said, was tourism.
THIS ISLAND NATION ONLY WANTS RICH TOURISTS TO VISIT
Barcelona mayor Ana Colau was elected in 2015 with a promise to reverse the damaging effects of tourism. She warned without action, Barcelona risked ending up "like Venice" — a city that's also become a victim of its own popularity.
Since Colau came into office, the Catalonia capital has introduced a suite of measures designed to limit tourist numbers: it's put a cap on the number of tourists who can visit the famous La Boqueria markets during peak times, and discussed charging a "day tripper" tax.
The city has also taken aim at accommodation sharing platforms Airbnb and HomeAway, fining them $850,000 each for advertising unlicensed apartments.
And now a new law is set to limit visitor numbers even more.
The law, just passed by Barcelona's city council, limits the construction of new hotels and stops licences being issued to accommodation providers, until tourist numbers are driven down.
Under the law, new hotels are banned in the saturated city center. Beyond the inner city, new hotels will only be allowed under strict conditions.
FOR THE LATEST TRAVEL FEATURES FOLLOW FOX LIFESTYLE ON FACEBOOK
The law has been criticized by hoteliers and business owners, who say many tourists in Barcelona don't necessarily stay in the city itself.
"The focus of the plan is wrong," Manel Casals from the Barcelona hoteliers association told The Guardian.
"Of the 32 million people who visited Barcelona last year, only eight million stayed in hotels. Twenty-three million were day-trippers who spend very little money in the city. You're not going to regulate tourism by limiting the number of beds. They're not regulating tourism, they're only regulating where people sleep."
But locals still think enough is enough. Up to 2000 protesters marched down Barcelona's iconic La Ramblas on Saturday to oppose mass tourism and its impact on housing availability.
"This march is a way to portray the fact that we have lost our city, and are hoping to claim it back," Camilo Ramos from the Barcelona Neighbours Association told AP.
"Rent and property prices have risen back to what they were in 2008, before the economic crisis, and residents can no longer afford them."
This story originally appeared on news.com.au.