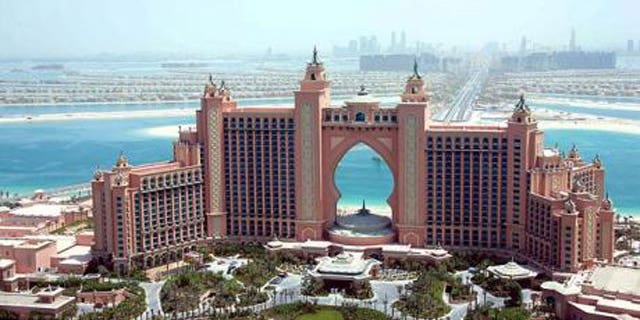 Hearing "Islands in the Stream" should inspire you to do more than change your radio station. Before Dolly Parton and the Bee Gees made it the centerpiece of their pop confection, the name more readily sprang to mind as the title of Ernest Hemingway's famous novel, parts of which he wrote while on Bimini, in the Bahamas, so inspired was he by the islands' fishing and diving.
So warm and yet so chill, the Bahamas has long been a source of legend and lore. A lost underwater continent and a fountain of youth allegedly dwell among the islands, and the beaches themselves can best be described as legendary. Whether your aim is to find a quiet place to pen a bestseller or find a hammock to read one, the Bahamas' some 700 islands and cays fire the imagination and warm the heart and body with their sunshine, sea, and spirit.
5…Discover a lost continent and some conch in Nassau
The twin islands of Providence and Paradise make up the Bahamas' thriving metropolis of greater Nassau. The larger-than-life Atlantis resort (800-285-2684) on Paradise Island has grown as mythical in proportion as the lost city that inspired it. You don't have to stay there, though, to visit its casino and restaurants, including celebrity chef Bobby Flay's Mesa Grill (242-363-3000). A day pass permits you to play in Atlantis' endlessly creative water parks ($110 adults, $80 kids.) Less steep is a tour ($35/$25) of the facility's aquariums and "ruins" that comprise a recreation of the lost continent of Atlantis.
For a less manufactured experience, stick to downtown Nassau's museums and historic sites. Visit Graycliff Hotel's (242-302-9150) cigar factory and stay for a divine dinner or walk to Arawak Cay or Potter's Cay and dig into some raw conch salad ($6 for a single helping) made right before your eyes at the native restaurants and stands. Also not to be missed are the marching flamingos at Ardastra Gardens, Zoo & Conservation Center (242-323-5806, $15).
4…Spelunk and snorkel on Grand Bahama Island
Created as a golfing, gambling, and shopping mecca in the '60s, Grand Bahama Island has expanded its appeal beyond Freeport-Lucaya to ecotourism destinations such as the lovely Garden of the Groves (242-374-7778, $15) and the limestone caves, trails, and natural beach of Lucayan National Park (242-352-5438, $3).
Grand Bahama's best nature encounters, however, take place below the surface. The Underwater Explorers Society, known as UNEXSO (800-992-3483) practically wrote the book on dolphin encounters ($75-$219) and shark diving ($99). After your excursion, take in the waterside ambiance and fine flair of nearby Sabor Restaurant & Bar (242-373-5588, $20 average dinner entrée) at Pelican Bay Hotel.
Range away from the 96-mile-long island's metro core to discover the charms and out-island personality of its settlements and remote beaches. Try Paradise Cove (242-349-2677, $3 access fee plus rentals) for from-shore snorkeling and kayaking, and onsite beaching and lunching.
3…Feed rays with your toes in Abaco
There isn't much point in heading to Abaco unless you're interested in hopping a boat somewhere along the way. It needn't be costly. Ferries depart from the main island of Great Abaco for ports-of-call Green Turtle, Elbow, Man-O-War, and Great Guana cays for about $15 round-trip.
In Green Turtle Cay, book a snorkeling trip with Brendal's Dive Center (242-365-4411; $75 including beach barbecue) and feed sting rays with your toes. Toes still intact, walk around charming New Plymouth with its gingerbread homes, picket fences, and Miss Emily's Blue Bee Bar (242-365-4181), home of the Goombay Smash rum drink that does exactly what its name implies.
On Elbow Cay, stroll the streets of Hope Town and climb the 101 steps to the top of the candy-striped lighthouse (donations requested) for dazzling views. Eat "conch in da' bag" ($12) waterside at Harbour's Edge. Man-O-War Cay is known for its boat-building and Great Guana for its legendary beachy sailor bars, Nippers (242-365-5143) the most famous, particularly for its Sunday wild boar roast.
2…Catch some waves and lobster pizza in Eleuthera
Harbour Island is the dot in the exclamation mark known as Eleuthera, a long, historic island settled by British Loyalists on the lam during the American Revolutionary War. With its pink beaches, boutique resorts, and golf cart-only paths, Harbour Island is Eleuthera's most well-known component, accessible from the main island by quick ferry. Rent a cart for the ride to Sip Sip Restaurant (242-333-3316, entrees $15-30), where you can headquarter your beach-bumming. The main island remains a secret except to surfers and others who don't mind a bumpy ride to have a beach to themselves. Case in point: Lighthouse Beach at the very southern end, where sheer cliffs and caves create drama worth the potholed drive.
For the board crowd, crashing Surfer's Beach is it, and lunch at Surfer's Beach Manor (242-335-5300) bolsters even if you haven't done battle with the waves. Try the deep-fried lobster balls ($21 for lunch, $25 for dinner).
Easier for beaching and lunching, Tippy's Restaurant (242-332-2221) is right outside of the main town, Elizabeth Harbour, and serves a mean lobster pizza ($21).
1…Feel young again on Bimini
Here the legend of the lost continent (aka lost kingdom and lost city) of Atlantis begins, inspired by an underwater site where unusual rock formations led folks to believe that they were manmade. They mark Atlantis or Bimini Road, as the dive-snorkel site today is variously known.
Bimini's Fountain of Youth connection is a bit sketchy as well. Ponce de Leon's references to native Indians' mention of Bimini may be misleading, but nonetheless, on South Bimini, a freshwater well and trail validate that this was once an important sailor's way stop for collecting water. Perhaps Healing Hole, a freshwater mineral spring on East Bimini, comes closest to providing youthful rejuvenation. Have a soak and see.
In addition to harboring Hemingway, who wrote here and immortalized the island's Compleat Angler Hotel (now but a spread of burnt ruins), Bimini also hosted another famous traveler. Martin Luther King, Jr. King paid several visits here and you can learn more about his time on the island from historian-artist Ashley Saunders at Dolphin House (242-347-3201, tours $20/hour each). Or, find out about King's visits from Ashley's brother, boat-builder Ansil (242-347-2178). If lobster pizza was already too conventional for you, stop by Edith's (242-347-2800) in nearby Bailey Town for a conch-topped pie.