Atlantic City Turns to Sex to Attract Business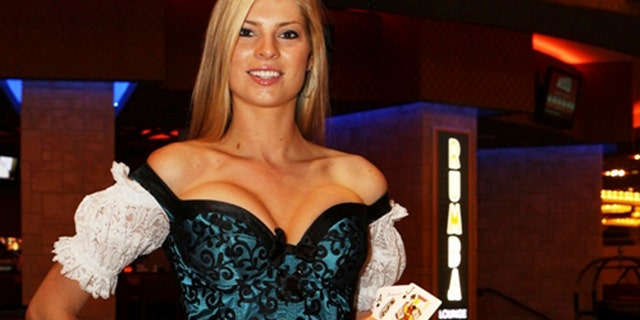 ATLANTIC CITY, N.J. – Miss America and her tiara are gone, replaced by lingerie-wearing blackjack dealers, beverage servers in bustiers or fishnets, a million-dollar steakhouse/gentlemen's club and soon a "Naked Circus."
Three casinos have bikini beach bars on the sand. Outside the gambling halls, there are a half-dozen strip clubs and a sex swingers/voyeurs club; (Coming up: "Men's Shirt and High Heels Night," the suggested attire for women.) Even the famous New York strip club Scores wants to open a branch in an Atlantic City casino.
It's all part of an effort to attract new business and fight off competition from casinos in neighboring states. The emphasis on sexiness is designed to appeal to a younger — and hopefully more free-spending — crowd.
Ever since gambling started in the nation's second-largest casino market in 1978, Atlantic City has been torn over whether to market itself as a family resort, or as Sin City East. Guess which side is winning?
"In our industry, the casino and entertainment and hospitality business, you want to provide things that are pleasing and exciting and fun," said Dennis Gomes, co-owner of Resorts Hotel Casino. "One of the things that most people find pleasing, exciting and fun is sex."
His casino is testing the boundaries of Atlantic City, which for all its history as a bawdy vice destination at the turn of the century — witness the HBO hit series "Boardwalk Empire" about crooked politicians, brothels and speakeasies — has been rather tame when it comes to sex as a marketing tool. The low-cut flapper dresses Resorts is making its female beverage servers wear have already generated two lawsuits from older women who say they were fired for being judged insufficiently sexy in them.
Resorts raised some eyebrows, and the ire of New Jersey's public transit agency, when it put up a billboard featuring a dancer's bare bottom to promote a stage show. And next month, Gomes promises, the casino will host a nightly "Naked Circus" in a parking lot tent.
The Tropicana Casino and Resort, Trump Plaza Hotel and Casino, and the Borgata Hotel Casino & Spa all dress beverage servers and even some dealers in lingerie or similarly revealing, cleavage-enhancing costumes. Bally's Atlantic City has its iCandy Burlesque dancers at a casino lounge.
If it seems like Atlantic City is trying to catch up to Las Vegas — the original Sin City — it is. The Diving Horse, a $1 million-plus gentlemen's club/steakhouse, opened two weeks ago with Vegas on its mind.
"The Diving Horse is bringing the Las Vegas-style gentlemen's club to the Northeast," spokeswoman Shannon Niland said. "Vegas does that type of entertainment for a reason: sex sells."
Atlantic City has had to walk a fine line in promoting itself as an edgier, sexier resort without alienating more conservative customers. Its current motto is "Always Turned On" — not quite as risque as "What Happens In Vegas Stays In Vegas."
"We've always looked to promote Atlantic City as a sensual destination, and we started to push the envelope a little more," said Jeff Vasser, executive director of the Atlantic City Convention and Visitors Bureau. "But you have to balance it. At the end of the day, we are still a community that existed long before it was a casino town. We could never get away with 'What Happens Here Stays Here.'"
Marc Meltzer, who runs a marketing agency and several gambling/travel websites, is encouraged Atlantic City is trying something different to draw attention to itself. Before moving to Las Vegas in November, the 37-year-old would visit Atlantic City every six weeks, favoring Harrah's Resort and the Borgata, whose scantily clad "Borgata Babes" were a highlight.
"The eye candy was top-notch," he said. "It's what attracts a 20- or 30-year-old guy. If he can go somewhere and look at a good-looking girl, all other things being equal, he'll go look at the good-looking girl. I enjoy rolling dice with the old men and looking at a good-looking girl. That's a good combination."
Bonita West, a human resources manager from Orange County, N.Y., says sexy casinos can't hurt.
"I hope they do polish up the ladies a little more, give me a run for my money!" she joked. "I have seen some humdrum (servers), and after a while they begin to blend in with the carpets. Let's make them just as eye-popping as the machines: catchy outfits that I might even envy. Give me some ideas I might want to use to stimulate my husband of 27 years. Let's make the atmosphere sexy!"
Not everyone agrees.
"Any time we objectify women, see them as part of the furniture or the decor, we put all women at risk of the type of behavior that objectification brings, like rape, domestic violence and sexual abuse," said Erin O'Hanlon, an official with The Women's Center, located just outside Atlantic City. "These are someone's mothers, wives, cousins, sisters, daughters. Some of them are undoubtedly doing this in order to support their families. It sends the message that women who are dressed this way are commodities."
Click here to learn the right way to Hit a Nude Beach from FoxNews.com Travel
One of Resorts' promotions pits customers against a costumed female employee at tic-tac-toe. Only here it's called "Chick-tac-toe" and customers are encouraged to see if they can "beat the bimbo."
Joseph Monek, a 74-year-old retiree from Bethlehem, Pa., says sexing up Atlantic City is not what the resort needs.
"The best bet is to improve the beach and the Boardwalk, and people will come, we hope, and bring some cash to the casinos," he said.
In announcing a plan to help rescue Atlantic City from its 4 1/2-year downward spiral last summer, New Jersey Gov. Chris Christie said he envisioned the gambling resort as a more family-friendly place, with Ferris wheels and amusement parks to complement the casinos. A spokesman for the governor declined to comment this week.
The world famous Steel Pier has amusement rides and games, and there is a mini-golf course and an arcade on the Boardwalk, and an aquarium within driving distance. But there's decidedly less for families and kids to do here than there is for adults.
New Jersey's casino regulations prohibit nudity and real or simulated sex acts in the gambling halls. To comply with that, Scores would have to partially cover its dancers in pasties and G-strings, unlike their totally nude counterparts in New York City, if it were to get approval to open inside the Trump Taj Mahal Casino Resort. Their application has been pending for nearly a year, with no timetable set for a decision from the state Division of Gaming Enforcement.
For that same reason, Resorts' "Naked Circus" would also employ pasties and G-strings, though it would be restricted to those 21 and older.