Aspiring pilot, 6, dresses in captain's uniform every time she flies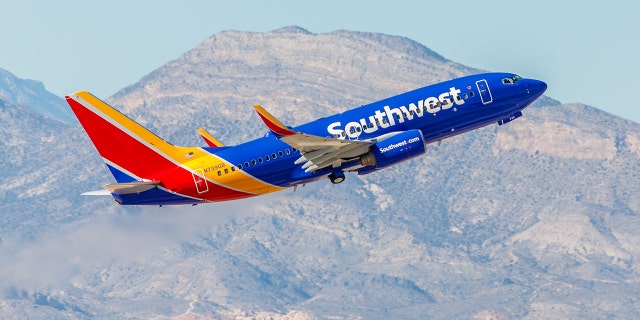 A lot of young kids dream of being superheroes or princesses when they grow up, but 6-year-old Blair Smith is already prepping for a more pragmatic career. The young girl from Dacula, Ga., is fascinated with aviation, and dons a pilot's uniform every time she flies.
According to her father Jared Smith, Blair's love for the skies was born in the wake of her parent's divorce. Twice yearly, Jared flies into Atlanta to pick up Blair and her sister before traveling to Washington, D.C. for week-long visits at his home.
After just two trips, Blair declared that she wanted to be a pilot, so she could fly to her see dad whenever she wanted, Jared told The Points Guy in an Oct. 30 interview.
RUNAWAY 7-YEAR-OLD GIRL BOARDED FLIGHT WITHOUT TICKET BEFORE SPOTTED BY CREW
Receiving a pilot's uniform for her birthday, Blair began sporting the outfit every time she flew. Jared added that the family would always travel with Southwest Airlines, given their open seating policy. Taken with sweet Blair's sheer enthusiasm, flight crews began recognizing the girl and treating her as a V.I.P. client.
As evidenced in photos shared by both her father and the airline, Blair has sat in plane cockpits, visited the airlines' Dallas headquarters, and even gotten wings for her lapel.
AIRLINE CLAIMS JFK WORKERS FORGOT TO LOAD TWO COFFINS ON PAKISTAN-BOUND FLIGHT
Blair and her dad also made it their mission to keep a lookout for female aviators, ever since the 6-year-old told her dad she "might not make it as a pilot" after noticing how few female pilots there were on her flights.
Naturally, Blair was ecstatic to finally meet a female pilot over the summer.
Further, Jared is simply appreciative of Southwest's generosity in fostering his daughter's love for the high skies.
FOLLOW US ON FACEBOOK FOR MORE FOX LIFESTYLE NEWS
"I got the impression that something like this hasn't happened very often for kids of non-employees. A common assumption was that I was a pilot and/or worked for Southwest. When I told people I was neither, they were very impressed that the company did something that cool for Blair," he told The Points Guy.