Arizona residents will soon need 'travel ID' to board planes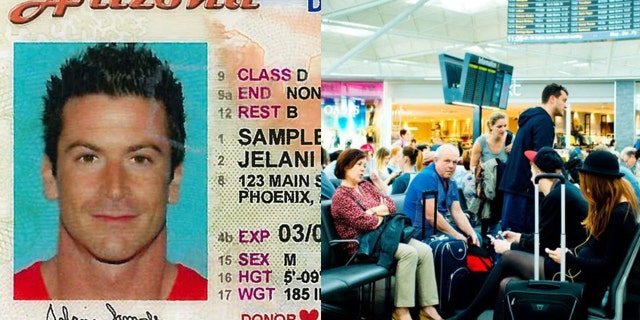 Put it on the packing list.
The Arizona Department of Transportation has announced that state residents will require a new form of identification to pass through Transportation Security Administration screeners in the near future.
As of Oct. 1, 2020, Grand Canyon state residents traveling out of Phoenix Sky Harbor International, Phoenix Mesa-Gateway, Flagstaff, Tucson International and Yuma International airports will need to carry "Voluntary Travel IDs" or be grounded, AZ Family is reporting.
The new ID will also be requisite to access restricted federal buildings and military bases, as standard credentials will no longer suffice.
DRUNK BRITISH AIRWAYS FLIGHT ATTENDANT FINED FOR BEING 10 TIMES OVER LEGAL LIMIT
Minors under age 18 will not be required to have the new ID if they are traveling with an adult who does.
According to AZ Central, driver's licenses are not compliant with the REAL ID Act passed by Congress in 2005, which amped up identification requirements for air travelers in the wake of 9/11. To compensate, the Arizona Legislature passed a law that said a license or card holder must voluntarily take steps to secure a Voluntary Travel ID.
"Now is a great time to get a Voluntary Travel ID because the federal deadline gets closer every day," Motor Vehicle Division (MVD) Director Eric Jorgensen told AZ Family.
"MVD is making this process simple. Customers can go to ServiceArizona.com and make an office appointment. The website provides information about what documents customers should bring with them to meet the REAL ID requirements for the Voluntary Travel ID."
SYRIAN MAN STRANDED AT AIRPORT FOR OVER A MONTH
The Voluntary Travel ID's cost $25 and are valid for eight years, according to the Arizona Department of Transportation. The new ID sets itself apart from the standard state driver's license with a gold star in the top right corner.
FOLLOW US ON FACEBOOK FOR MORE FOX LIFESTYLE NEWS
While the new measures may seem intense, Arizona is not alone in increasing travel security.
In correlation with the 2005 REAL ID Act, as of Jan. 22, 2018, residents of Kentucky, Maine, Minnesota, Missouri, Montana, Oklahoma, Pennsylvania, South Carolina and Washington were supposed to be required to have their passports to fly anywhere, although the federal government has granted extensions.