Amid subzero temperatures, here are the warmest beaches in the US
If lying on the beach with a daiquiri in one hand and a good book in another has moved way up on your priority list this frigid winter, and you want to get warm — really warm — without leaving the U.S., your best bets are south Florida, Southern California and Hawaii. Here's our list of the warmest beaches in the U.S. from December through February.
1. Oahu, Hawaii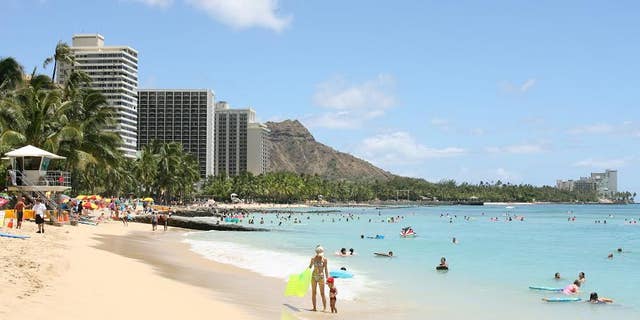 There are more than 125 beaches along 112 miles of shoreline on the island of Oahu, where average high temperatures are 75-85 degrees year-round, and you can always count on an ocean breeze.
If you visit in November or December, watch the annual Vans Triple Crown of Surfing on the North Shore. Into February, the Quiksilver Big Wave Invitational may still be taking place, waiting for 20-foot surf for at least a full day. You'll likely find crowds and lots of action on Waikiki Beach. For a quieter retreat, head to Waimanalo Beach Park.
2. The Big Island of Hawaii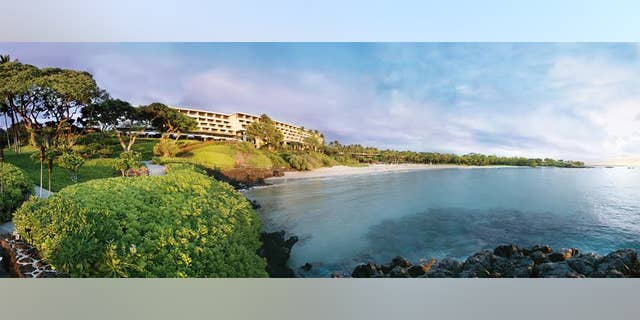 Enjoy fabulous weather on a variety of beaches on the "Big Island," where high temperatures average 78 degrees from December through February. Some of the island's top resorts are on the Kohala Coast, about 20 minutes from the airport. There are beautiful beaches, several with white sand, amid the black and red lava fields, and they see only nine inches of rainfall each year, leaving plenty of days full of sunshine for exploring and enjoying the island.
The Mauna Kea Beach Hotel, founded by Laurance S. Rockefeller, is located on Kaunaoa Bay, a crescent-shaped white sand beach with clear blue water. Beachgoers arrive as early as sunrise to claim their patch of sand and to join in beachside luaus and clambakes. Visitors can also head to the public Hapuna Beach State Park, one of the island's biggest white sand beaches.
3. Maui, Hawaii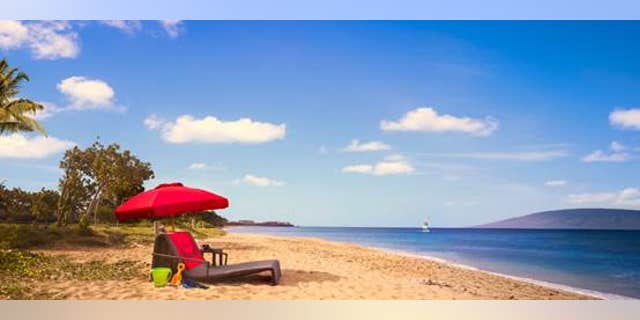 For a Hawaiian getaway that's just as warm but a little quieter, try Maui. West Maui has less rainfall than the rest of the island and a higher daytime temperature (low 60s to low 80s in winter), because the mountains disarm the rain clouds that come with the trade winds from the northeast.
Families seeking warmth might consider Honua Kai Resort & Spa on Ka'anapali Beach. Sitting on nearly 40 acres, it has more than 600 suites with kitchens, washers and dryers and lanais. Kids will love its three-acre "aquatic playground" with four swimming pools, five hot tubs, a waterslide, waterfalls and fountains. If you stay in an oceanfront suite, you can even look for whales from your lanai, because winter is the best month for whale-watching in Maui. The resort's Whale Watcher package comes with a boat cruise and a kit complete with binoculars.
4. The Palm Beaches, Fla.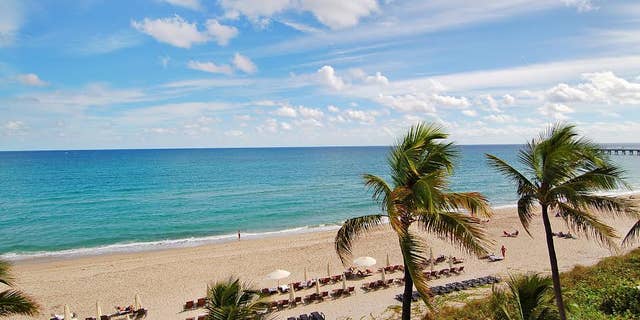 For an upscale destination perfect for winter sun worshipping, try The Palm Beaches, Fla., where you can kick back on 47 miles of beaches and enjoy luxury shopping, high-end hotels and gourmet dining. Average highs reach 77 degrees, and thanks to the Gulf Stream, the ocean waters are warm for swimmers and extra clear for divers.
Kimpton's Tideline Ocean Resort & Spa, a beachfront hotel on the island of Palm Beach that opened in December, woos winter guests with sunglasses and kicks in two complimentary cocktails at its seaside restaurant, Brandon's by the Beach.
5. Miami, Fla.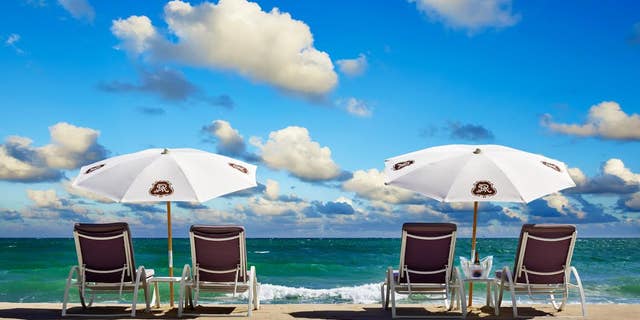 South Beach, where temperatures hit the upper 70s most winter days, is almost synonymous with skimpy bikinis and parties on white sand, and you're as likely to spot Kim Kardashian as you are a dolphin swimming in the surf. Be sure to visit the stylish hotels, famed eateries and hot nightspots on Collins Avenue, an up-and-coming part of "SoBe."
If you're not into the party scene, try Bal Harbour, one of the quietest, cleanest and most private beaches in Greater Miami. This 1,000-foot stretch of beach is filled with its share of "snowbirds" as well as fitness fanatics doing beach yoga and running on the $3 million jogging track. St. Regis Bal Harbour, the newest hotel in the area (it opened in 2012), features private cabanas, two infinity pools and an adult tranquility pool.
6. The Florida Keys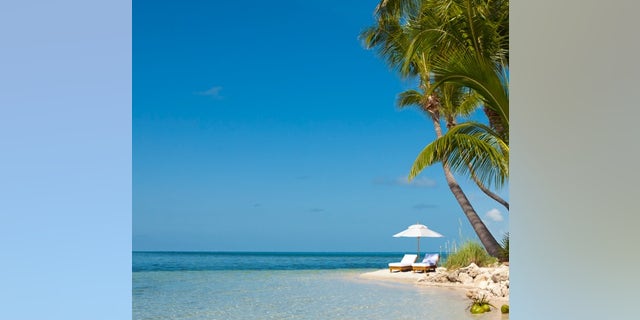 The Keys, at the southernmost part of Florida, stay temperate year-round, with highs around 80 degrees and lows around 72 degrees.
You can enjoy snorkeling, deep sea fishing, jet skiing and scuba diving year-round in Key West. Try Casa Marina, which features the area's only natural beach — and be sure to visit the home of Ernest Hemingway and his six-toed cats.
A more secluded destination is the 5.5-acre Little Palm Island in the lower Keys. It offers complete privacy and is accessible only by boat or seaplane. A favorite of presidents and celebrities, Little Palm Island Resort & Spa provides 15 thatched-roof bungalows with ocean views and luxury appointments, as well as a gourmet restaurant and high-end spa.
7. San Diego, Calif.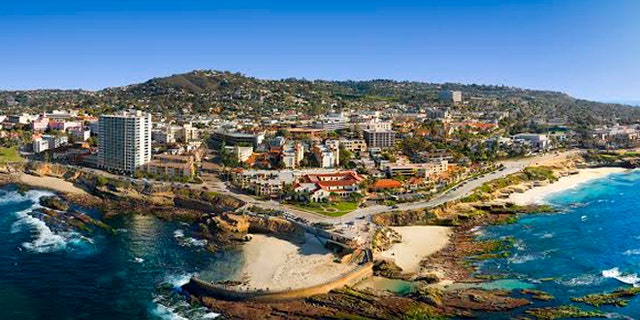 Southern California, isn't as warm as Hawaii or Florida, but it is plenty mild for a winter beach getaway. San Diego averages 66 degrees in winter, though temperatures are often in the low 70s. Add the area's plentiful sunshine, and you might even break a sweat.
La Jolla, the "jewel of San Diego," is a lovely winter getaway destination with turquoise waters, a large boardwalk and lots of activities for adventurous families and couples. Kayaking, stand-up paddle boarding, snorkeling, beach volleyball and surfing are all popular in the winter months. Meet a few seals by the beach at the area's "Children's Pool," an area protected by a seawall where the seals give birth and raise their pups.
8. Santa Barbara, Calif.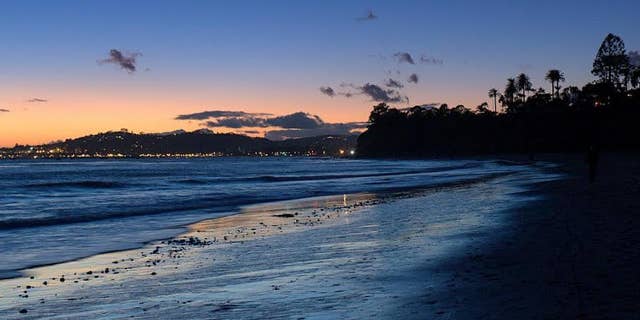 How can you go wrong with 300 days of sunshine every year? Santa Barbara, nestled between the Santa Ynez Mountains and the Pacific Ocean, features fantastic mountain and ocean views at every turn and has an unusual Mediterranean-like climate, with high temperatures in the mid-60s to the mid-70s from December through February.
All this great weather lets visitors enjoy the city's wide range of activities. Stroll the shops and "paseos" in the Spanish-style downtown; head to the palm-lined beach or harbor for paddle boarding, whale watching or kayaking in the nearby Channel Islands; go for a hike in the mountains; or sample wines in the area's up-and-coming "Funk Zone."
9. Santa Monica, Calif.
Just minutes from traffic-filled downtown Los Angeles is a beach oasis with hip bars and restaurants, haute couture shopping, coastal biking paths and a carnival-like boardwalk. It's not unusual to catch sight of a celebrity in Santa Monica, and you'll certainly dig its relaxed vibe.
Winter temperatures stay at around 67 degrees, though they often reach the 70s, and the sun is out more than 300 days a year. If you're not biking the beach with views of the Pacific Palisades or working out at nearby muscle beach, try the free poolside yoga weekends at the Viceroy Santa Monica, a stylish hotel with ocean views that offers gourmet dining and complimentary bike rentals to guests.