America's top cities for music lovers
Blues, jazz, hip-hop, rock & roll—all are hugely influential musical genres, and all are uniquely American. Given how the history of popular music is intertwined with the history of the United States, it's no surprise that cities across the country are filled with musical landmarks, historic venues, and other points of interest.
And these awesome cities are just some of the country's best destinations for music lovers.
1. Washington, D.C.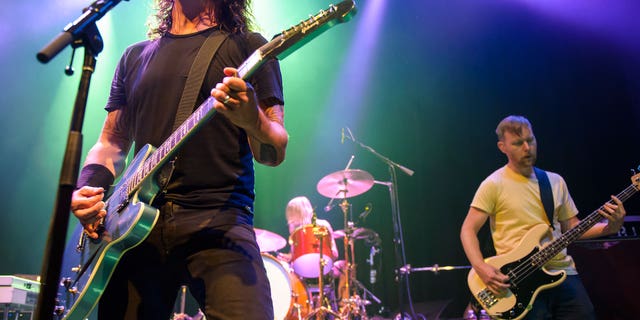 Despite its staid reputation—or maybe because of it—the nation's capital has fostered thriving underground music scenes for decades, including go-go (the funky genre's driving force, Chuck Brown, was from D.C.) and hardcore, led by bands like Bad Brains and Fugazi. Today there are plenty of places to see live music in D.C., including legendary venues like Bohemian Caverns, where Miles Davis and John Coltrane once played; the 9:30 Club has hosted everyone from Arcade Fire to Rob Zombie. D.C.'s museums are also filled with music history: The National Museum of American History, for instance, has old cassettes and other pop-culture ephemera in its collection.
Places to go: The 9:30 Club (pictured); John F. Kennedy Center for the Performing Arts; Bohemian CavernsThe Black CatNational Museum of American HistoryBlues Alley
2. New York, NY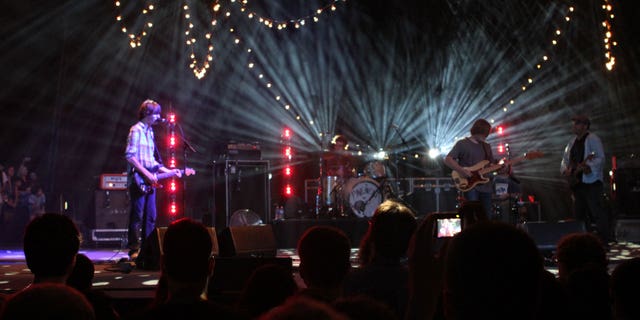 New York City can lay claim to being the birthplace of so much in music's history: hip-hop, punk, and disco, not to mention an absurd number of legendary musicians. Heck, the Ramones, Simon & Garfunkel, and Burt Bacharach all graduated from the same Queens high school; meanwhile, Jay-Z, the Notorious B.I.G., and Lil Kim all hail from Brooklyn. No matter your taste, there's a venue for you: See cabaret acts at Studio 54; the next indie-rock up-and-comer at the Mercury Lounge; dance until the wee hours at Verboten; or see which big names are playing at legendary spots like Radio City Music Hall or the Beacon Theatre.
Places to go: Bowery Ballroom; Metropolitan Opera HouseThe Town HallBlue NoteBaby's All RightThe Apollo Theater; Central Park Summerstage (pictured); Rough Trade NYC
3. Los Angeles, CA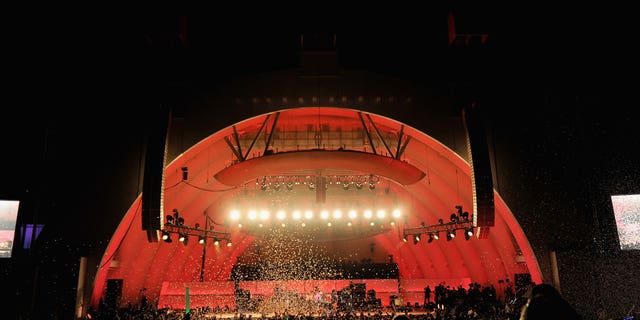 Like New York City, Los Angeles has more musical history than you can take in on one trip: Countless acts got their start there (to name a few: The Doors, Tupac Shakur, Guns N' Roses, Haim, Kendrick Lamar, we could go on); it's full of music landmarks including clubs and hotels; and there is no shortage of places to see bands play. L.A. also has an impressive classical-music scene: The Los Angeles Philharmonic, led by Gustavo Dudamel, plays at Frank Gehry's twisty Walt Disney Concert Hall, among other L.A. venues.
Places to go: Hollywood Bowl (pictured); Capitol Records building; Walt Disney Concert Hall; Grammy MuseumTroubadorThe Echo/EchoplexLaurel CanyonChateau Marmont
4. Nashville, TN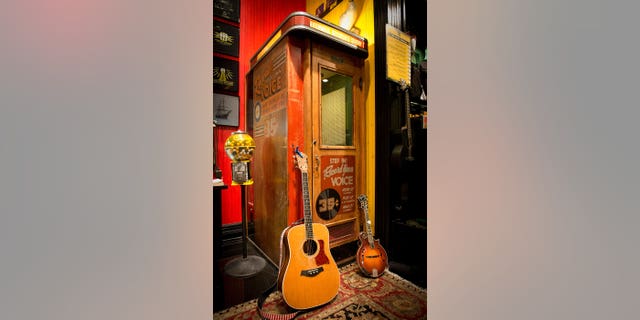 Nashville's nickname is "Music City" for a reason: The city is home to hundreds of places to see live music, not to mention a stadium's worth of big-name acts (Johnny Cash, Dolly Parton, Reba McEntire, Taylor Swift, and Blake Shelton are just the tip of the iceberg). It's known as an incubator for country acts, even leading to ABC's Nashville, a TV series inspired by the city's music history. Music Row and the honky-tonks aren't the only draw: The city also has a thriving rock & roll scene, which can be found at venues like the Basement.
Places to go: The Grand Ole Opry House; Third Man Records (pictured); Robert's Western WorldCountry Music Hall of Fame and MuseumThe Johnny Cash MuseumThe Bluebird Cafe
5. Detroit, MI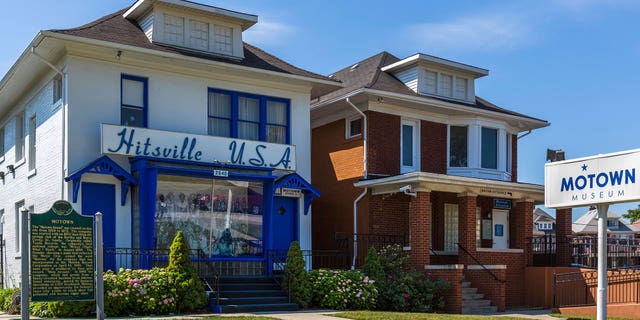 Kiss may have dubbed this town "Detroit Rock City," but the genre it's best known for is almost certainly Motown. Berry Gordy founded the record label in 1959, and over the years, artists like Smokey Robinson, Diana Ross, and Marvin Gaye recorded in the small house on West Grand Boulevard. Now, it's a museum where you can see artifacts, and even stand in the studio where those musicians laid down tracks. Other acts with roots in the Motor City include Elaine Stritch, Eminem, the White Stripes, and Insane Clown Posse. (Madonna was born there, but moved to NYC before she made it big.)
Places to go: Motown Museum; Cobo Center; Eight Mile Road; The Masonic TempleThe Magic Stick
6. Atlanta, GA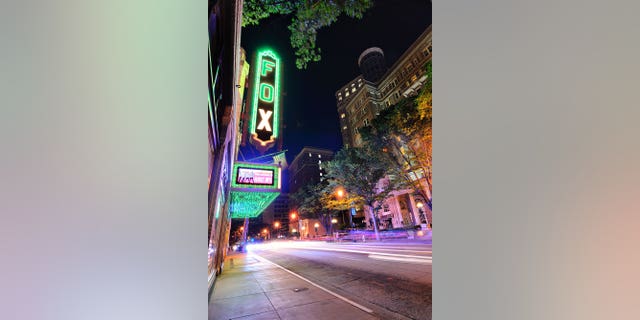 Hip-hop is thriving in Atlanta: Acts like OutKast, Janelle Monae, Jermaine Dupri, and T.I. have roots in the city, and the radio station Hot 107.9 was a big influence in getting those artists more prominent coverage. The city also hosts the A3C Festival, a decade-old hip-hop event that hosts both legendary artists and up-and-comers. If you're looking to check out bigger names in a beautiful setting, head to the Fox Theatre, a restored former vaudeville house, or the Tabernacle, which was once a Baptist church. There's also the free Atlanta Jazz Festival in the spring.
Places to go: Fox Theatre; The EarlCriminal RecordsThe TabernacleBlind Willie's
7. Seattle, WA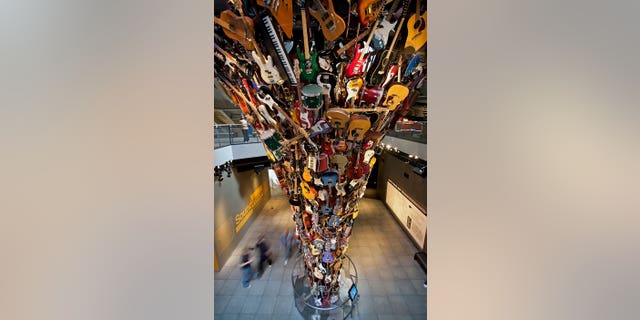 More than 20 years after Nirvana's Nevermind was released, Seattle is still most closely associated with that band, and the grunge music scene that it spawned in the early '90s. And grunge fans, rest assured that the city embraces it: The EMP Museum, founded by Microsoft's Paul Allen, has a permanent exhibit devoted to Nirvana, and Sea-Tac Airport is home to a stand-alone Sub-Pop Records store. But there's more to the city than crunchy guitars: The Seattle Symphony led by maestro Ludovic Morlot hosts world-class performances, locals Macklemore and Ryan Lewis are international stars, and indie-rockers (including locals like Death Cab for Cutie) can be found at the Bumbershoot Festival every summer.
Places to go: EMP Museum (pictured); The Showbox at the Market; Sub-Pop Records store at SeaTacNeumosColumbia City Theater
Take a trip to more of country's best music cities.
More from Conde Nast Traveler
The Most Underrated American Cities
Private Islands That Cost Less Than an NYC Apartment
15 Places You Won't Believe Exist
How Not to Look Like a Tourist in Paris