America's fastest, tallest and longest dive coaster opens at Cedar Point
NEWYou can now listen to Fox News articles!
Coaster enthusiasts have been waiting for Cedar Point's latest thrill ride for nearly two years.
And this Saturday, the wait is finally over as Valravn—the world's tallest, longest and fastest dive coaster—will be unleashed on the world.
"It's daunting, but once you get over it, you gotta ride again," coaster enthusiast Adam Grignon told FoxNews.com
Valravn takes riders up 20 stories to a towering height of 223 feet—affording sweeping views of Lake Eerie-- before dropping them down a completely vertical, 90-degree angle, reaching speeds up to 75 mph along its 3,415 foot track.
With a new harness that allows riders more freedom to move around within their seats, the freefall simulation is reportedly unlike any other.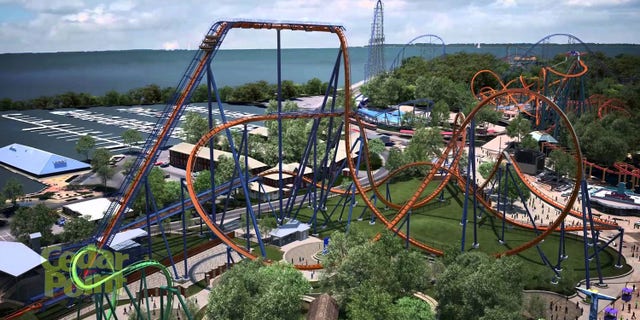 "Instead of just going right over the end… you stop right at the edge for about four seconds—and then you drop and it's just pure weightlessness," Grignon said of the ride's harrowing beginning.
It also turns riders upside down three times.
Unlike many coasters which have multiple rows of two or three passengers, the Valravn car seats eight people across in just three tiered rows, giving all riders (even the ones in the back) unparalled views of the park and the track ahead.
Cedar Point, located in Sandusky, Ohio, is also shattering plenty of park records this weekend with the opening of its newest attraction. It will have the most roller coasters taller than 200 feet at one amusement park (five), the most rides total at any amusement park (72) and the most feet of roller coaster track at any amusement park (60,110 feet, or 11.4, miles of steel and wooden track).
Valravn is Cedar Point's 18th roller coaster. Only Six Flags Magic Mountain, in Santa Clarita, Calif. has more roller coasters with 19.
Valravn opens May 7 at Cedar Point. The ride lasts three minutes, 20 seconds and guests must be 52 inches to tide.