American Airlines passenger bitten by brown recluse spider on plane, lawsuit claims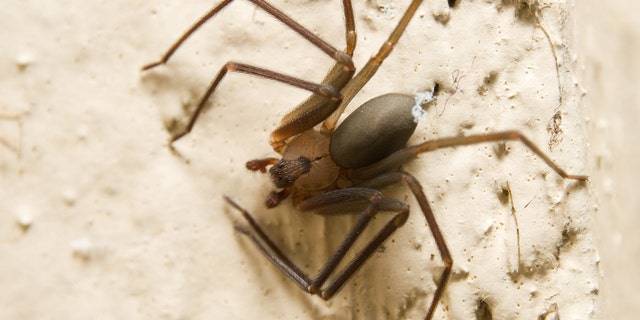 You're now free to scream about the cabin.
A Mississippi man who claims he was bitten by a brown recluse spider while awaiting takeoff on an American Airlines flight in 2016 is now suing, alleging a flight attendant downplayed the unwanted arachnid as a pesky mosquito rather than a venomous spider whose painful bite can lead to infections and leave permanent scars, the Mississippi Clarion Ledger reports.
Marcus Fleming, of Natchez, was a passenger on Flight 3978 on Sept. 6, 2016, when he was bitten just before takeoff, according to the lawsuit, which was transferred to federal court in Jackson from Rankin County Circuit Court on Monday.
"After he was bitten, he alerted the flight attendant that something had bitten him but she responded that it was probably a mosquito," the lawsuit reads. "After landing Mr. Fleming noticed that the pain in his hand became extremely painful and his thumb changed colors."
A doctor later told Fleming that he needed surgery or he'd lose his thumb. Fleming's lawsuit claims that American Airlines failed to maintain a safe environment for passengers by allowing the toxic spider to bite him. He's now seeking $500,000 in damages, according to the lawsuit, which also names Jackson-Medgar Wiley Evers International Airport as a defendant.
"American Airlines is a commercial airline and owed a duty to the public, including Fleming, to exercise due care on its flights to ensure the area in which their passengers sat were safe," the lawsuit read.
Matt Miller, a spokesman for American Airlines, confirmed to The Post that the airline is looking into Fleming's version of events.
"We take the safety of our passengers very seriously and we are reviewing the allegations of the complaint," Miller wrote in an email.
The venom of a brown recluse spider, in extreme cases, can cause flesh around the wound to rot in as little as 12 to 24 hours, according to National Geographic. People can die from the venom, but fatal incidents are highly unlikely and more than 90 percent of brown recluse bites heal without serious complications.
As their name suggests, brown recluse spiders typically keep to themselves. The nocturnal creatures, usually about a half-inch in length, are found primarily in states like Texas, Arkansas, Missouri, Kentucky, Tennessee and parts of Illinois, Indiana and Georgia, according to National Geographic.