American Airlines flight gets cancelled after pilot allegedly attacks ground agent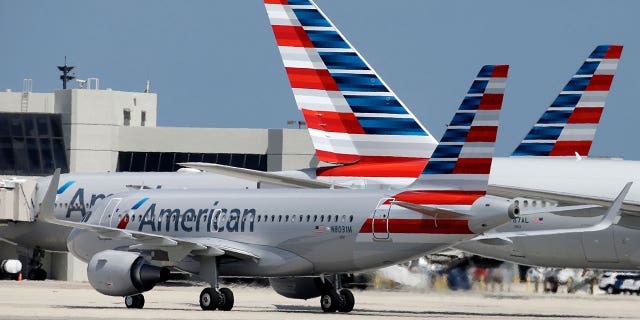 American Airlines passengers departing São Paulo International Airport in Brazil en route to Miami were in for a scare when their captain reportedly attacked a ground agent.
The March 8 flight was delayed by 27 hours as a result.
The Daily Mail reported that the unnamed male captain of American Airlines flight AA930 grabbed a female ground agent by the neck when the two began arguing before takeoff, around 1 a.m., over alignment of the jet bridge.
As the agent insisted that the jet bridge was correctly aligned, she apparently stepped on the pilot's foot by accident. The 59-year-old captain, who has been employed by the airline for the last 32 years, reportedly told the 41-year-old agent "Do not touch me," to which she countered that she had "not touched him."
ROBBERS STEAL $5 MILLION IN AIRPLANE HEIST
According to the outlet, witnesses say that the pilot pushed the agent and grabbed her neck before an airport maintenance worker intervened. Flight AA930 was then immediately cancelled, leaving passengers stuck at the São Paulo air hub.
Though American Airlines did not immediately return Fox News' request for comment, they did confirm to the Daily Mail that there was a "discussion" between two crew members and that they are "taking this incident extremely seriously" as local authorities investigate the altercation that went down on International Women's Day.
THESE ARE THE DIRTIEST SPOTS IN AN AIRPORT (HINT: NOT INCLUDING THE BATHROOM)
The airline offered the Daily Mail the following statement:
"Last night, before boarding AA930 American Airlines flight from São Paulo (GRU) to Miami (MIA), two crew members were engaged in a discussion in the tunnel that connects a platform to the plane. The authorities are now in charge of the case and providing support to staff members. This is a legal investigation and we are cooperating fully with the authorities," they said.
"Passengers are being accommodated on other flights throughout the day. American Airlines has provided hotel accommodations and meal vouchers. We apologize to our customers for the problem."
The captain's passport was withheld by police at the time of his arrest and has since been released. He is scheduled to appear at a special Guarulhos criminal court within the next few days.
FOLLOW US ON FACEBOOK FOR MORE FOX LIFESTYLE NEWS