Alaska Airlines tightens emotional support animal policy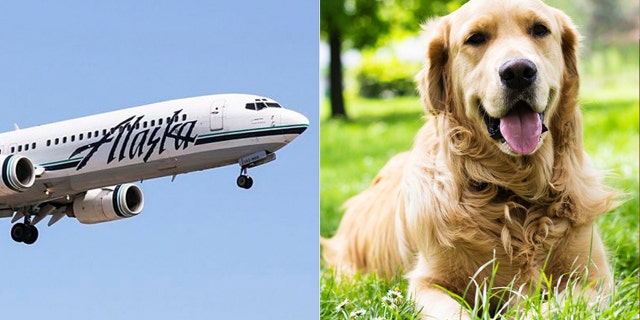 Alaska Airlines is the latest carrier to tighten up the rules for traveling with emotional support animals, following the lead of United and Delta. In January, the story of a woman denied boarding her United flight with an emotional support peacock went viral and sparked debate about the ethics of policy, given escalating instances of customer abuse and animal-related incidents in the high skies, according to the carriers.
"We are making these changes now based on a number of recent incidents where the inappropriate behavior of emotional support animals has impacted and even injured our employees, other guests and service animals," Ray Prentice, Alaska's director of customer advocacy, confirmed in a statement released April 19.
PASSENGER CLAIMS SOUTHWEST LOST HER MOTHER'S PROSTHETIC LEG
"Most animals cause no problems. However, over the last few years, we have observed a steady increase in incidents from animals who haven't been adequately trained to behave in a busy airport setting or on a plane, which has prompted us to strengthen our policy," Prentice added.
As of May 1, passengers intending to bring their emotional support and psychiatric service animals onboard their Alaska Airlines flight must submit an animal health advisory form, mental health form and animal behavior form to the carrier at least 48 hours in advance of their trip via email or fax. The documents will be available on alaskaair.com as of April 30, the release states.
RYANAIR PASSENGER PLEADS GUILTY TO ASSAULTING CREW, GRABBING FLIGHT ATTENDANT'S BEHIND WHILE DRUNK
However, the update does not affect the carrier's policy for traditional service animals.
Alaska Airlines further clarifies that the company "consulted with its disability advisory board and disability advocacy groups to ensure that the expanded policy accommodates guests with disabilities" ahead of the new policy rollout. Roughly 150 emotional support and psychiatric service animals fly with Alaska Airlines every day, the release adds.
The new rules for traveling with emotional support animals aren't the only recent update from the SeaTac headquartered carrier. As of June 4, Alaska Airlines is also shrinking carry-on bag sizes, too.
FOLLOW US ON FACEBOOK FOR MORE FOX LIFESTYLE NEWS