Alaska Airlines' first flight piloted by two African-American women earns round of applause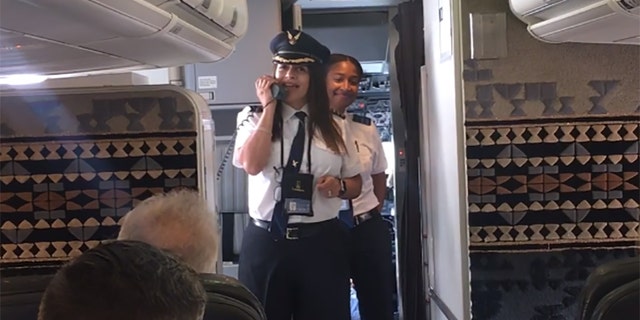 Passengers aboard an Alaska Airlines flight earlier this week became part of a landmark trip for the carrier, as it was the first of its flights to be piloted by two African-American women.
Captain Tara Wright took to the intercom to make the announcement shortly before takeoff on Sunday, telling passengers they were about to be part of "a pretty interesting piece of Alaska Airlines history."
In a Facebook post shared by Wright, the captain can be seen standing in front of the cockpit alongside First Officer Mallory Cave, addressing the cabin ahead of the flight from San Francisco to Portland, Ore.
LAWMAKER WITNESSED NAKED MAN 'RUN FROM FRONT OF PLANE TO BACK' ON ALASKA AIRLINES
"Today is a fun day. We have Mother's Day, and I'm sure there are plenty of mothers on board this morning," Wright began.
She then revealed that Sunday also marked her father's 80th birthday, telling passengers he was celebrating by "roaming the countryside in Spain this morning."
But Wright's most exciting news was yet to come.
"And finally … you're sharing a pretty interesting piece of Alaska Airlines history this morning," she told travelers. You'll be piloted by two African-American female pilots, for the first time in Alaska Airlines history.
"You're making [history] this morning, whether you're awake or not," joked Wright, as passengers began to applaud.
The two pilots were then asked by a passenger to pose for a picture, and gladly complied.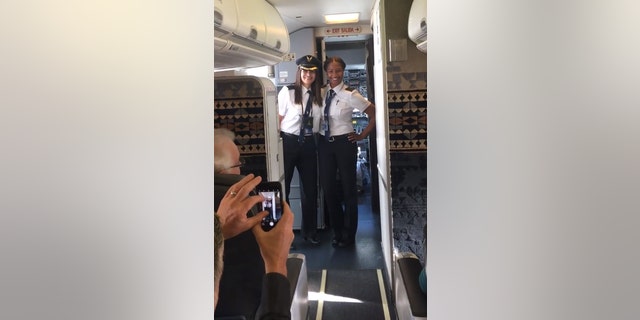 UNITED FLIGHT ATTENDANT TRACKS DOWN MOM WHO FORGOT BREAST MILK UNDER SEAT
A representative for Alaska Airlines was not immediately available to comment, though the airline did share Wright's post to its Facebook page.
"History in the flying," the airline captioned the post. The airline also made a reference to Bessie Coleman, the first black woman to earn a pilot's license and pilot a public flight.
"What Bessie Coleman started in 1921, we continue here," the airline wrote.
Followers also joined in to congratulate the airline and pilots, though some wondered why the day didn't come sooner.
FOLLOW US ON FACEBOOK FOR MORE FOX LIFESTYLE NEWS
Alaska Airlines' milestone flight follows a similar milestone for Southwest Airlines in October, during which the airline celebrated its first "unmanned" flight — i.e., one with an all-female crew of pilots and attendants.
News of Southwest's landmark October flight was met with positive responses on Twitter, though some found it odd that this turn of events didn't happen sooner.
"Good God it is 2017 and this is a FIRST??" wrote one Twitter user at the time.