Airplane window pane comes off while man films flight takeoff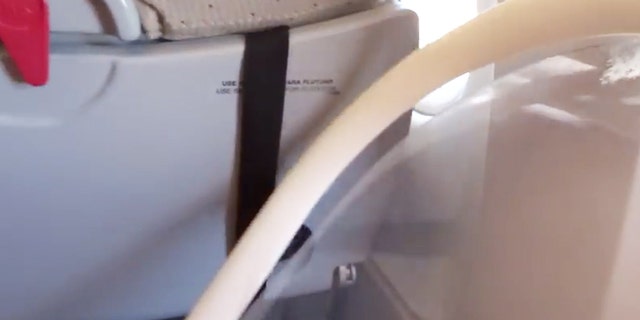 A passenger flying to Sao Paulo, Brazil got a shock after attempting to film his flight's takeoff on a routine flight from Rio de Janeiro.
Eduardo Caram tried to attach a GoPro—a lightweight, mountable camera mainly used for filming extreme stunts—to an aircraft window to film a point-of-view of take off outside his window when the entire plastic pane and frame came off in his hands.
In the video, posted to YouTube May 24, viewers can watch Caram examining the large plastic piece that was previously attached to the Airbus A320.
According to The Mirror, Caram immediately notified an airline attendant but the staff member assured him that the plastic covering was just on the inside and the glass window remained fully intact. And when asked in the comments below the video if there was any issue aboard the flight after the window malfunction, the passenger reported no delays.
"The flight occurred normally. I talked to the flight attendant and he said there was no problem because it is only a protection," Caram commented in the post. The frequent flier has posted dozens of clips featuring passenger POV airplane landings and takeoffs to his YouTube page.
The video has been viewed over 51,000, with many posting their concerns over the condition of the airplane.
FoxNews.com has contacted TAM airlines and is awaiting comment.
UPDATE: TAM Airlines released the following statement to FoxNews.com regarding the incident:
"TAM Airlines reports that on flight JJ3511 (Rio de Janeiro / Galeao – São Paulo / Guarulhos), which took place on May 24, the acrylic lining of one of the aircraft's window seats detached. This did not compromise the condition of the aircraft or the safety of the passengers on the flight, which landed normally at 12:55.
The company explains that the windows of the aircraft are composed of two layers: the outer layer, which is in contact with the aircraft's body and consists of a thick acrylic, which is then securely bonded by several screws. The internal layer is made up of a thinner acrylic and serves as an aesthetic coating.
TAM explains that safety is an essential value within the company and that all decisions are intended to ensure all operations are safe."