Airlines make $22.6 billion in extra fees, report says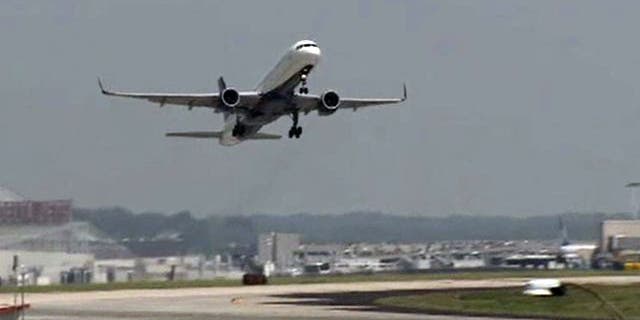 NEWYou can now listen to Fox News articles!
We all know by now that the extra fees that airline carriers tack on to the ticket price are the lifeblood of the industry, but a new report shows just by how much.
Revenue airlines made on services such as priority boarding, checked bags and other products, grew to a whopping $22.6 billion in 2011.
According to a review of ancillary revenue released Monday, non-ticket or ancillary revenue made by 50 worldwide airlines jumped 66 percent, from the $13.5 billion in 2009. The report by consulting firm IdeaWorks and sponsored by travel group Amadeus, looked at non-ticket revenue for 108 airlines around the world -- 50 of which disclose ancillary revenue activity.
Three American carriers rounded out the top three of five highest earners:
--United $5.2 billion
--Delta $2.5 billion
--American $2.1 billion
--Qantas $1.4 billion
--Southwest $1.2 billion
On the top 10 list for the first time was Southwest, whose ranking got a boost from its EarlyBird service that provides early boarding for a $10 fee. Also Delta was the only airline in the top 10 to see its ancillary revenue decrease year-on-year.
When looking at non-ticket earnings as a percentage of total revenue, not surprisingly, budget carriers had a strong showing. Spirit earned about 33.2 percent of its total revenue from ancillary revenue, followed by the U.K.'s Jet2 at 27.1 percent, Allegiant at 27 percent, EasyJet at 20.8 percent and Ryanair 20.5 percent.
"It's clear that airlines recognize the importance of ancillary revenue and are developing increasingly innovative ways to generate it," says IdeaWorks president Jay Sorensen in a statement.
Meanwhile a recent study shows that fuel surcharges — fees that airlines add to ticket prices to counter higher fuel costs — have increased twice as fast as actual fuel prices in the last year.
The study by Carson Wagonlit Travel, a corporate travel management company, shows since April 2011, fuel surcharges by U.S. airlines have risen 53 percent, while fuel prices have increased 24 percent, according to the study.
In addition, despite the fact that fuel prices have dropped during periods within the study, most airlines have not reduced fuel surcharges.