Airlines experimenting with kid-free zones on planes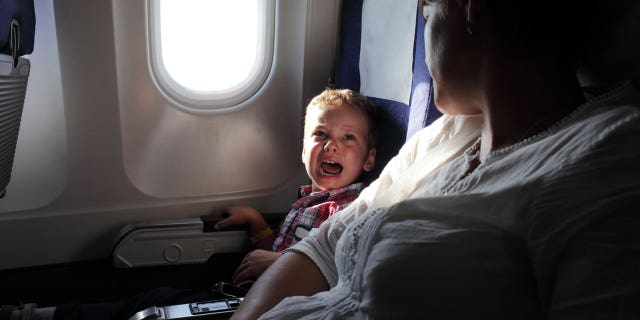 NEWYou can now listen to Fox News articles!
Last month, George and Amal Clooney took their six-month-old twins on a flight to London. When they showed up, they came prepared with noise-canceling headphones for everybody in first class, along with a note apologizing in advance for any noise their children would make during the flight.
However not all experiences flying with children in first class go so smoothly. Earlier last year, fashion blogger Arielle Noa wrote on Instagram that a Delta flight attendant asked Noa to move to the "back of the plane" after receiving complaints about her baby's crying from other first class passengers.
The issue of children in first class is a prickly one. Often, parents buy first class tickets to have more room with their child. However, other first class passengers are often paying premium to avoid the trials of the economy cabin, like sitting next to crying children.
Related: Doctor Delivers Baby Boy in First Class on Flight From Paris to New York
More From Travel + Leisure
While not everybody may be able to afford noise-canceling headphones for the rest of the cabin a la Clooney, handing out earplugs is a thoughtful, proactive gesture that could eliminate frustrations later in the flight. Parents should be well-prepared for flying with children, no matter in which class they fly.
Most airlines don't have specific, written rules about an infant or child policy in first class. (Except Malaysia Air, which has banned infants from its first class.) However some airlines are experimenting with unique ways to make flying with children better — for everybody in the plane.
Etihad offers a "Flying Nanny" service on its long-haul flights. The nannies have been approved by a childcare training college in the UK and are on hand to assist parents and entertain children during flight. They can get a child ready to sleep and pass the time with crafts, hand puppets, art, face painting, and magic tricks.
Indian airline IndiGo created a "quiet zone" in its cabins where children under the age of 12 are not allowed.
Richard Branson once said that he would like to introduce a "kids' class" onboard his Virgin aircraft. "It would be a separate cabin for kids with nannies to look after them," he said, according to Forbes. "We've had an issue with the Civil Aviation Authority. They worry in an emergency kids would be running in one direction and their parents would be running in the other. So we haven't got it through yet."