Airlines, airports anticipate travel complications as Winter Storm Jupiter moves east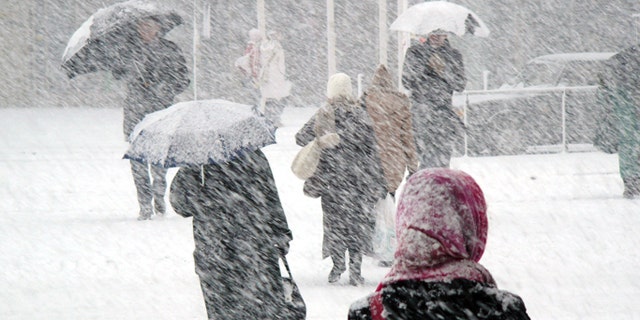 NEWYou can now listen to Fox News articles!
After leaving a trail of ice and snow across the Plains and the Upper Midwest, Winter Storm Jupiter is expected to move into the Northeast starting Tuesday.
According to Weather.com, Winter Storm Jupiter is already causing winter weather advisories and freezing rain advisories from the Great Lakes to the Northeast. Winter storm warnings have also been issued in the High Plains.
On Monday, warm air moving north increases the areas possibly impacted by ice storms, including the upper Midwest and the Great Lakes. Travel could be impacted by ice accumulation in states including Nebraska, Kansas, Iowa, Minnesota, Wisconsin, Illinois, Michigan and Indiana.
As the storm continues moving across the U.S. Tuesday, parts of the interior Northeast and northern New England could experience periods of snow, sleet or freezing rain, making driving conditions dangerous. Ice accumulation in the region is also possible.
The snow will continue Wednesday in parts of Vermont, New Hampshire and Maine, with accumulations of up to six inches total.
The major problem associated with Winter Storm Jupiter will be tied to travel, which could be impacted by ice accumulation. Travelers looking to drive to their destinations are being advised to watch for untreated roads, bridges and overpasses which could freeze due to frigid temperatures.
As for air travel, major airlines like Southwest, American, Spirit and others have instituted flexible travel policies due to the ice storm hitting the country. Scheduled service may be disrupted by Winter Storm Jupiter, and travelers would be eligible to adjust their flights at no additional charge.
While few delays or cancellations have been officially announced, travelers are being advised to check the status of their flight before arriving at the airport.
Winter Storm Jupiter has already caused major damage throughout the Plains and Midwest, killing at least six people. Portions of the region declared states of emergency this weekend ahead of the storm, and several major accidents have been reported, including a massive pileup on Interstate 88 near the Quad Cities.
The unfavorable weather even forced Sunday's NFL playoff game in Kansas City to be moved to a later time.
People looking to purchase travel insurance will not be able to do so in relation to Winter Storm Jupiter as a named storm becomes a known event. As a result, no new travel insurance policies can be purchased to cover the storm.
Travelers attempting to fly during the weekend through the impacted regions were also impacted, as more than 2,600 flights were delayed or canceledthrough Saturday and Sunday. Hundreds of miles of roadways—including Interstate 35, I-40 and I-70—were also slowed to a crawl due to the winter storm.