Airline ticket scams go to new heights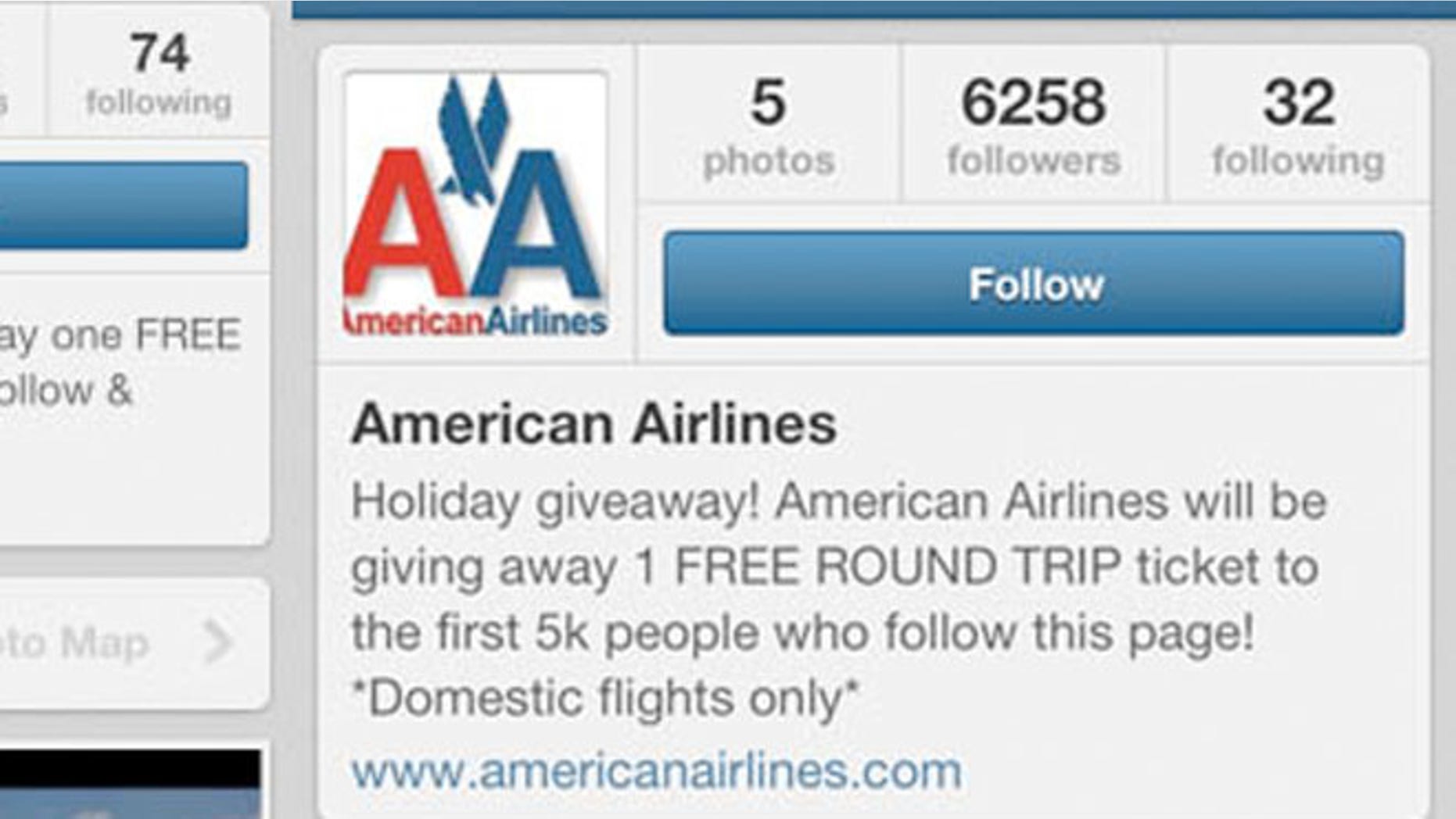 If you've ever seen a deal for an air ticket that's too good to be true, it may just be.
As airlines expand their use of social media to post deals, scammers posing as carriers are luring in unsuspecting consumers in unprecedented numbers.
From faux Instagram accounts to unsolicited emails asking for bank information, consumers need to be more vigilant than ever when booking flights.
This week, InfoSecurity Magazine reported that the FBI had warned of a fake American Airlines spam email, first discovered in November by MX Lab, that contains fake order confirmations with links leading the user to an embedded Javascript that downloads Spyware onto the user's computer.
Other scams include phony messages with intriguing subject lines, such as "You've won free two tickets" that ask you to perform security-related changes to your account like updating email addresses, passwords or credit card information. Simply by clicking on an attachment hackers can breach sensitive data.
Also, there is no such thing as a downloadable e-ticket, so if you receive an email prompting you to do so rather than review your ticket information at the airlines website, don't click on it.
It's not just scams that show up in your inbox. Fake Instagram accounts for American Airlines, Delta Airlines, and JetBlue recently were set up promising free flights. Some of these fake Instagram and Twitter accounts include: @americanairlines_giveaways, @united_giveaways, @jetbluegiveaways and @delta_giveaways.
These fake accounts quickly attracted tens of thousands of followers: The JetBlue account had 20,000 followers, the American Airlines profile had over 6,000 followers.
It's unclear what's behind the scam -- there were no links or anyone asking for personal information -- but they did create a lot of confusion for customers. JetBlue took to Twitter to warn flyers. "JetBlue does not have an official @Instagram account. Any accounts or promotions you may currently see there are not ours."
Carriers are trying to keep one step ahead of the scammers, but it's not easy. "We work hard to earn and keep our customers' trust.  It is extremely concerning when we learn someone may be trying to prey on that confidence," JetBlue spokesperson Morgan Johnston told FoxNews.com.
Yet many admit that it's hard to gauge from where the scams come -- and how to predict how scammer select their prey.
"Because Delta is not the source of the fraudulent activity, we cannot speculate on how the customers are selected to receive this misinformation," Delta Air Lines spokesperson Paul Skrbec said to FoxNews.com. Skrbec added Delta's information security team is monitoring these situations as they arise.
So what do you do if you are the victim of a phishing scam? Air travel analyst at FareCompare.com Rick Seaney advises that you should, "Immediately contact your credit card or bank institution and file a complaint with the FTC."  These links give consumers step-by-step information on how to resolve a scamming issue: FTC, Consumer.gov. And if you're looking to get compensated for money lost, don't hold your breath.  There's little you can do since airlines are not accountable, said Seaney.
If you see these on your next air ticket search, consumers are encouraged to help catch possible culprits by filing reports with the Better Business Bureau (BBB). The BBB uses these complaints and other statistics to rank businesses and alert consumers about what companies to avoid.
Now it's just not fake tickets you have to worry about. George Hobica, founder and president of Airfarewatchdog.com, told FoxNews.com there has been a spike in frequent flyer miles theft. He said, "sometimes all a scammer needs is a person's loyalty program number," which can be located on your boarding pass.
So if you get an email that asks for your credit card information or a suspicious email that confirms your date, times and ticket for a reservation you didn't make, you should contact the airline directly.