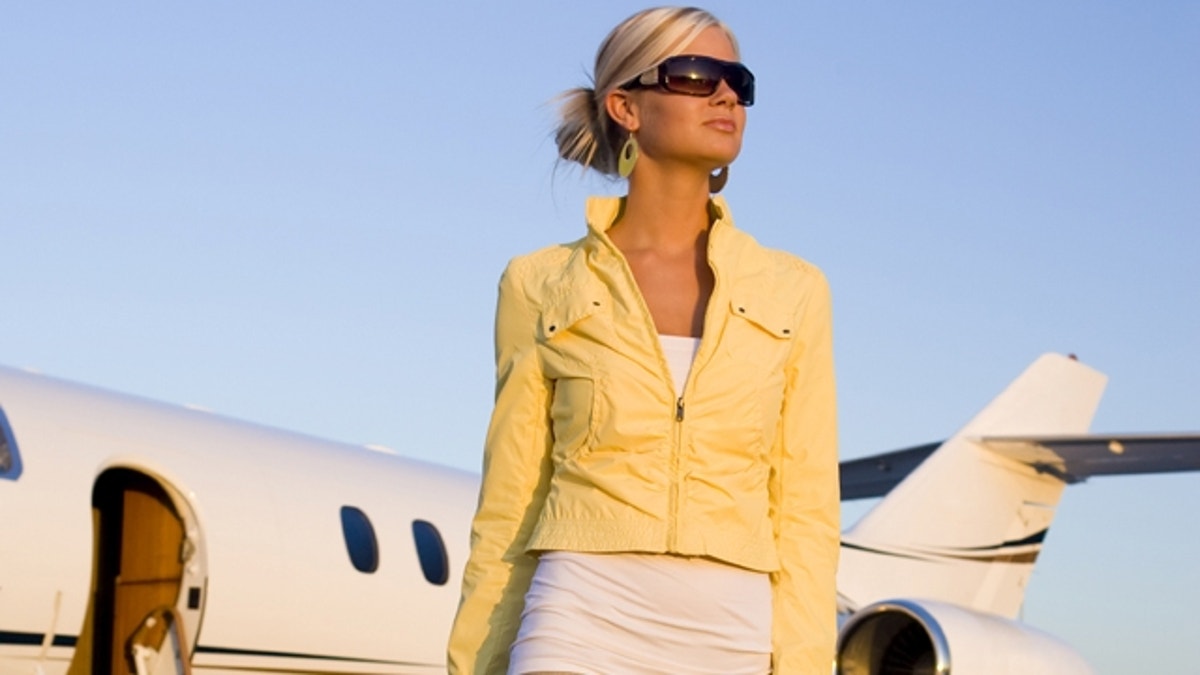 Remember when flying was glamorous? Me neither.
But the new TV show, Pan Am – all 1960s air hostess elegance and silk-smooth passengers – has reignited an interest in the outfits we wear at 30,000 feet.
Which begs the question: what's your mile-high style choice, and what kind of fashion statement does it make about you?
1. The ethnic adventurer
Define the look: Fisherman's pants; friendship bracelets; flip-flops; knock-off 'Diesel' vest top
What it says about you: You've been to Thailand and are determined to bring a bit of it home with you – despite the fact you're about to land in London. In November. You've got sand under your toenails, tan marks on your shoulders and a smile on your lips from the memory of the cute South African at the full moon party you were still at about an hour before getting on the plane.
Most likely to: Wear tie-dye or patchwork
Least likely to: Be carrying a jumper to combat the air-con
2. The glamorous globetrotter
Define the look: Figure-hugging dress; two-piece Louis Vuitton carry-on bag set; vast Dior sunglasses; vaster Louboutin heels
What it says about you: You know the simple rule of style: be seen and not heard – and, crucially, scene and not herd. Seemingly immune to the sartorial ravages of air travel, not even a 12-hour red-eye could knock a hair out of place, or wrinkle that chi-chi frock. Comfort be damned – if it ain't tight, it ain't right. Flat shoes? Sacrilege – emergency slides beware: the primary purpose of footwear is for flirting. And the sharper the stiletto, the sexier you can be sashaying through Departures.
Most likely to: Be upgraded Least likely to: Wear anti-DVT flight socks
3. The returning tourist
Define the look: Destination t-shirt and cap (I 'HEART' NY/Rio/Magaluf…); oversized carry-on (bulging with I 'HEART' NY/Rio/Magaluf… mug, keyring and fridge magnet)
What it says about you: You LOVED your holiday! And you want the world (and your new buddy in seat 37E) to know it! After all, the point of travel isn't just the experiences you enjoy while on the road – it's broadcasting the stories of those experiences to the world at large.
Most likely to: Buy an airline-logoed T-shirt
Least likely to: Wear headphones – they want to talk to you. All. Flight. Long.
4. The beleaguered parent
Define the look: Distressed expression; sloppy shirt (baby-sick stain as standard); shoulder bag bursting with passports, documents, dolls, games, crackers, wet wipes…
What it says about you: You want this to be over. Now. You are dressed for survival only: comfort, pockets, toys – all bases covered. If you're unconcerned about your own appearance, you're acutely aware of the reactions of the rest of the passengers to your little angels – and you'd wear last year's leggings for life if it'd guarantee the kids would sleep the whole way there.
Most likely to: Wear saggy-bottomed tracksuits
Least likely to: Wear anything white (for long)
5. The suited frequent-flyer
Define the look: Smartphone (pressed to ear); crease-proof suit and non-iron shirt; shiny slip-on shoes; laptop; air of purpose
What it says about you: You fly a LOT. George Clooney in Up In the Air? You're his role model. You look sophisticated but efficient – everything in your perfectly regulation-sized carry-on-only wheelie (packed with military precision) is matching, streamlined and designed to ease the whole business of business travel. But it's sharp, too: who knows just who you might want to impress en route?
Most likely to: Breeze through security
Least likely to: Wear fiddly lace-ups
6. The ultimate traveler
Define the look: Super-lightweight hiking boots; multi-pocketed zip-off pants; multi-pocketed vest; backpack (multi-pocketed – of course)
What it says about you: Does that uncontacted tribe in the Amazon care a lick about designer-label shoes? No! You travel widely, and your garb is tailored so that when you land, you're primed to delve right into that river/mountain range/remotest rainforest. That means packing light and packing practically – everything from your undies to your overcoat is made of high-wicking, fast-drying, elephant-repellent fabric. If a pair of trousers (khaki, naturally) can't perform six different functions they don't make the grade.
Most likely to: Be comfortable
Least likely to: Win any fashion prizes Originally published as "Airline style: what's your inflight fashion."
? 2011 Lonely Planet. All rights reserved.
Related stories:
Hair and beauty on the road: how to look wonderful worldwide
Great European seaside escapes