Airline claims workers at JFK forgot to load two coffins on Pakistan-bound flight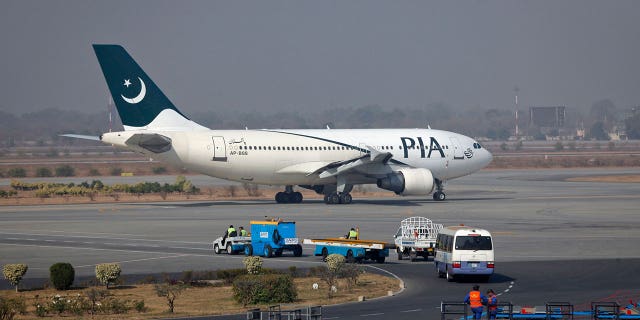 A Pakistan-based airline is blaming workers at JFK International Airport for forgetting to load two coffins containing human remains onto a flight bound for Lahore.
Pakistan International Airlines has reportedly filed an inquiry into the mishandling of the deceased, which were scheduled to be transported from New York to Pakistan on Oct. 28. Family members, meanwhile, are also blaming the airline itself, claiming that Pakistan International Airlines (PIA) has been unhelpful throughout the ordeal, according to the BBC.
"The grieved family have been agonized," said Hasan Mubarak, of the deceased's cousins, in a statement to Pakistan news outlet Dawn.
RUNAWAY 7-YEAR-OLD BOARDS FLIGHT WITHOUT TICKET, GETS CAUGHT BY CREW
According to Mubarak, his cousin Nauman Badar, 28, died on Oct. 25 while in the U.S., and was to be taken to Pakistan by his brother, Bilal, on Flight PK 712. But upon arriving at Lahore airport, Bilal learned that his brother's body had not been loaded onto the flight, and was instead replaced with luggage and catering items, Mubarak said.
Bilal and his grieving family members, who were waiting to retrieve him and Badar at the airport, soon found out that another grieving family was dealing with the exact same issue — a recently deceased member of their family was also not loaded onto the PIA flight.
Mubarak said his family eventually located Badar's coffin, which had been left unattended at JFK for 14 hours. The family contacted the funeral home that prepared Badar's remains, and they arrived shortly thereafter to collect the body, Dawn reports.
DELTA SEX COUPLE PROBABLY WON'T BE CHARGED FOR LEWD ACTS, FORMER PROSECUTOR SAYS
Meanwhile, Bilal and his father booked themselves on another flight to America, arriving on Oct. 31. They plan to bury Badar in Maryland.
PIA transported the other body back to Lahore via a different carrier, as PIA has since terminated its route between New York and Lahore. According to the Telegraph, the body of Nasir Ali was flown back to Pakistan on Emirates, although Dawn reports that Etihad was scheduled to transport the body.
The airline has released a statement to Dawn in response to the mishap, writing that it "regrets the inconvenience caused due to negligence on the part of airline's ground handling agency at New York Airport and expresses its sympathies with the family members of the deceased persons."
FOLLOW US ON FACEBOOK FOR MORE FOX LIFESTYLE NEWS
The airline added that it would incur any costs associated with transporting the bodies, though Mubarak claims PIA had not contacted him as of Wednesday.
Representatives for Pakistan International Airlines were not immediately available for comment.