Air New Zealand uses 'Hobbit' stars in epic airline safety video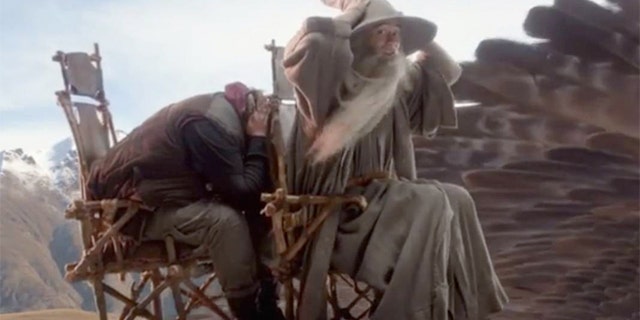 Air New Zealand is trying hard to make sure it's customers watch the air safety video.
Just three months after pulling a controversial in-flight safety video showing scantly clad Sports Illustrated Swimsuit models blowing into their airline life vests, the carrier has released a new safety video featuring the star-studded cast of "Lord of the Rings."
Called "The Most Epic Safety Video Ever Made," the video includes "Hobbit" directors and actors, including Sir Peter Jackson, Elijah Wood, Sylvestor McCoy, Dean O'Gorman, Sir Richard Taylor, and Naoyuki Shimizu.
It's the second Hobbit-themed safety video for the airline, but this one comes with a gripping plot, shot over six days in various Middle-earth locations, including Hobbiton and Central Otago,
It opens with two enthusiastic "Lord of the Ring" fans sitting next to Elijah Wood (aka Frodo Baggins), while Dean O'Gorman, Sylvester McCoy, Sir Richard Taylor and Peter Jackson advise what to do when the oxygen masks drop or seatbelt light sign goes on.
Flight attendants, who appear to have come right from Middle Earth, and stars encourage passengers buckle up, put on their oxygen masks and stow their Bilbo baggage.
The first Hobbit-themed video was released in October 2012 with "The Hobbit: An Unexpected Journey" --the first of a successful string of themed safety videos.
Other safety videos include those featuring celebrity survivalist Bear Grylls, 91-year-old comedian Betty White, and the controversial Sports Illustrated Swimsuit models.
[youtube qOw44VFNk8Y]