Adults only fun: 5 places to get away from kids on mega cruise ships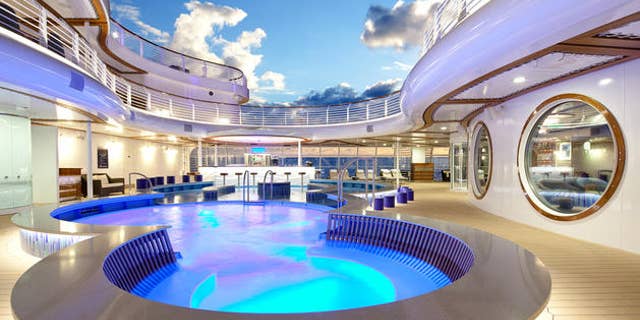 Aboard Carnival's brand new, and biggest ship, Vista, there's not a kid in sight-- though the megaship may have 1,000 or more on board.
Welcome to the Serenity Sundeck where no kids are allowed and you'll find swaying hammocks, oversized loungers and, of course, a bar. For Serenity Nights, the space transforms into a South Beach-style night club with special lighting, a DJ and waiters circulating with drinks. You won't see any kids at the new RedFrog Pub & Brewery or the other themed bars either.
As cruise lines continue to expand their family offerings, they are also increasingly mindful of creating adult-only areas on board—everything from specialty bars to elaborate sundecks and pools. For those traveling without kids--or those whose kids are otherwise occupied in organized programming-- "the adult-only areas provide a getaway for those looking for a quiet escape," suggests Colleen McDaniel, Managing Editor of CruiseCritic.com.
Here are five guaranteed to please—or at least provide a
couple of hours of peace and quiet:
1. Carnival Cruise Line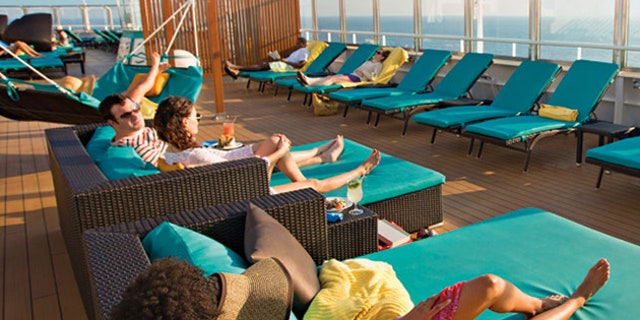 Carnival's Serenity is mostly fleet wide with additional night programming being rolled out Vista when it sets sail. There's no extra charge, and no under 21 is permitted. But the area will be packed on sea days so get there early to snag your spot. Also on board Carnival, the late-night Punchiner Comedy Club is geared for those older than 18. Check out the mixologist competitions and, depending on which ship you choose, bars ranging from the BlueIguana Tequila Bar to mini martini tastings to the Skybox Sports Bar.
2. Disney Cruise Line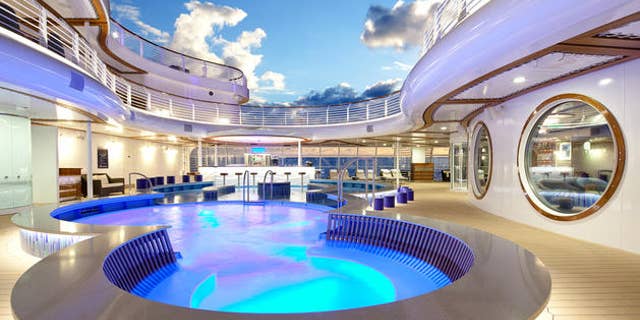 You'd be amazed how many adults cruise Disney without kids. But those that are traveling with tots need a break, too. That's why the Quiet Cove pool area and bar, on the Disney Fantasy and Dream, is so popular. Disney ships also offer terrific adult-only dining (an $85 up-charge) at French Remy (remember the loveable cooking rat in Ratatouille?) on the Disney Dream and Fantasy; and Northern Italian brunch and dinner ($30) at Palo on all four ships. Night "Districts" in the middle of the ship offer adults-only entertainment at themed bars and nightclubs. There's even Pink on the Disney Dream designed to look like the inside of a champagne bottle.
3. Norwegian Cruise Line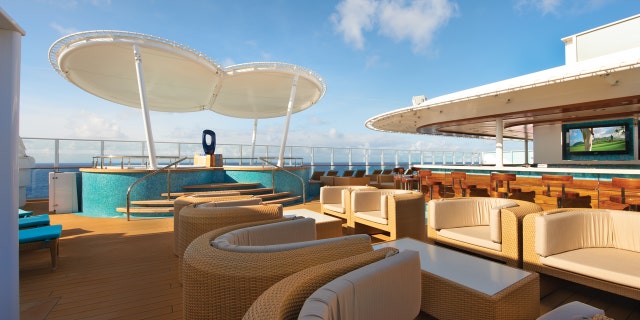 Norwegian Cruise Line has the Posh Beach Club and Spice H20--it's supposed to make you feel like you are at a summer beach party on the island of Ibiza-- on the Epic. Vibe and Spice H20 are available on the Breakaway, Getaway and Escape. There's no fee for Spice H20—think hot tubs, loungers and bars. But unless you're staying in the villas onboard, you need to pay a fee to access the more exclusive Posh and Vibe with even more amenities like water spritzers and cold towels. At night, the space is a big adult party scene. You certainly won't find kids in the Svedka & Inniskillin Ice Bar. Exclusively on the Getaway, there's also the Sugercane Mojito Bar.
4. Princess Cruises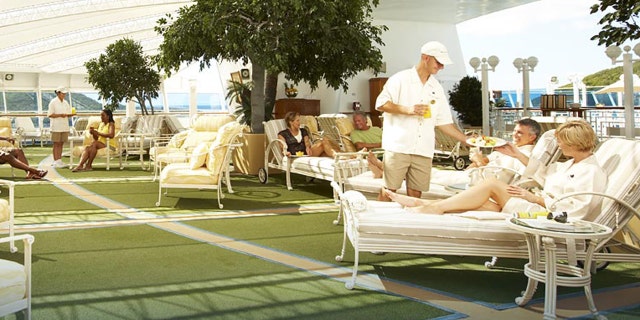 Princess Cruises offers Sanctuary with outdoor private cabanas, special drinks, snacks, as stewards walk around with water misters and chilled face towels, and music players complete with preloaded song lists. You can opt for a sunset yoga session or an outdoor massage (you get a certain amount of time free after your treatment -- otherwise there's a fee). Looking for the ultimate in cruise pampering? Enjoy the Japanese baths aboard the Diamond Princess in Japan.
5. Royal Caribbean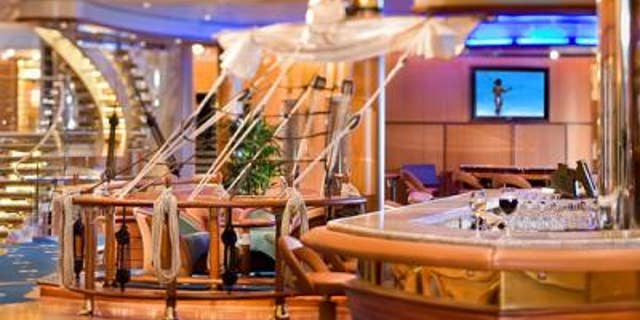 Royal Caribbean's Solarium, which is open to those 16 and older, is indoors on most ships but features a retractable roof. New to the Quantum Class ships are a series of cascading lagoons in the center of the Solarium where you can also swim. Try salsa dancing on 10 of Royal's ships; join a piano sing-along in the Schooner Bar, or head to the adult-only Comedy Club on the Oasis class ships. Oenophiles can also test their wine prowess at Vintages on Oasis and Freedom class ships.
So relax and unwind with a mojito-- or two!