A private tour inside the White House
Continuing a centuries-long tradition, the Obamas unveiled their contribution to the official presidential china collection recently: a suite of colorful dishes, created in collaboration with AD100 designer Michael S. Smith and White House curator William Allman.
With a kind invitation from First Lady Michelle Obama, Architectural Digest headed down to Washington, D.C., for a front-row seat at the unveiling, not to mention a special tour around the White House grounds on the eve of the Japan State Dinner.
1. The First Lady unveils the new china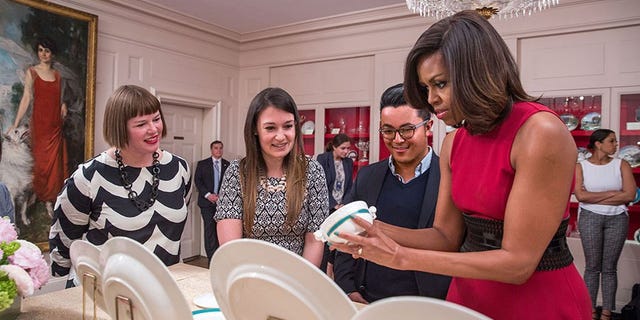 Mrs. Obama unveiled the new china to a small group of journalists (that's me standing directly to her right). The Obamas' 11-piece service is a simple, elegant collection that is a nod to both the family's history and the tradition of previous presidents and first ladies. (And Mrs. Obama joked that it was a complete coincidence that her nail polish matched the "Kailua blue" border of the new china.)
2. Inside the Kitchens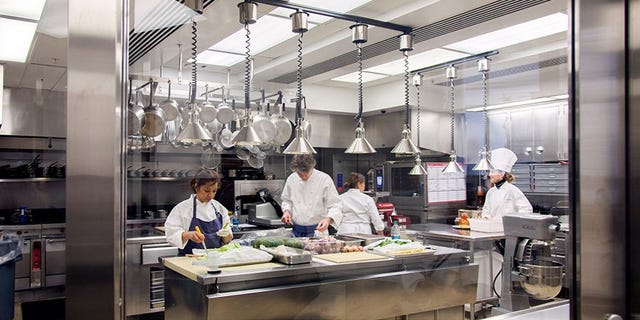 The first stop on the tour: the kitchen. In a bright metallic room no bigger than a New York City apartment (in other words, tiny), the staff—including executive chef Cris Comerford and newly appointed executive pastry chef Susie Morrison—were gearing up for an epic task ahead: Tuesday's state dinner with the Prime Minister of Japan, a four-course dinner for 210 guests.
3. Diplomatic Reception Room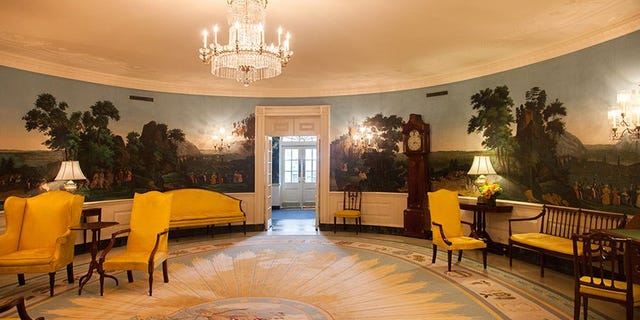 Leaving the busy chefs to their work, we ventured down the hall to the Diplomatic Reception Room. Not on the public tour, this area serves as the primary point of entry for the Obamas into the White House. The space is stunning. Federal-style furnishings are arranged in front of its crown jewel: an exquisite panoramic landscape wall covering.
4. Into the China Room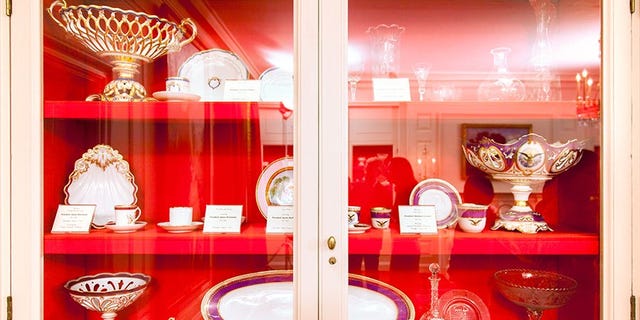 And onto the very reason for our visit: the China Room. Examples from the services of previous administrations are arranged in cabinets, and offer a fun look at how tastes have changed over the years.
5. The Old Family Dining Room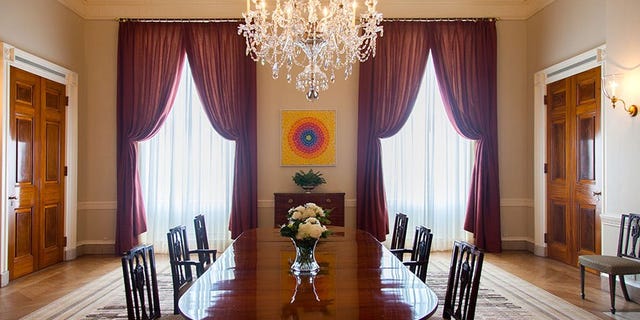 Next is the Old Family Dining Room, a space that received quite a bit of press earlier this year when the First Lady and the Committee for the Preservation of the White House redecorated it, adding works by notable modern artists.
6. The kitchen garden has been a fresh White House addition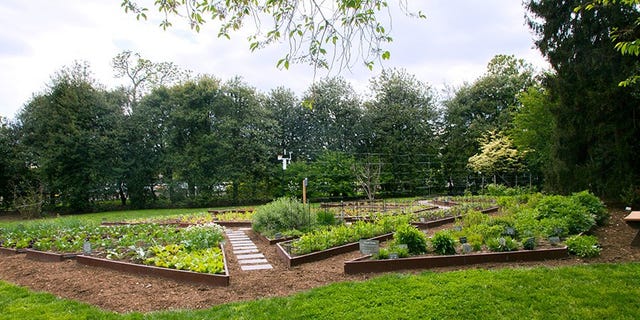 Mrs. Obama established the kitchen garden six years ago to provide herbs, fruits, and vegetables to the White House as well as a local charity—an endeavor tied closely to her Let's Move healthy-lifestyle initiative.
Check out more behind the scenes photos from the White House.
More from Architectural Digest
The World's Most Epic Hotel Pools
Tom Brady and Gisele Bündchen's Unbelievable L.A. Home
See the Best Architecture of the World From High Above