A guide to 'glamping' around the world
Itching to be one with nature but reluctant to forgo your morning cappuccino? Here, a host of tents around the globe that combine creature comforts with critter access
1. EcoCamp, Torres Del Paine National Park, Chile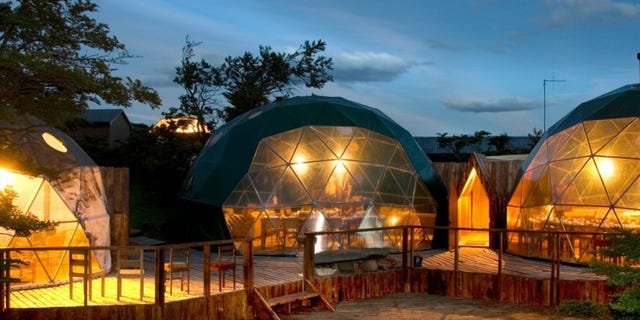 The Ecocamp's design is inspired by the dwellings of the Kawésqar, the all-but-extinct nomadic seafarers who devised domed huts to withstand 100-mile-per-hour winds. Though the 24 geodesic domes, run entirely on hydro- and solar power, provide some domestic comforts—bathrooms have flush toilets and running water—staying here isn't for anyone unwilling to be immersed in the elements.
From the camp, far south in the mountains at the very tip of Chilean Patagonia, you can trek deeper into the park, or make do with easier hikes and a boat trip past calving glaciers. Whatever your exertions, the reward is a communal dinner of local salmon or barbecued lamb, followed by snuggling in bed while staring up through the skylight at the Southern Cross and listening to the crackling of your wood-burning stove, the howling wind, and maybe even the yapping of puma cubs playing nearby.
For: The Iconolast
Getting There: Fly to Punta Arenas, Chile, where you'll be picked up in a van for a five-and-a-half-hour drive to camp, with two stops along the way: lunch in Puerto Natales, and the cave where a mylodon sloth was unearthed.
Prime Time: November through February (when you can take advantage of 18 hours of daylight).
Price: Dome for two with private bath, $3,726 for three nights, including meals (800-901-6987; ecocamp.travel).
Packing List: High-performance fabrics, in layers—from Patagonia, natch.
Neighbors: Three granite monoliths: Torre Norte, Torre Sur, and Torre Central.
Nearest Wi-Fi: Twenty minutes' walk to a neighboring hosteria.
Required Skill-Set: If you opt for trekking, you'd be well served by some technical-climbing experience, and by physical conditioning.
2. Elephant Watch Camp, Samburu National Reserve, Kenya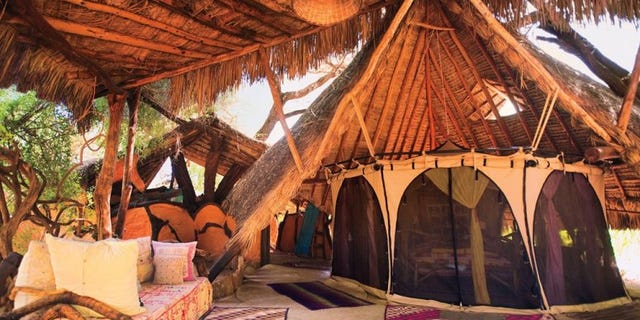 Consider a small tented enclave in the middle of a pachyderm preserve. Potential minuses: no running water, no indoor plumbing, no fence, and no guarantee you won't have to chase a baboon out of your tent. Definite plus: an introduction to and the opportunity to live among 45 elephant families that wander the reserve, one or two of which are usually around the camp. Started by the wife of the zoologist who founded the NGO Save the Elephants, this camp seeks to maximize guests' exposure to wildlife. The six canvas tents have the lightest of footprints: Each is sheltered by a thatched-roof structure built from trees knocked down by elephants. Living trees provide privacy for each tent's outdoor bathroom and shower, which uses sun-warmed well water. A bonfire by the river and hurricane lamps light the evening meal in the main tent. When moving around, guests are reminded to call out "askari" for a guard to escort them, lest they disturb an elephant or big cat that might be eating or sleeping in the camp.
For: The Animal Lover
Getting There: From Nairobi's Wilson Airport, SafariLink and Airkenya fly to Samburu's airstrip, in the center of Kenya; charters can be arranged from the Masai Mara or any Kenyan park or private ranch.
Prime Time: May through August.
Price: Tent for two with washing area, $4,080 for three nights, including meals (254-20-804-8602; elephantwatchsafaris.com).
Packing List: Lightweight cotton clothes and a hat for safaris; hiking boots, should you choose to climb the nearby 6,000-foot Mount Ololokwe.
Neighbor: Wandering elephants, frolicking baboons, and inscrutable ibis dot the rolling grasslands and big blue sky.
Nearest Wi-Fi: A half-hour's drive to the offices of affiliated conservation NGO Save the Elephants.
Required Skill Set: Those who aren't thrilled by immediate proximity to large mammals should book elsewhere.
3. Banyan Tree Al Wadi, Ras Al Khaimah, United Arab Emirates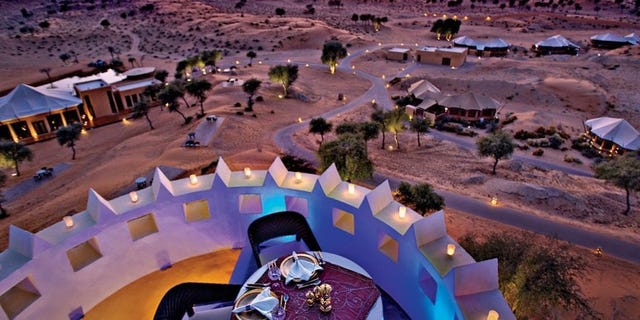 Bedouin chic is the concept here, with 133 white-topped, wood-platform tents spread across the Al Wadi Nature Reserve. Tents are touted as emulating nomadic dwellings, but we doubt that there's anything movable at this lavish oasis. Ranging from 1,700 to 2,700 square feet, each tent includes silk upholstery, a large tub and rain shower, a private sundeck with daybeds, and a pool. If you tire of butler-staffed private barbecues served under the stars, you can opt instead to dine in the Thai, Arabian, or Mexican restaurants. Want to play gentleman sheikh? Take a class to polish your archery or falconry skills, or enjoy one of the daily expert displays of handling raptors. Recover from desert excursions (horse or camel—your choice) with a day at the spa.
For: The Desert Wanderer
Getting There: Fly to Dubai International Airport, then drive 45 minutes past the town of Sharjah to the resort in the desert.
Prime Time: Desert days are most comfortable from October through May.
Price: Tented villa for two with private bath, $3,348–$4,200 for three nights (971-7-206-7777; banyantree.com).
Packing List: Jodhpurs, a swimsuit, golf clubs, and anything you recall from Lawrence of Arabia.
Neighbors: Other tent villas. For maximum privacy, the Al Sahari villas are off in the dunes.
Nearest Wi-Fi: On-site.
Required Skill Set: Storytelling—see Arabian Nights or Arabian Sands for inspiration.
4. Canonici Di San Marco, Mirano, Italy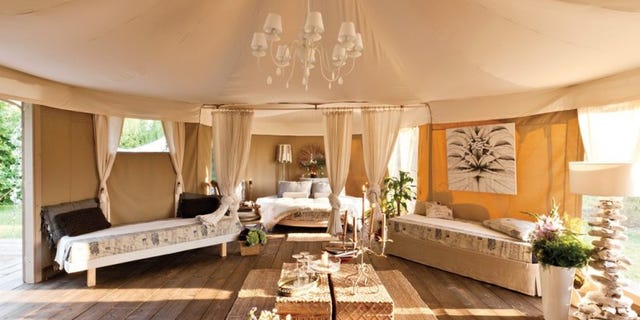 This 2010 arrival, in a countryside where big tents went out with medieval campaigns, sits on almost four acres of meadow between Venice and Padua. The two large canvas tents—furnished with four-poster beds, mirrored armoires, Murano crystal tableware, linen tablecloths, antiques unearthed from the owner's grandparents' attic, ceramic sinks, and English aluminum tubs—were conceived as a perfectly low-key respite for visitors who plan to pound the pavements of nearby Italian cultural powerhouses (by train, it's 20 minutes to Padua, 20 minutes to Venice–St. Lucia—in the historic city center—and 40 minutes to Treviso). It's an easy walk to the station as well as to the village and local restaurants.
For: The Classicist
Getting There: Fly to Venice's Marco Polo Airport (16 miles away) or Treviso's Canova Airport (22 miles away).
Prime Time: Spring and Fall.
Price: Tent for two with private bath, $500–$582 for three nights (39-348-722-5577; viacanonici.com).
Packing List: An extra suitcase for carting home bottles of prosecco from neighboring Treviso and Murano glass.
Neighbors: The fields have been colonized by rabbits and ducks.
Nearest Wi-Fi: On-site.
Required Skill Set: The ability to slow down,say, for an afternoon spent biking along the Brenta River, where well-to-do Venetians have kept their summer villas for centuries.
See more "glamping" locations at Conde Nast Traveler
More from Conde Nast Traveler
The American Town That's Secretly Canadian
The Friendliest and Unfriendliest Cities in America
How to Eat Like a Local in Paris