A Disney don't: Never challenge Gaston to a push-up contest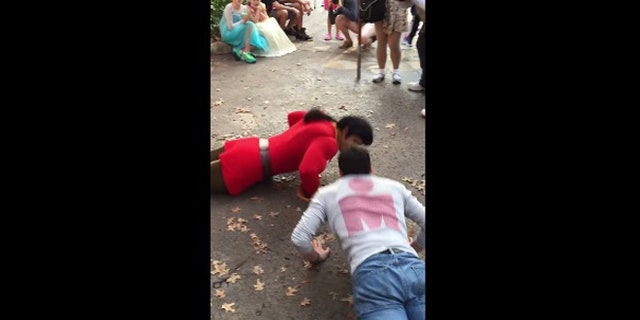 Gaston may be a fictional character from Disney's "Beauty and the Beast" but that doesn't mean he'll back down from a challenge.
YouTube user Blake Platt recently uploaded a video where a young fan challenges the brawny theme park character at Walt Disney World in Orlando, Fla. to a push-up contest.
"I think I'm stronger than you," the boy says in the video, eliciting a round of ooo's and ahh's from the surrounding crowd.
The duo decide on the contest and while it starts off as an even match, the costumed actor quickly surpasses the young Disney fan, even switching to a one-armed push-up. He might not go down as far as his challenger, but its clear the Gaston enjoys his job as the manliest man of the Disney Kingdom.
Who knew theme parks character actors took their duties so seriously?
The clip already has almost 5 million views since it was posted on Jan. 2.
Upon seeing the video's popularity, Platt recently provided on update on the link description that reads, "When my brother and I go to the Disney parks (which we love), one of our goals every time we enter is to make someone's day, even if it's just one person. Hopefully we've been able to do that on a little larger scale; and, hopefully again, in a way of which Walt would be proud."
Check out the full video below and see if you think Belle should have reconsidered siding with the Beast.
[youtube W3bp59Eci_0]